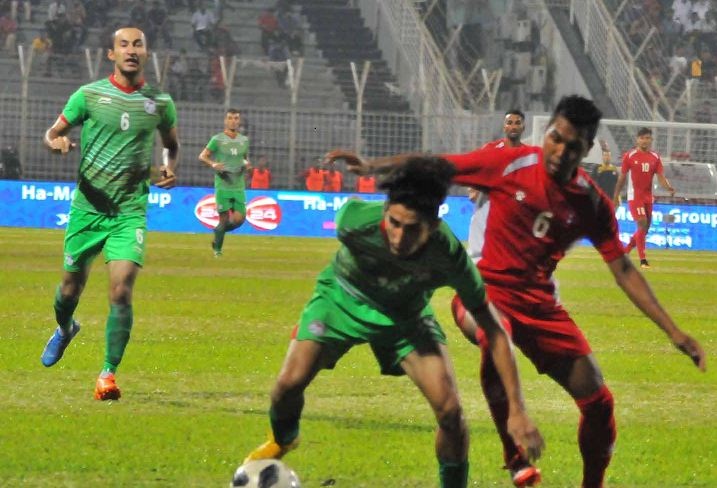 Sylhet Office : Tajikistan got off to a good start in the 5th version of the six-nation Bangabandhu Gold Cup International Football Tournament beating defending champions Nepal by 2-0 goals in opening Group A match at Sylhet District Stadium here on Tuesday evening.
Captain Fatkhuloev put Tajikistan ahead in the 27th minute from a penalty (1-0).
Tajikistan got penalty when their onrushing forward Jahangir was fouled by Nepalese defender AnantaTamang in the danger zone.
Substitute Tursunov sealed the fate of the match scoring the 2nd goal in the 69th minute by an accurate header from goalmouth melee, capitalising on a cross off his teammate (2-0).
Tajikistan earned deserving victory dominating over Nepal for most of the proceedings.
In the remaining group match, Tajikistan will play Palestine on Thursday at 6:30 pm at the same venue while Laos will play the Philippines on Wednesday at the same time and same venue.
Earlier on Monday, Bangladesh made a good start beating Laos by 1-0 goal in the opening match of the tournament with local hero Biplu Ahmed scoring the match winner in the 60th minute by a good shot from a handshake distance.
Six teams—split into two groups—are initially taking part in the first phase in Sylhet with the matches kicking off at 6:30 pm.
Later, two semifinals will be held at the Bir Shrestha Ruhul Amin Stadium in Cox's Bazar on October 9 and 10 and the final will commence at the Bangabandhu National Stadium in Dhaka on October 12.
Participating teams are:
Group A – holders Nepal, Palestine and Tajikistan
Group B – Laos, the Philippines and hosts Bangladesh.
Remaining fixture of group matches:
Oct 3: Laos vs Philippines
Oct 4: Tajikistan vs Palestine
Oct 5: Bangladesh vs Philippines
Oct 6: Palestine vs Nepal