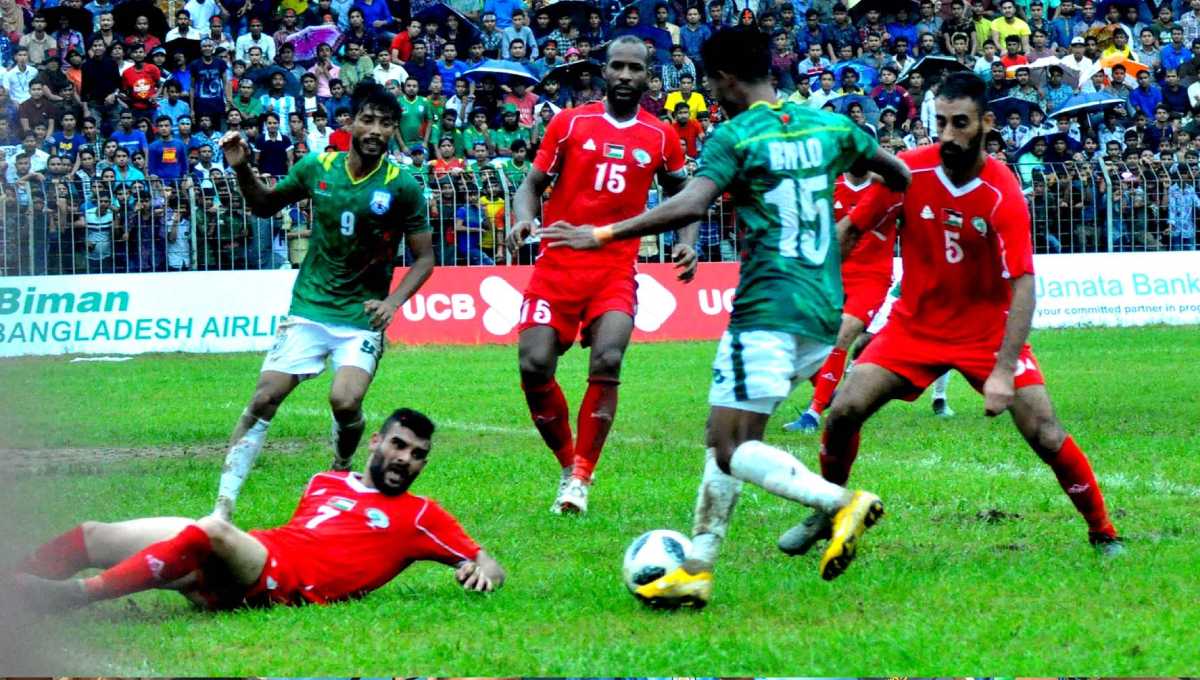 Cox's Bazar, Oct 10 : Favorite Palestine stormed into the final of the six-nation 5th Bangabandhu Gold Cup International Football Tournament eliminating hosts Bangladesh by 2-0 goals in a hard fought 2nd semifinal at the rain-soaked Birshrestha Ruhul Amin Stadium in the tourist town here on Wednesday.
They will play final on Friday (Oct 12) at 6:30 pm at the country's premier sports venue–Bangabandhu National Stadium in Dhaka– against Tajikistan, which made a final berth eliminating the Philippines also by 2-0 goals in the first semifinal on Tuesday.
Mohammed Balah and Sameh Maraabe scored for the Palestine one in each half.
Although, the Bangladesh (FIFA ranking 193) lost the match by 0-2 goals, but they fought equally with their giant Arabian rival Palestine (FIFA ranking 100) till the final whistle, playing a confident attacking football.
Unmarked Mohammed Balah scored the first goal for Palestine in the very 8th minute of the match by an accurate angular header, utilizing a readymade cross of his teammate (1-0).
After conceding the goal, Bangladesh took control of the match and made a series of attempt one after another in the 19th, 22nd and 33rd minutes, but failed to materialised any due to shakiness of their forwards Nabib Newaj Zibon and Biplo Ahmed.
In the 2nd schedule time of the 2nd half, both the teams also played with attacks and counter attacks but failed to change results before the stoppage times.
When the match was almost heading for 1-0 victory for Palestine and Bangladesh were all out in the Palestine's zone for an eqaulizer, then Sameh Maraabe scored the 2nd goal for Palestine in the 4th minute of the stoppage time (94th minute) by a placing shot from danger zone, off long pass of his mate (2-0).
Local fans expressed their dissatisfaction over not to field local booter Ibrahim and a last minute inclusion of another local footballer Tohidul Alam Sabuoz.
Earlier, Palestine clinched the Group A title to reach the semis with all-win record beating Tajikistan 2-0 and holders Nepal 1-0 while the Philippines emerged Group B champions also with all win-run beating Laos 3-1 and Bangladesh 1-0.
Bangladesh managed a berth in the last four stage beating Laos 1-0 after conceding 0-1 defeat against the Philippines while Tajikistan also managed semifinal berth beating Nepal 2-0 and after suffering 0-2 defeat against favourite Palestine.
Yellow cards- Shadi Shaban, Pablo Tamburrini (Palestine).
Bangladesh team: Ashraful Islam Rana, Waly Faisal (Rahmat Mia), Topu Barman, Tutul Hossain badsha, Bishwanath Ghosh, Jamal Bhuiyan, Emon Mahmud (Rabiul Hasan), Boplo Ahmed (Towhidul Alam Sabuz), Masuk Miah Zoni, Nabib Newaj Zibon and Mahbubur Rahman Sufil.