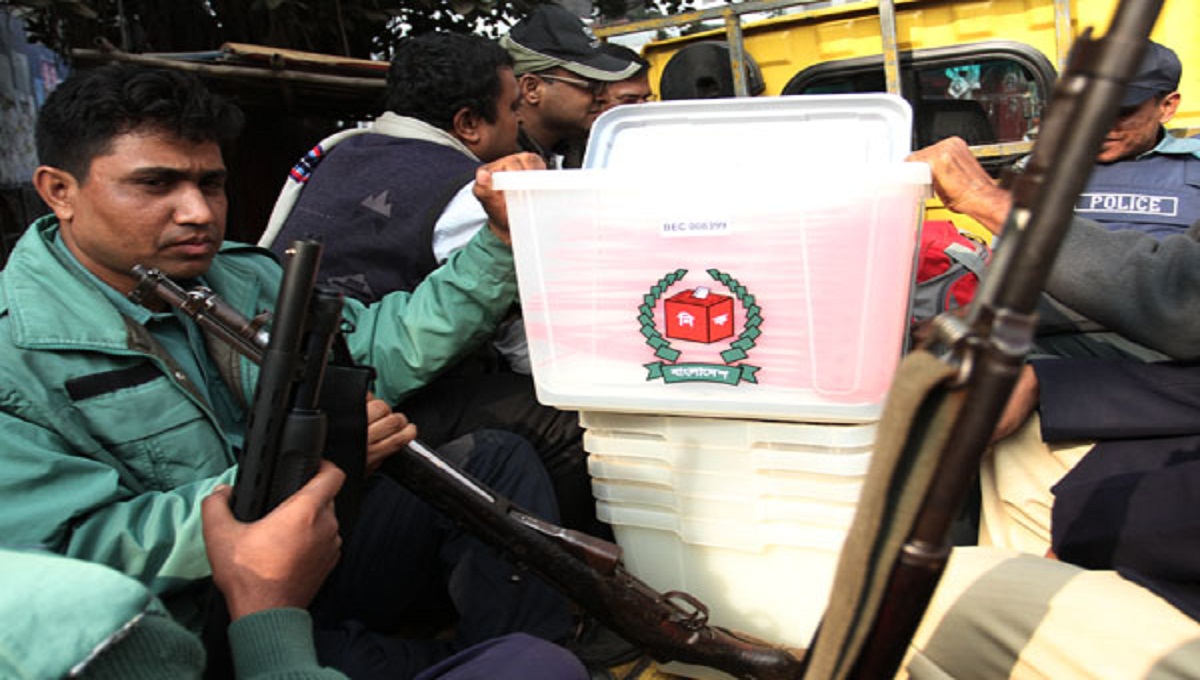 Dhaka, Dec 28 : All the election materials, including translucent ballot boxes and ballot papers, will reach polling stations across the country by Saturday as the Election Commission (EC) has completed its preparations to arrange the general election on Sunday, EC officials said.
Amid tight security with the deployment of over 7 lakh security members across the country, the voting in the election will be held from 8am to 4pm without any break.
The country's people are going to witness a battle mainly between two major political camps –-ruling Awami League-led Grand Alliance and Dr Kamal Hossain-led Jatiya Oikyafront – in the election to be held with the participation of 39 registered political parties.
Meanwhile, the curtain fell on the 18-day official electioneering on Friday morning amid allegations and counter-allegations of violence from the two major political coalitions.
Chief Election Commissioner KM Nurul Huda on Friday urged the members of law enforcement agencies to create a congenial environment so that all can cast their votes as per their choice. "Huge aspirants are participating in the election. I hope the election will be held in a festive mood," he said while visiting the media booth at the Result Announcement Centre of Nirbachan Bhaban in the city.
Replying to a query about the fear of opposition parties, the CEC said, "We're ready to prove them wrong. The voters will cast their votes in a festive environment."
Election Commissioner Brig Gen (retd) Shahadat Hossain Chowdhury said the Commission has taken all the preparations which are essentials for the election. "We're fully ready for arranging the election," he said while taking to reporters at Nirbachan Bhaban on Friday.
Shahadat said though there are political tensions, there is no fear about the election.
A total of 103,826,819 voters –- 52,371,616 males and 51,455,203 females — will be allowed to exercise their franchise in 299 constituencies out of 300 across the country.
The EC has postponed the election to Gaibandha-3 parliamentary seat following the death of the Jatiya Oikyafront candidate. The Gaibandha-3 polls will be held on January 27.
In the 299 constituencies, a total of 1,861 contesting candidates are running in the election.
Of the contenders, 1733 are nominated by political parties and 128 independent ones.
The EC has already finalised 40,051 polling stations with a total of 205,691 booths for the 299 constituencies. As per the police reports sent to the Election Commission, 64 percent polling stations are important (vulnerable) across the country.
On the voting day, a total of 608,000 security men will be deployed to guard all the polling stations across the country. Of them, some 121,000 are police members, 446,000 Ansar men and 41,000 are village police members, according to the EC's factsheet.
A security team comprising of 14-17 members will guard each polling station.
In metropolitan areas, a 17-member security group having at least four police members with arms will ensure security to each important (risky) polling station, while a 16-member group having at least three police members with arms to protect each normal station.
Outside metropolitan areas, a 16-member security team having at least two police members with arms will guard each important polling station, while a 15-member security group having at least one police member with arms to protect each normal polling station.
Besides, 12,420 Army personnel (414 platoons) now remain deployed on election duty in 389 upazilas, while 1,440 Navy personnel (48 platoons) in 18 upazilas, 1,260 Coast Guard members (42 platoons) in 12 upazilas, 29,490 BGB members (983 platoons) across the country and 18,000 Rab members (600 platoons) throughout the country.
Some 65,000 other security men, including Rab members, are engaged as striking forces across the country to maintain the law and order outside polling stations.
Police patrol teams in districts and metropolitan areas are engaged to maintain the election atmosphere across the country.
Out of 299 constituencies, electronic voting machines (EVMs) will be used in six –-Dhaka-6 and 13, Chattogram-9, Rangpur-3, Khulna-2 and Satkhira-2– instead of traditional ballot papers.
A total of 2,124,554 voters will be allowed to cast votes through 5,045 EVMs under 845 polling stations in the six constituencies.
As per the EC's directives, the government has already imposed ban on plying of unauthorised motorcycles from Friday midnight, while other vehicles from Saturday midnight.