Gazette in 2-3 days with retrospective effect from Dec 1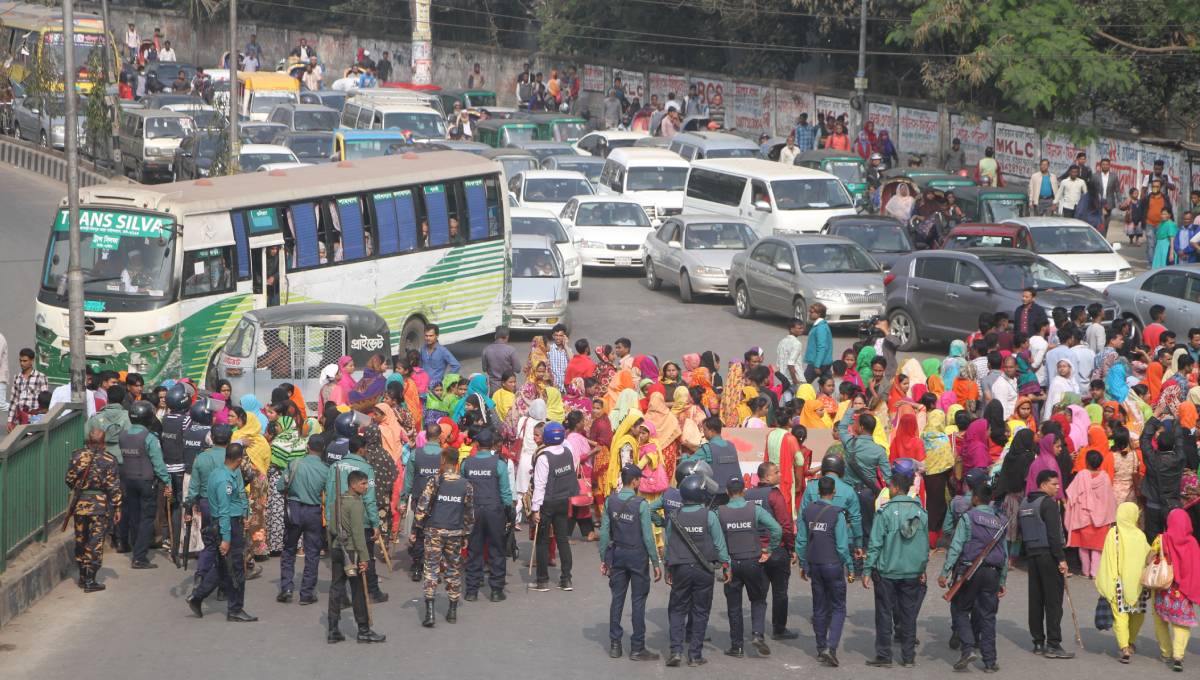 Dhaka, Jan 13 : In the wake of widespread protests by RMG workers for the last few days over the disparity in their new wage structure, the government on Sunday revised their wages.
Commerce Minister Tipu Munshi announced this after a meeting of the committee, formed by the government to review the wage structure of the RMG workers, at the Secretariat.
The wages of garment workers under grades 1, 2, 3, 4, 5 and 6 out of total seven grades have been adjusted freshly.
The minimum wage under the 6th grade has been increased to Tk 8,420 from Tk 8,405 which was Tk 5,678 in 2013 while that under the 5th grade to Tk 8,875 from Tk 8,855 which was Tk 6,042 in 2013.
A 4th grade worker will now get Tk 9,347 instead of Tk 9,245 as minimum wage against Tk 6,420 in 2013 while 3rd grade one will get Tk 9,845 instead of Tk 9,590 which was Tk 6,805 in 2013.
The minimum wage under the 2nd grade has been increased to Tk 15,416 from Tk 14,630 which was Tk 10,900 in 2013 while that under 1st grade to Tk 18,257 from Tk 17,510 which was Tk 13,000 in 2013.
On November 26 last, the government published a gazette notification fixing Tk 8,000 as the minimum wage of garment workers.
State Minister for Labour and Employment Munnujan Sufian, Commerce, and Labour and Employment Secretaries, presidents of the Federation of Bangladesh Chambers of Commerce and Industry, Bangladesh Garment Manufacturers and Exporters Association and Bangladesh Knitwear Manufacturers and Exporters Association, and workers' leaders were present at the meeting.
Munnujan Sufian said a gazette notification on the revised wage structure will be published within two or three days and it will come into retrospective effect from December 1, 2018.
Tipu Munshi said he would personally provide Tk 1 lakh to the family of the garment worker who died during the agitation at Hemayetpur on January 8.
Amirul Haque Amir, president of the National Garment Workers' Federation, welcomed the government's decision and urged workers to return to work.