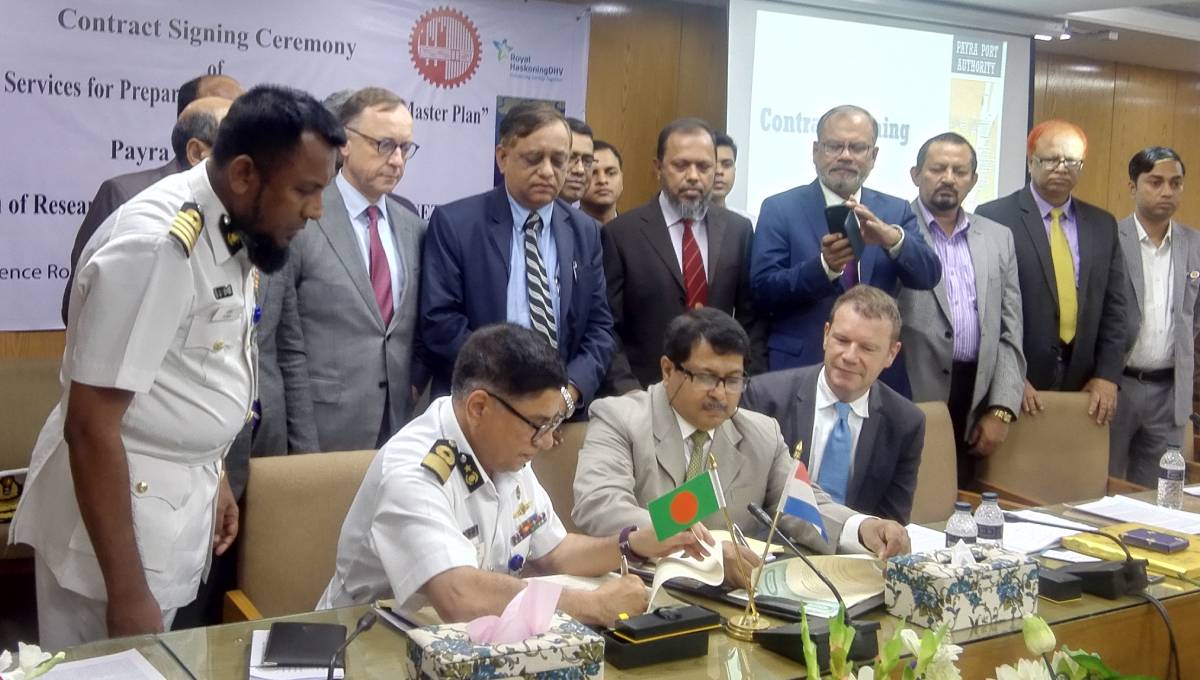 Dhaka, Feb 14 : The Payra Port Authority (PPA) has appointed a joint team of Dutch company Royal Haskoning DHV and Bangladesh University of Engineering and Technology (BUET) to prepare the detailed master plan for overall development of the 3rd seaport of the country.
A tripartite agreement titled 'Consultancy Services for Preparation of Payra Port Detailed Master Plan' was signed on Thursday at the seminar hall of the Shipping Ministry in presence of its Secretary Abdus Samad and Netherlands Ambassador to Bangladesh Harry Verweij.
PPA Chairman Commodore M Jahangir Alam, Bureau of Research, Testing and Consultation of BUET Prof Shamsul Haq and Strategic Business director of Royal Haskoning DHV Erice Smit signed the agreement on behalf of the respective parties.
29 BUET specialists and 61 from Royal Haskoning will be in the consulting panel who will prepare a total of 24 study and development project reports including the master plan within 18 months for a cost of around Tk 125 crore.
Payra Port, one of the "10 Fast Track" projects being implemented by the government with top priority, will be built on the bank of Rabnabad channel of Patuakhali district.
Under a mid-term-plan, the PPA will implement construction of first terminal, capital dredging of Ramnabad Channel, coal and dry bulk terminal, multipurpose terminal.
In the long-term-plan, the PPA plans to implement transshipment terminal, deep-water container terminal, offshore terminal or supply base, core port infrastructure, renewable power generation, housing, education health facilities, procurement of Towage Harbour Tugs and internal ferry terminal etc.
Other necessary infrastructures like airport, rail connectivity, ship yard and ship repair facility, LNG and Liquid Bulk Terminal will be built by other ministries concerned.
For each of above components, the consultant will deliver Feasibility Study Report, ESIA (Environmental and Social Impact Assessment).
The Detailed Port Master Plan will be developed by the consultants through Topographic Surveys, Site Investigations and Modeling Studies.
Exact location of terminals and all necessary port components and infrastructures will be sketched on the Master Plan.