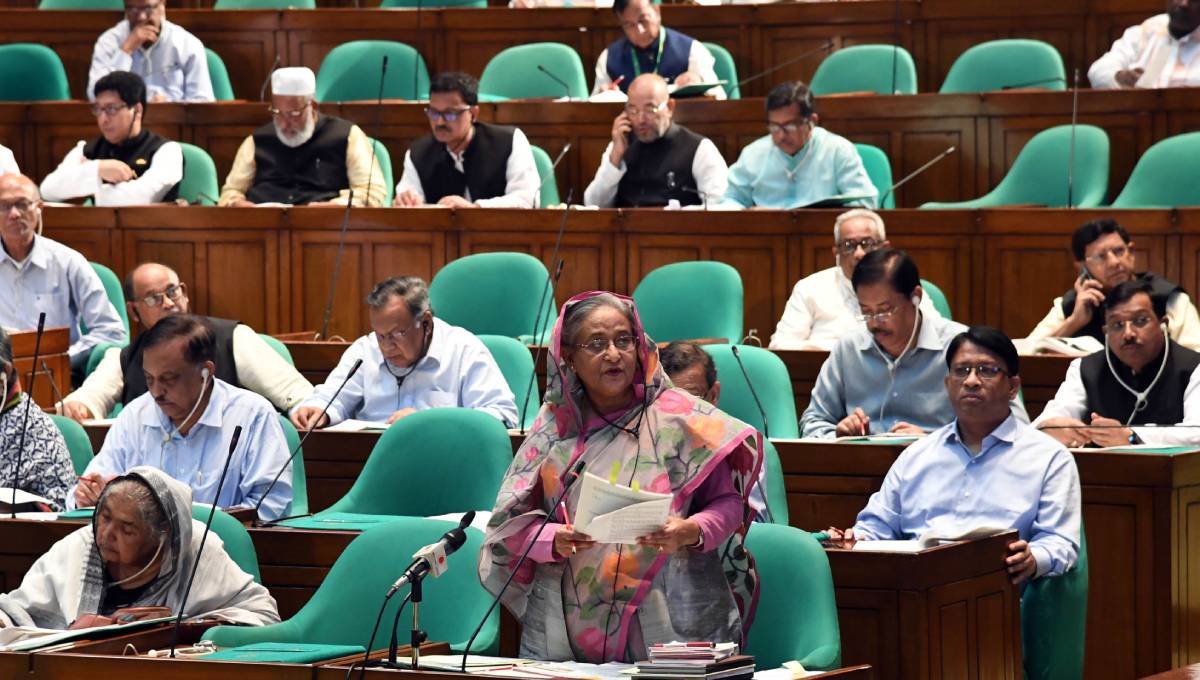 Dhaka, Jun 17 : Prime Minister Sheikh Hasina on Monday told Parliament that there is no liquidity crisis in the banking sector insisting that certainly there is money in banks.
"It's said there's no money in the banks. Why don't they (the banks) have money? Of course, the money is there. But, there is no money to be looted," she said.
The Prime Minister said this while winding up her speech on the supplementary budget for 2018-19 fiscal year in absence of Finance Minister AHM Mustafa Kamal.
Pointing at the critics of the proposed budget for 2019-20 fiscal year, Sheikh Hasina questioned how Bangladesh could accomplish so much development in the last 10 years had the budgets not been the good ones.
"Some people say we couldn't implement the (previous) budgets. We can place budget, but can't implement it. If so, how have we been able to increase the budget size from Tk 61,000 to over Tk 5 lakh crore today?" she said.
Sheikh Hasina said the government targets ambitious revenue collection and expenditures to some extent considering the development and GDP growth targets.
"So, we target a little bit high amount during projection. There's also necessity for fixing an ambitious revenue collection target to some extent," she said.
Hasina said Bangladesh has success stories for making impossible things possible in the last one decade of journey towards progress and prosperity. "It was not possible to attain the achievements unless we had ambition," she added.
About the supplementary budget, the Prime Minister said, "Our budget needs to be corrected, reviewed or fine-tuned to some extent because of the reality, which we do every year. It happens in the budgets of all countries."
Some 7.8 percent GDP growth was estimated in the budget for 2018-19 fiscal year), but 8.13 percent GDP growth has been estimated in the supplementary budget, she said.
It was estimated in the budget that the inflation rate would be 5.6 percent. But 5.5 percent inflation has been estimated in the supplementary budget, she said adding that the government has been able to keep the inflation under control with cautious measures.