Art can be a great tool to raise awareness on social issues, they say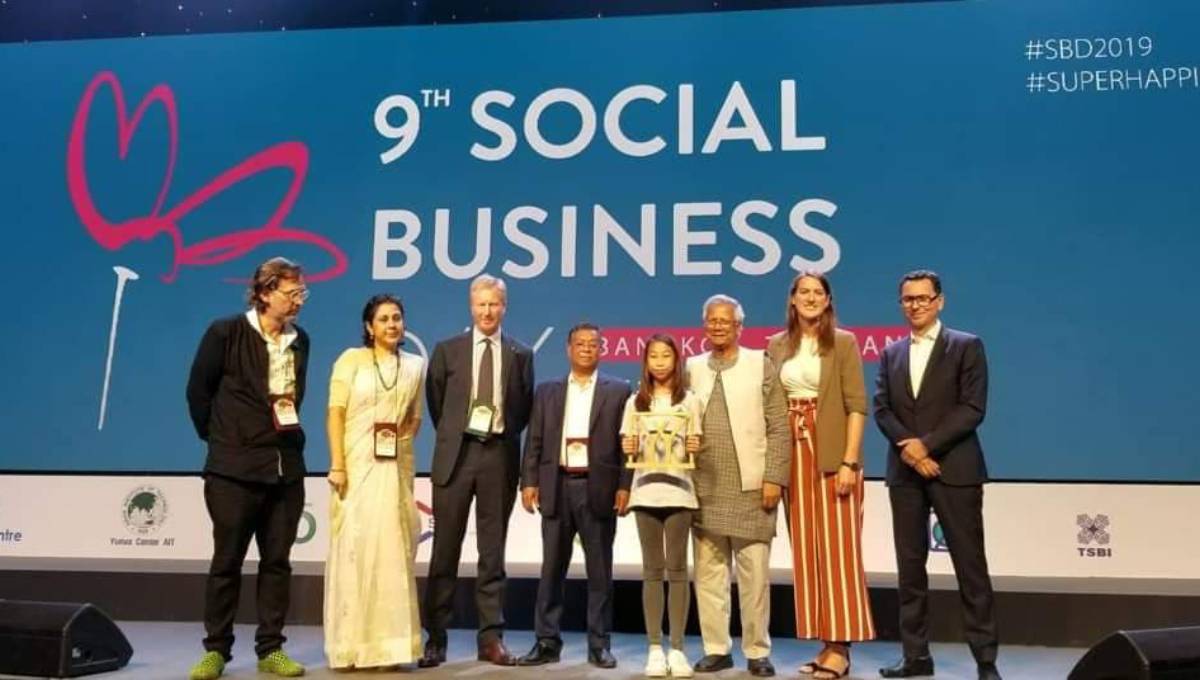 Bangkok, June 30 : Speakers at a  panel discussion here have suggested harnessing the strong unifying power of sports for community building and empowerment.
They said nobody can plan a major sporting event without thinking about the aftereffects of the event.
An estimated seven billion euros is being spent around Paris 2024 where a conscious effort is being placed to facilitate the growth of social business.
Pierre-Antoine Lefevre, Manager of Social Business Initiatives of Peace & Sport, spoke about how peace building activities can be combined with values of sports.
The Social Business in Sports plenary session, moderated by Yoan Noguier, Yunus Sports Hub, Co-Founder & Director, was held at the Centara Grand & Bangkok Convention Centre, Central World on Saturday.
Six speakers participated in the session including Marie Barsacq, Impact and Legacy Director, Paris 2024, Elisa Yavchitz, General Manager, Les Canaux and Ge Yang, Paralympic Gold Medal Winner.
Among other prominent announcements, one was about an opera based on Professor Yunus' work and life called "27 dollari" presented by Paola Samoggia, an Italian composer, representing the Italian National Singers Association.
"Art can be a great tool to raise awareness on social issues by using a more emotional form of communication. Italian form of communication makes hearts beat together. Our super happiness is music. Our next step is making a DVD of our operatic performance that is inspired by social business," she said.
In the Pecha Kucha sessions, four presenters highlighted their projects.
Notable presenters included Marie Barsacq, Impact & Legacy Director, Paris 2024 and Elisa Yavchitz, Manager, Les Canaux who spoke about the sourcing tool Esse2024 for the Olympics Event in Paris.
Esse2024 acts as a sourcing tool for social and environmental catalyst for social businesses to scale up, acts as a sourcing tool for social business entrepreneurs through which 25% of the games' market is channelled to small businesses and social work.
It will also monitor and share information about Paris 2024's market and social business strategies and track and report social and environmental impact of the games.
Professor Cam Donaldson, Yunus Chair, Glasgow Caledonian University spoke about the growth of academic research and best practices around social business development.
Lamiya Morshed, Executive Director Yunus Centre, commented on the proliferation of Yunus Social Business Centres globally and discussed how entities can get in touch to set up their own centres.
Gao Zhan, President, Co-founder, Grameen China, discussed how microcredit and social business activities are changing the cultural fibre of the pro poor population in his country.
They are working with major stakeholders in the community like China Construction Bank and plan to reach out to 4,000 low-income beneficiaries.
Tasnima Islam, Director for Strategic Ventures and Partnership, Yunus Social Business (YSB), in her Global YSB Overview showcased its reach to nearly nine million people at the bottom of the pyramid in three continents, 61 social businesses and helping more than 1,800 social entrepreneurs globally.
A plenary session on the challenges of social business was also held where Noppadol Dej-Uddom, Chief Sustainability Officer, CP Group & Vice President of the Executive Committee, True Corporation; Eric Lesueur, Chief Executive Officer, 2EI-VEOLIA and Sohel Ahmed, Managing Director, Grameen Shakti were present.
Challenges, such as providing WHO-standard drinking water globally while conducting a social business around it, still remains a daunting task.
Hans Reitz, Founder of Grameen Creative Lab, proposed a question "what if we can agree that any business regarding access to water for underprivileged communities can only be a social business? Can it ever be done?"
Luciano Gurgel, Investment Director of Yunus Social Business (YSB) Brazil, mentioned that regulatory infrastructure around the world is not conductive for social businesses development and needs to change.
Major announcements regarding social business initiatives for peace initiatives in Colombia and Central African Republic were made.
The initiative in Colombia in partnership with local Colombian and international corporations, universities and NGOs support aims to provide for 10 social businesses that impacts 200,000 people and create income opportunities for 5,000 people in conflict affected areas as well as setting up Yunus Social Business Centres.
Enzo Cursio, Coordinator, UN-FAO Nobel Alliance for Food Security and Peace, the point person in the Central African Republic social business initiative, then said: "There's no peace without food security and there's no food security without peace".
The work centres around reintegrating former military combatants, who are also religious minorities, into the community by providing them access to social business training, incubation programmes and working with 25 agri-business companies.
More announcements came from the Foundation for Yunus Social Business Taiwan, by Juno Wang, the CEO of Foundation for Yunus Social Business Taiwan, who talked about receiving 71 social business project plans in recent times.
Taiwan will host the 2nd Yunus Social Business East Asian Conference 2019 where Prof Yunus was invited to make the keynote speech later this year.
The release of Turkish and Urdu versions of Professor Yunus' book 'A World of Three Zeros' was also announced.
"Changing the world without losing your mind" by Alex Counts, Professor Of Public Policy, University of Maryland was announced where Alex writes about his 30 years of lessons learned and struggles faced in social entrepreneurship while working closely with Prof Yunus.