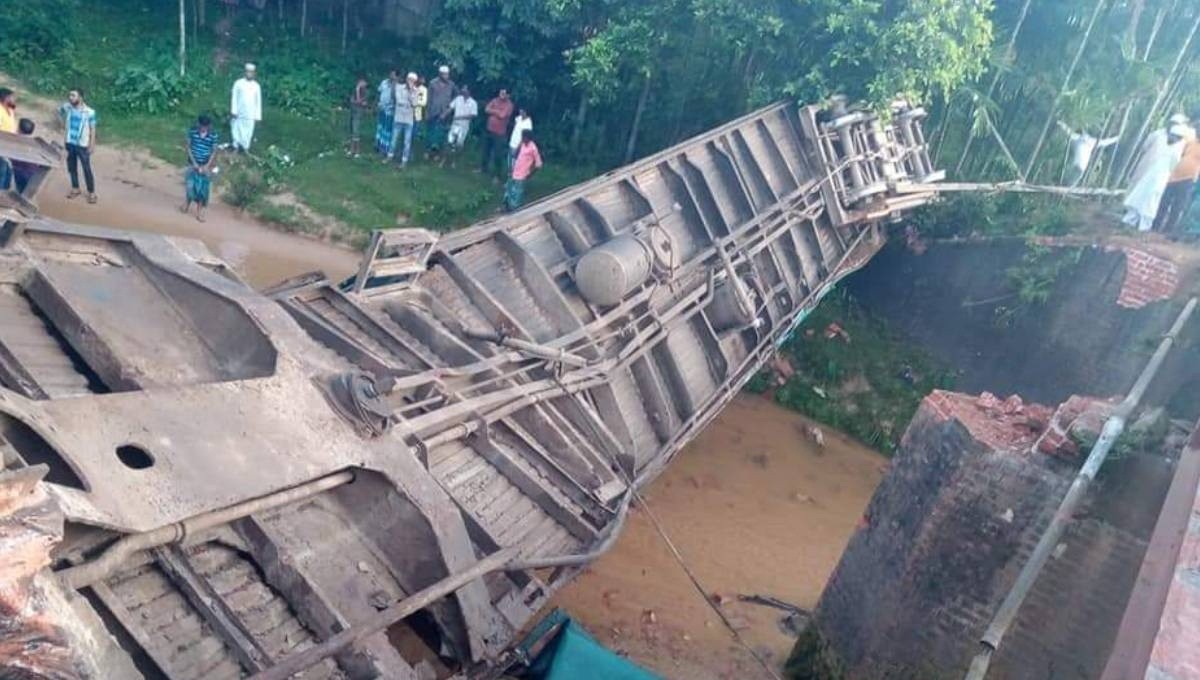 Sylhet Office : At least 13 rail bridges with 'Dead Stop' signs are being used on 179-kilometre Sylhet-Akhaura route, leaving thousands of passengers vulnerable to accidents.
A 'Dead Stop' sign at rail bridge instructs train to stop first before crossing it and then run at only a five-kilometre per hour.
Sources at Railway East Zone said six trains – Parabat, Jayantika, Paharika, Udayan, Upaban and Kalni – carry 12,000 to 15,000 passengers every day over these danger spots.
Eight of these 'Dead Stops' are in an 18-km stretch from Sylhet to Mogla Bazar and five in 164-km area from Mogla Bazar to Akhaura Bridge.
According to Railway Engineering's Sylhet branch, the 13 bridges with 'Dead Stop' signs are – Samshernagar-Tilagon section's bridge No 200, Mogla Bazar-Maijgaon section's bridge No 43, 45 and 47, Kulaura-Baramchal section's bridge No 5 and 7, Satgaon-Sreemangal section's bridge No 141, Sreemangal-Vanugach section's bridge No 157, Maijgaon-Vater Bazar section's bridge No 29, and Montola-Itakhola section's bridge No 56.
Sajib Kumar Malakar, assistant station manager of Sylhet Railway Station, said most of the bridges in this section are in risky condition.
"I can't confirm whether the June-23 accident happened only because of the bridge's condition," he added.
Five people were killed when six coaches of Dhaka-bound 'Upaban Express' went off the rails on June 23 after a culvert over the Barochhara Canal, near the Baramchal Railway Station, caved in.
A coach of fertilizer-carrying BC Special Train from Shahjalal Fertilizer Factory derailed at Maijgaon Station adjacent area on April 5. A coach of Jalalabad Express ran off the tracks at Mollikapur area under Fenchuganj upazila on May 16.
An oil tanker train derailed at Kulaura in Moulvibazar in March 2018, snapping rail communication for two hours with other parts of the country.
Trains on Sylhet-Chattogram and Dhaka-Sylhet routes were halted for 15 hours on February 23 last year due to derailment of Upaban Express at Satgaon in Sreemangal.
In 2017, media reports highlighted the sorry state of Monu Bridge and how bamboo was used to repair it. The bridge remained that way since then and is currently included in the list of risky bridges.
Bhoismara rail bridge, between Sreemangal and Satgaon station, was damaged in a flashflood on April 5, 2017. The condition of the bridge is not much better now. The same is the case with the rest of the bridges that are using 'Dead Stops' to prevent accidents and loss of lives.
Prime Minister Sheikh Hasina on June 25 ordered the authorities concerned to conduct a survey of rail bridges and culverts across the country and repair those damaged or risky.