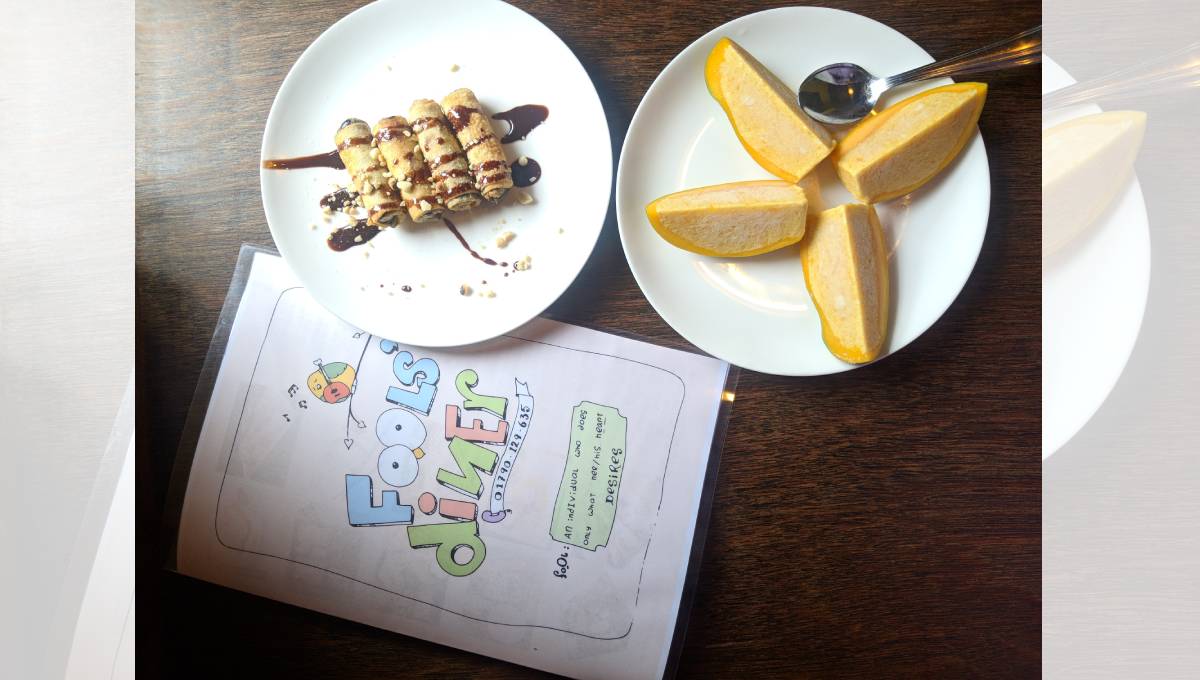 Dhaka, July 7 : Fool's Diner has made quite a name for themselves for their Bento Boxes and Mango Kulfis. The Kulfis are available mostly during summer when fresh ripe mangoes are available. After having a heavy lunch at another place, which was right across Fool's Diner, I ended up deciding to drop by for the Kulfi. However, I also ended up ordering the Chocolate Rolls simply because, chocolate duh!
Both the desserts were served at the same time. The Mango Kulfi is actually 1 mango sliced into 4 parts. It's meant to be scooped up with spoon but no one's judging if you simply choose to use your hands .  The Kulfi, sadly wasn't the best I've ever had. Yes, it was creamy and dense (perhaps too dense) but yet, very basic for the price. I wouldn't mind a few pistachios for an additional texture. My friend who is a huge fan of fruits did love it but we both found the pricing to be a bit too much.
The chocolate rolls, on the other hand, has become one of my favorite desserts! The dessert is melted chocolate wrapped in a thin roll wrapper which are later deep fried and garnished with peanuts! They are served warm and I would suggest you eat them almost immediately for the gooey chocolate. I was craving for some vanilla ice cream along with it and would probably ask them if it can be provided as an add-on.
If you're looking for a cozy place to just catch up with a friend for some refreshing drinks and dessert or even a pocket friendly lunch, Fool's Diner is a must. They have been consistent with their taste since day 1 and the rustic interior is just the perfect touch to enjoy a good meal with a close friend.