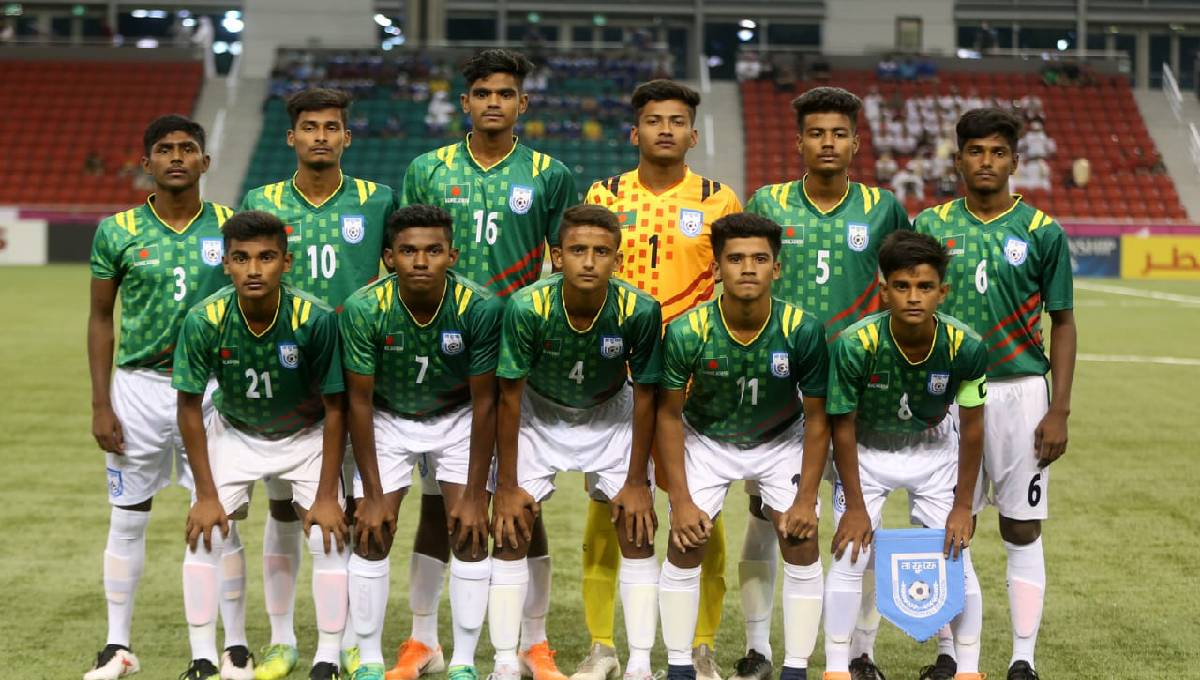 Dhaka, Sep 19 : Bangladesh Under-16 Football team will take on Bhutan in their second group match of the ongoing AFC U-16 Championship'2020 Qualifiers at Aspire Dome Indoor Stadium in Doha on Friday (Sept 20).
The match will kick-off at 7 pm (BdST).
Bangladesh, which was put in Group E of the AFC junior meet along with Qatar, Yemen and Bhutan, will play Yemen in their remaining match on Sunday (Sept 22) at 7 pm (BdST) at the same venue.
Bangladesh started their campaign conceding a 0-2 goal defeat against hosts Qatar in their first match Thursday night in Doha.
After the barren first half, forwards Rashid Abdulaziz Al-Abdulla and Abdulrahman Al-Dosari scored one goal each for the hosts in the 58th and 89th minutes respectively.
In the day's other match, Yemen was crushed Bhutan by 10-1 goal at the same venue.
Earlier, a 31-member Bangladesh U-16 Football Team consisting of 23 booters and 8 officials reached Qatar capital Doha Monday evening to participate in the AFC junior meet.
Bangladesh squad (Players): MdMehediHasan, RafsunJamyMim, Mehdi HasanSrabon, Al Mirad, Apurbo Mali, JonySikder, Mohammad AzizulHoqueAnanto, MdPiasAhmmed Nova, MdEmon Islam Babu, Sirajul Islam Rana, SajedHasanJummonNijum, SayedNayeem Ahmed, Kazirul Islam Hridoy, MdRajibHossain, HafizurRahmanTushar, MdRabiulAlam, Md Ali Shakib, Saiful Islam Sumon, AsadulMolla, Siful Islam Saeed, Tauhidul Islam Sifat, SabbirAhamedMoni and Moniul Islam Moni.