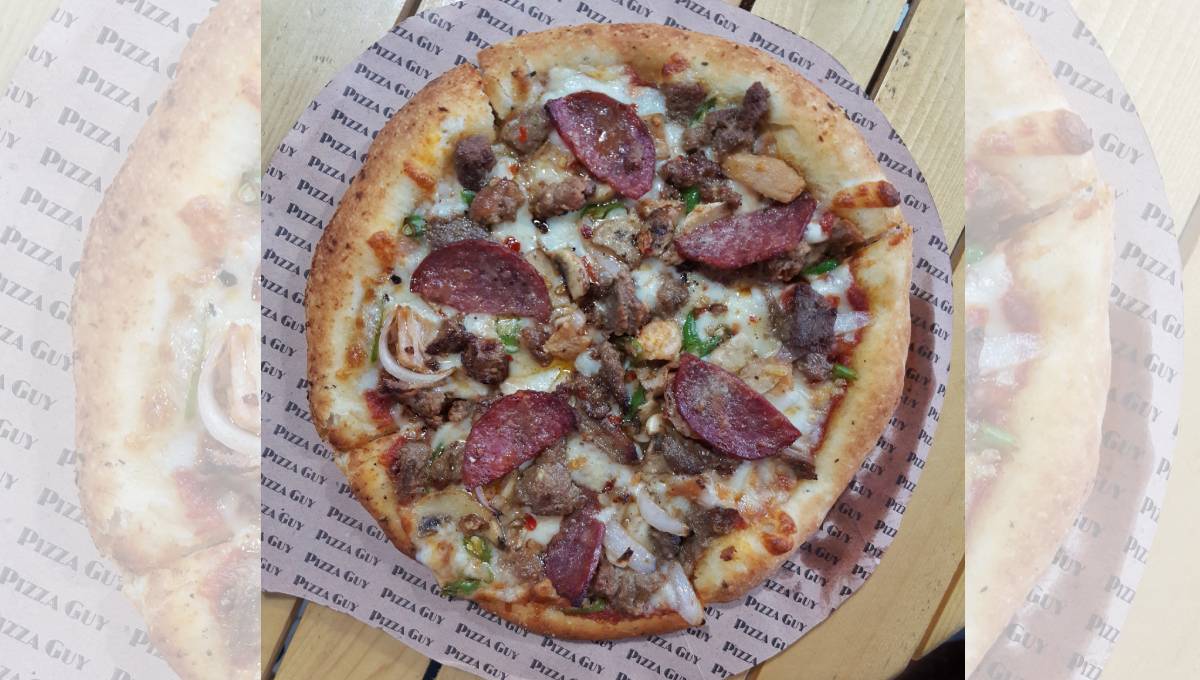 I always avail the unlimited pizza offer during Ramadan (guilty). So when I had moved to Dhaka back in 2016, Pizza Guy was one of the most hyped places to redeem the unlimited pizzas and soft drinks offer. However, the experience at their Banani Branch back then was underwhelming to say the least. The crust was getting thicker with every order and the toppings were decreasing. I wasn't willing to pay so much for mediocre pizzas with other great pizza places existing.
However, after almost 3 years, I came across one of their newly opened branches at Shimanto Shambhar right after watching a movie. They have their regular menu as well as an express menu (smaller portions) there. As there were two of us who have a humongous appetite, we ordered the Mozzarella Sticks, Jalapeno Poppers, Honey Glazed BBQ Wings, and Spicy Garlic Mushrooms as starter, Evil's Nightmare, and Mushroom Lovers Pizza (7 inches on their Express Menu) as mains, and Tiramisu for dessert.
The food started arriving within 15 minutes. At first I had started with the Jalapeno Poppers. They are mozzarella cheese, corn, and bits of jalapeno stuffed balls which are deep fried. I cannot emphasize enough on how good this starter was. The popper was soft to the touch; almost as if it was stuffed with cream inside. When you bite into it, the cheese oozes out and hints of spiciness and tanginess can be tasted. The Mozzarella cheese was equally cheesy however, what it missed was a Marinara dipping even though a mayo-ketchup dip is provided with it. As for the BBQ Wings, I wouldn't say they were the best I have had. The BBQ sauce was overly sweet and less smoky. Maybe I should opt for the Naga Wings next time? Another miss was the Spicy Garlic Mushrooms. Almost all pizzerias serve this starter now. This one was way too oily but the seasoning made it hard for me to resist from finishing it.
Now came the mains; the pizzas. To start off, beef isn't my favorite choice of topping but I still tried a slice from my friend's Evil's Nightmare pizza. The pizza was loaded with beef sausage, beef chunks, spicy chicken, pepperoni, mushroom, caramelized onion, loaded up with lots of spices and parmesan.  They really didn't kid when they mentioned spices. It was loaded with green chilies which gave me severe stomach burn later that day but I have to give it to Pizza Guy for how good their meat is! Absolutely loved the way the pepperoni was baked. However, the Mushroom Lovers Pizza wins for me. I thoroughly enjoyed their use of 3 kinds of mushroom and the bits of roasted chicken that came abundantly as toppings. It was not only cheesy, but the meaty mushrooms gave every bite a different taste. Lastly, for dessert we picked a small Tiramisu cup. It was quite creamy and the layer of biscuit was equally delicious but it lacked the coffee taste that Tiramisus are supposed to have.
I don't regret giving Pizza guy another try and especially now that they have an express menu, I wouldn't feel forced to spend a lot since they have smaller portions for an affordable price. If you ask me, it's one of the best picks at Shimanto Shambhar for you to binge at after a movie!