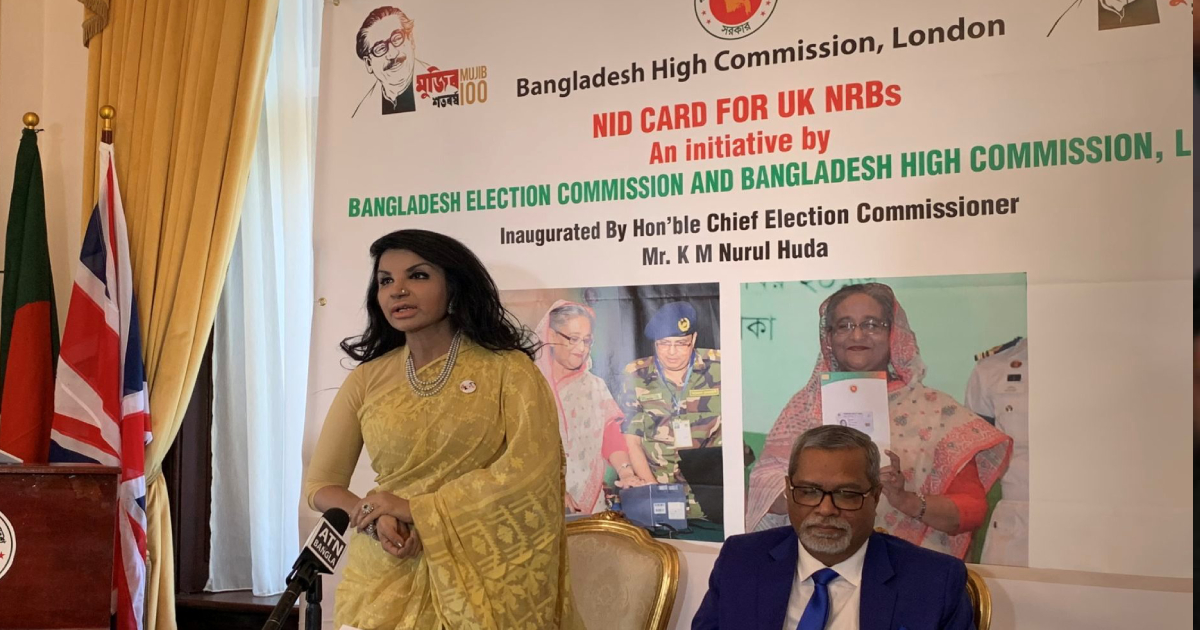 Bangladesh High Commission in London has started the formal registration of Bangladeshi expatriates in the United Kingdom and Ireland to provide them with the National Identity Card (NID).
The inaugural event was held at the Bangladesh High Commission in London on Wednesday in presence of Chief Election Commissioner (CEC) KM Nural Huda, the High Commission said in a statement on Friday.
UK is the first among western countries from where Bangladeshi expatriates can have their registration done online to get NID cards, thanks to the special initiative of Bangladesh High Commissioner for UK and Ireland Saida Muna Tasneem.
"We had made a commitment last year to start NID registration in the UK and this commitment was fulfilled with launching of this process," she said, thanking the CEC and the Election Commission (EC) for their support to bring this service to the doorsteps of the expatriate Bangladeshis in the UK.
CEC Huda said Bangladeshi-British nationals can now be registered online for NID cards from their homes. Upon verification of their information, the applicants will be advised to come to the Help Desk at the high commission or embassy to provide their finger prints and IRIS.
Subsequently, NID cards will be provided to eligible applicants through the Help Desk of their respective country, which will be opened in due course.
"NID cards will be given at the shortest possible time on completion of all necessary process by using the latest technology," he said.
High Commissioner Tasneem said the registration was inaugurated in the UK in accordance with the Vision for the Digital Bangladesh of Prime Minister Sheikh Hasina.
"This is a gift from the Prime Minister to the Bangladeshi-British citizens at the beginning of the Birth Centenary Celebration of Father of the Nation Bangabandhu Sheikh Mujibur Rahman," she said.
Tasneem said the High Commission in London will be observing a 'Mujib Borsho Special Consular Week' from March 23 when they are planning to handover the first batch of NID cards.
At the request of the High Commission, a delegation from the EC visited some major cities in the UK in July last year for a feasibility study on launching of the NID registration programme.
Election commissioners Rafiqul Islam, Kabita Khanam and Brig Gen (retd) Shahadat Hossain Chowdhury and EC Senior Secretary Md Alamgir also spoke on the occasion through a video conference from Dhaka.
Director-General of the National Identity Registration Brig General Saidul Islam made a PowerPoint presentation detailing the NID registration process and the importance and benefit of the NID.
To apply for NID, an applicant will need photocopy of passport, duplicate of citizenship certificate or home ministry approval if holding foreign passport; copy of passport of a Bangladeshi expatriate who identified the applicant as a Bangladeshi citizen; name, phone number and NID number and a declaration of a blood relative living in Bangladesh, declaration from the applicant that s/he has no NID card and certificate from respective embassy.