She urges journos to find out who's behind publication of Sinha's book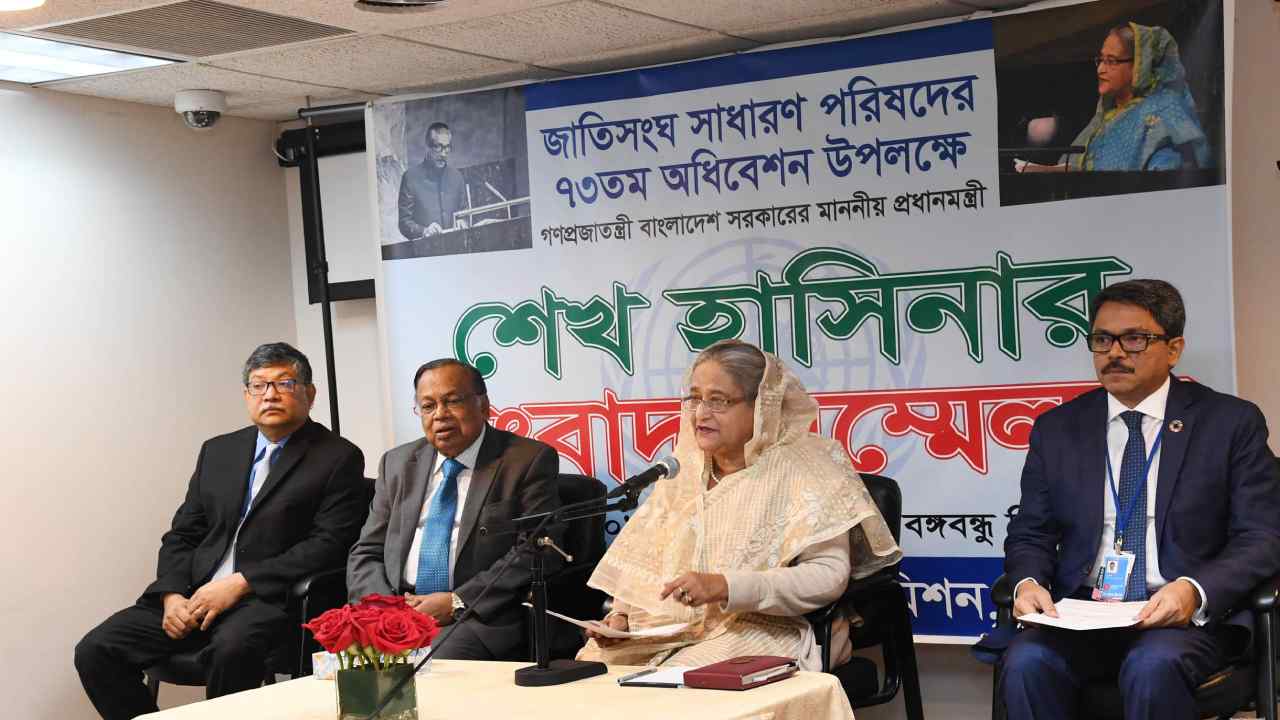 New York, Sept 28 : Prime Minister Sheikh Hasina on Friday said a government may be formed with representatives from the political parties having representation in Parliament ahead of the next general election.
"I talked to the Opposition Leader (Raushon Ershad). If they want, they can join us," she told a press conference here while replying to a question over the formation of the interim government.
The Prime Minister further said, "If all political parties having representation in Parliament want, we may form a government during the election with their representatives — no matter whether it is the ruling party or opposition, but there is no definition of election-time government here."
The Prime Minister asked the journalists to find out who are behind the publication of former Chief Justice SK Sinha's recently written autobiography. "I know about it, but I won't tell you … (rather) I want to know about it from you and I want that you will expose who are behind the publication of the book."
Justice Sinha, now in the USA, has recently written and published his autobiography mentioning various reasons behind resignation as Chief Justice.
Lalitmohan-Dhanabati Memorial Foundation holds the copyright of Justice Sinha's book titled 'A Broken Dream: Rule of Law, Human Rights and Democracy."
The publication ceremony of the book is scheduled to take place at Washington, USA on Saturday.
"Please unveil who're providing money for launching the book and whether any journalists like you or any newspapers are involved in it and how much help they are providing," Hasina said.
She said, "You'll have to find out whether any noted lawyer is correcting the script or any newspaper or its owners is patronising."
The Press Conference was arranged at Bangladesh Permanent Mission to the United Nation over her participation in the 73rd Session of the UN General Assembly in New York
Sheikh Hasina arrived here on September 23 and delivered her speech in the UN General Assembly on Thursday last.