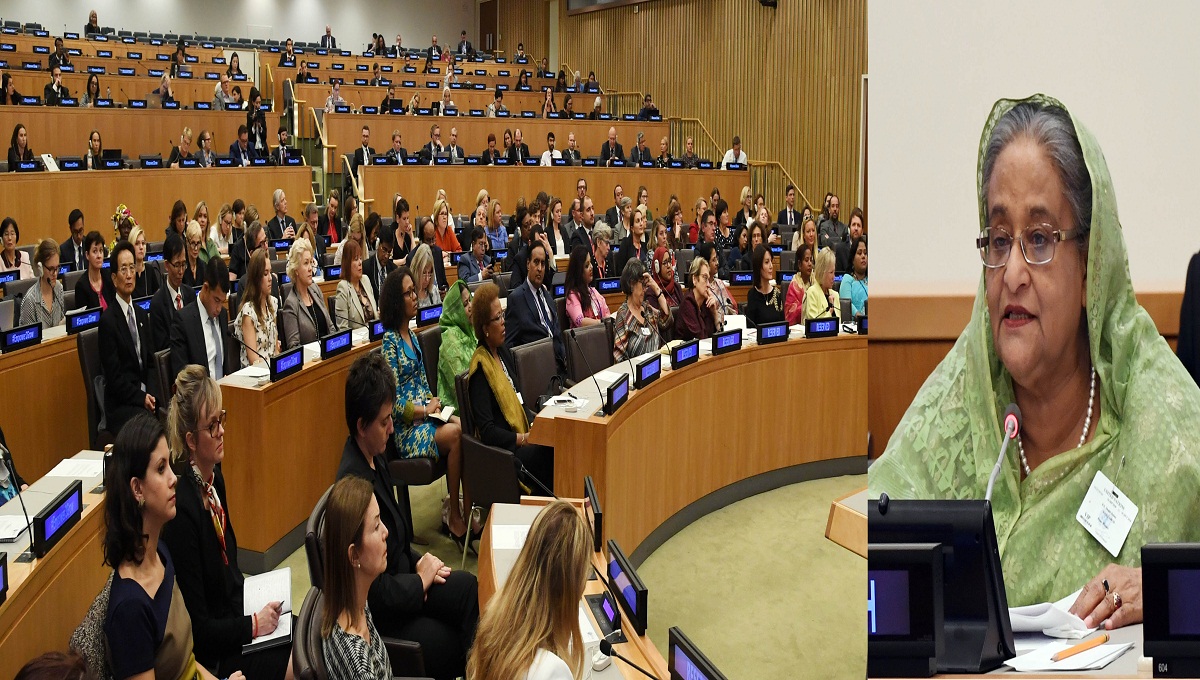 New York, Sept 28 : Prime Minister Sheikh Hasina has emphasised the need for three actions, including working for overcoming gender stereotypes regarding women's ability, to advance women empowerment.
The Prime Minister was addressing a high-level discussion on 'Economic Growth through Women Empowerment' at the Conference Room-3 of the United Nations Headquarters on Thursday.
She called for enhancing women's productivity by addressing challenges specific to them, including violence against women, and creating equal opportunities for women in all sectors of life and livelihoods with gender responsive policy intervention.
United Nations Secretary General Antonio Guterres was present at the event hosted by President of Lithuania and Chair of the Council of Women Leaders Dalia Grybauskaite.
"We've learned from our experience that economy gains significantly from empowerment of women. Greater gender equality reflects better education and health system, higher per capita income, faster economic growth and greater competitiveness," Hasina said.
Mentioning that a large number of women are unemployed, she said globally some 50 percent women aged 15 and above are employed, compared to about 75 percent men.
Besides, women earn 10-30 percent less than men for the same work, she added.
The Prime Minister said a study of McKinsey Global Institute suggests that closing gender gaps in labour market would add 12-25 percent to global GDP by 2025.
She said realisation of 'leaving no one behind' is contingent upon gender equality and women's economic empowerment. "Despite our commitments and efforts, gender gaps around the world remain large, pervasive and persistent."
About women empowerment in Bangladesh, Sheikh Hasina said the government has emphasised on various programmes and policies, especially targeted for women, that have not only leave impacts on women's economic empowerment but also reinforced women's status in the society.
In Bangladesh, women's empowerment has been identified as the most significant determinant of the outstanding economic progress of the country. "Our aim is to focus on decreasing the gender gap in targeted sectors like education, employment, business and policy making," she added.
Sheikh Hasina said there are 72 women members in current Parliament of Bangladesh, while the Speaker, the Leader of the House and the Deputy Leader of the House and the Leader  of  the Opposition– all are women.
According to the World Economic Forum's 2018 report, Bangladesh is Asia's second most gender equal country.
Women are receiving education free of cost in public institutions upto Class-XII and they are also provided with easy access to 'microsavings'.
Currently, there are 20 million women employed in the agriculture, service and industrial sectors. Women are holding high positions in the judiciary and administration. Bangladeshi women are making history in the United Nations peacekeeping operations.