Ministers speak high of rich heritage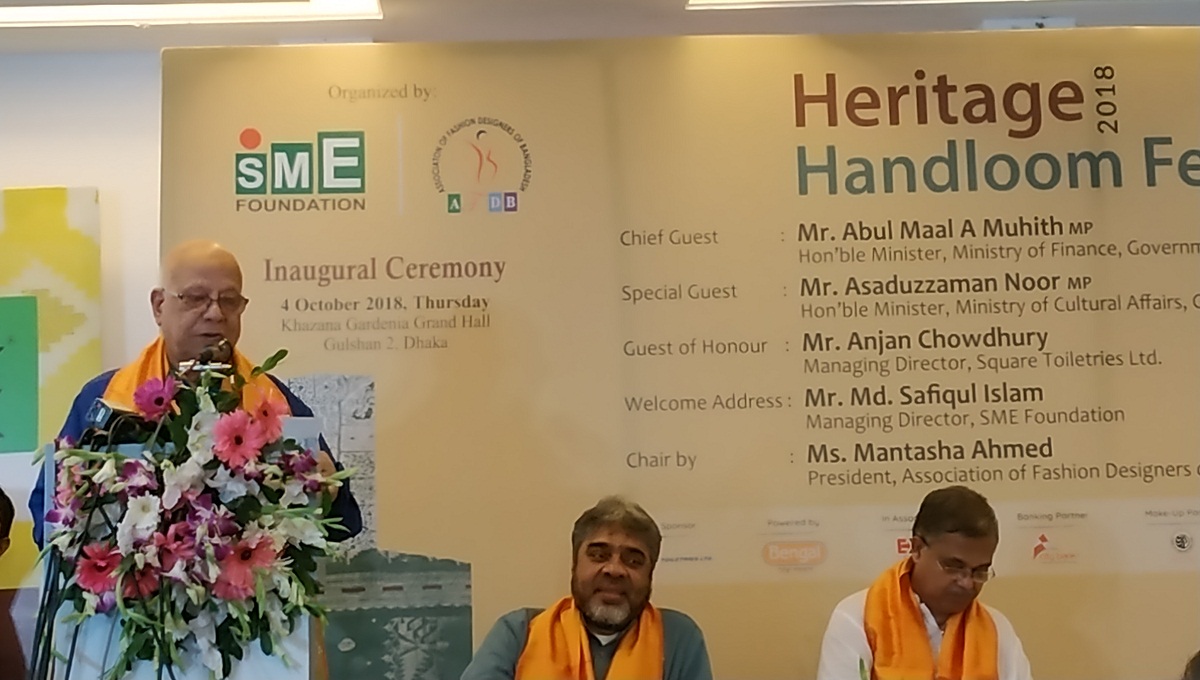 Dhaka, Oct 4 : Finance Minister Abul Mal Abdul Muhith on Thursday expressed optimism about the future of country's handloom industry.
He said government attaches much importance to the promising handicraft sector as a heritage of Bangladesh.
Speaking at the inauguration programme of country's first 'Heritage Handloom Festival 2018' at Khazana Gardenia Grand Hall in city's Gulshan area, the finance minister also assured of taking up necessary measures for the development of the sector.
"We must give effort to keep alive the handloom industry as a cultural heritage to acknowledge our roots", he added.
Cultural Affairs Minister Asaduzzaman Noor was also present at the programme.
Stressing on giving proper appreciation of country's handloom sector, he said, "No other country other than Bangladesh sells quality handicrafts at such a cheap price. Even in our neighbouring country India, the handloom products are so costly"
Noor urged the buyers to do away with the mindset of considering handloom products cheap.
Like any other artists, craftsmen of Bangladesh should get the recognition they deserve, said the minister.
"We will keep it in consideration whether stipends can be availed for the craftsmen," said the cultural affairs minister.
The three day long (Oct 4-6) open-to-all festival is being jointly organized by Small and Medium Enterprises (SME) Foundation and Association of Fashion Designers of Bangladesh (AFDB).
SME Foundation Managing Director Md. Safiqul Islam gave the welcome speech while AFDB President Mantasha Ahmed chaired the inaugural function.
Both of them mentioned about the need for government support to enable deprived craftsmen work to their full potential.
Designers, weavers and different associations related to handloom industry are participating in the festival showcasing seven culturally vital contexts of Bangladesh's handicraft heritage – Jamdani; Nakshi Katha; Benarasi of Mirpur and Handloom products of Tangail, Sirajganj, Manipur and Rangamati.
Among the notable designers whose works are featured in the festival are — Biplob Saha, Kuhu Plamondon, Mantasha Ahmed, Nawshin Khayer, Renuka Chakma, Shaheda Khatun and Tahsina Shahin.