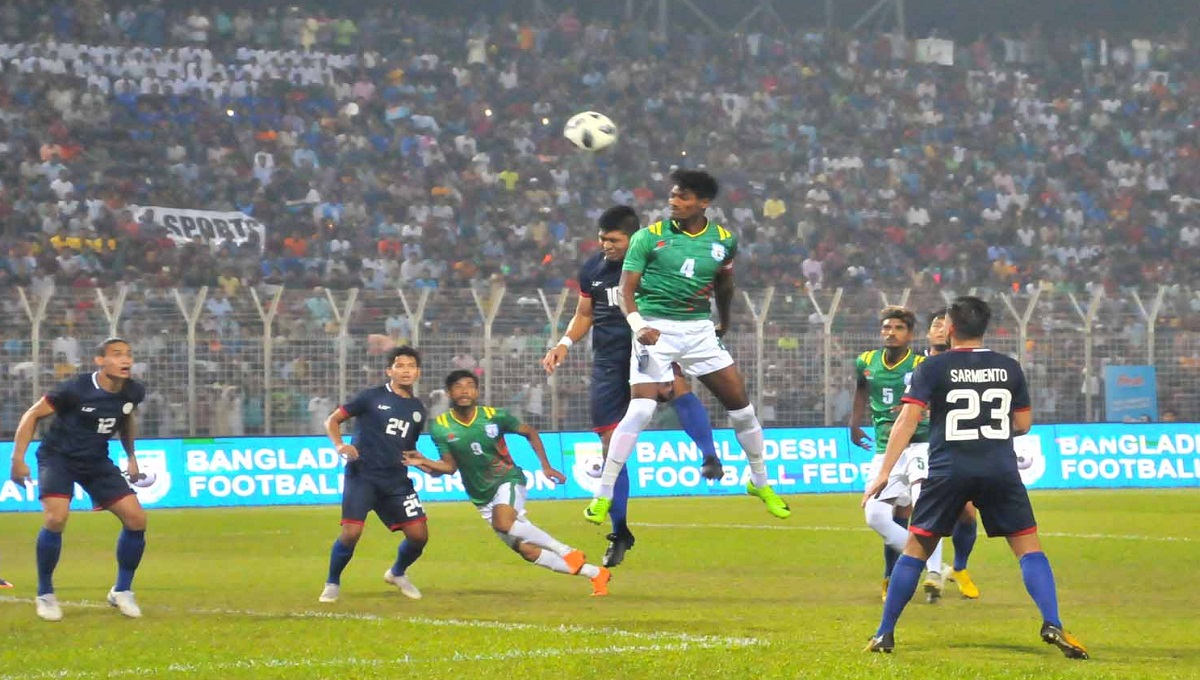 Sylhet Office : Bangladesh conceded a 1-0 goal defeat against visiting Philippines in their Group B second match of the 5th Bangabandhu Gold Cup International Football Tournament disappointing around 25 thousand local crowds at Sylhet District Stadium here on Friday.
Midfielder Kenshiro Michael Daniels scored the match winner goal in the 24th minute in a counter attack for Philippines, the side emerged group champions having another win against hapless Laos by 3-1 goals.
Bangladesh stayed in the race of the last-four of the six-nation tournament placing group runners-up as started the tournament campaign with 1-0 win against Laos in the opener.
Bangladesh played attacking game from the beginning and missed the first chance in the 4th minute as Captain Topu Barman's header attempt fisted by Philippine goalie Michael Louie Casas. Just after three minutes, Rabiul Hasan took a powerful shot from right flank but his shot gripped by goalie.
Bangladesh squandered two chances more in the 69th and 80th minutes. Forward Nabib Newaz Ziban's header attempt off a cross of Tawhidul Alam Sabuj went out edging the post and substitute forward took a cross from the left flank cleared by a Philippine defender.
Bangladesh tried their best till the end to come back in the game with pressing game, including two attempts each was by substitute forward Rabiul Hasan and defender Rahmat Mia, but Philippines defended all their efforts.
Bangladesh will play the semifinal in Cox's Bazar on Wednesday against the Group 'A' champions, which will be decided after the match between Palestine and Nepal in Sylhet on Saturday.
Points Table: 
Group A
Teams                    P        W       L       D       Pts
Palestine                1        1        0        0        3
Tajikistan               2        1        1        0        3
Nepal                     1        0        1        0        0
Group B
Teams                    P        W       L       D       Pts
Philippines             2        2        0        0        6
Bangladesh           2        1        1        0        3
Laos                      2        0        2        0        0