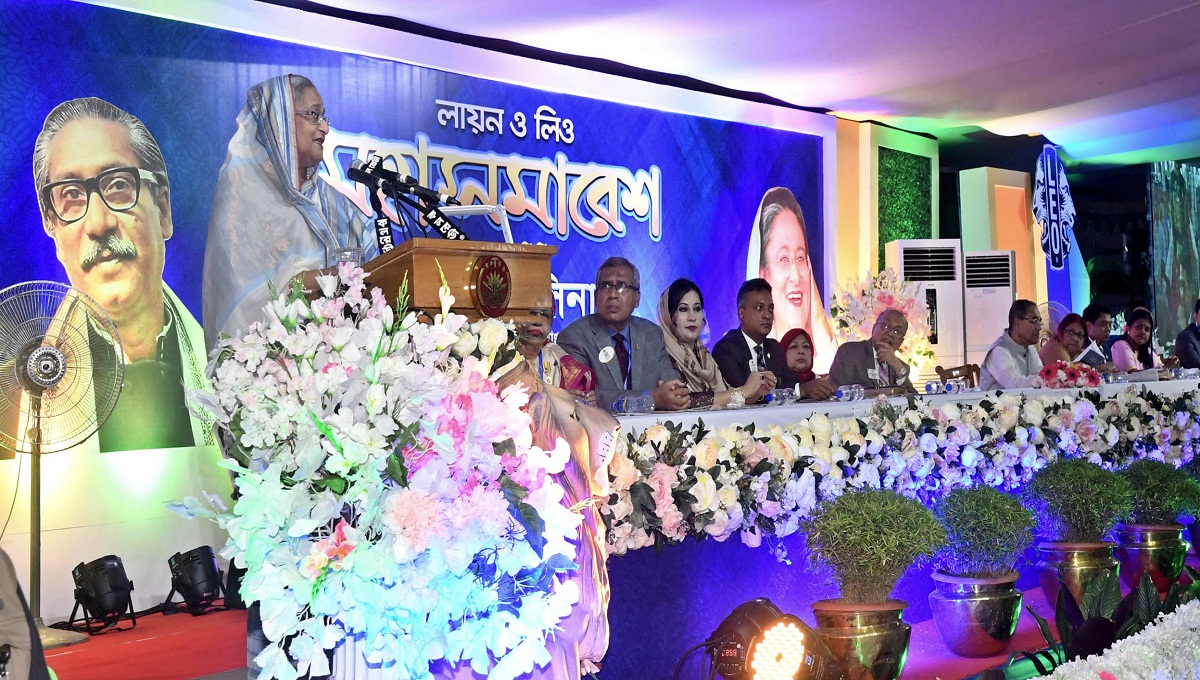 Dhaka, Oct 6 : Prime Minister Sheikh Hasina on Saturday sought the cooperation of Lions and Leos in maintaining the development spree of the country which is the main aim of her government.
"We've graduated to the developing nation level…we need to maintain this…we've to maintain the pace of development. So, I think, the Lions and Leos have the responsibility, we'll work together…we've to develop the country, and that's our aim," she said.
The Prime Minister said this while addressing a grand rally of the Lions and Leos at her official residence Ganobhaban.
She said once Bangladesh was treated as a 'country of beggars', but now people around the world know it as a role model of the developing countries.
"We must keep it up. I want your cooperation. We'll build the country as the developed and prosperous 'Sonar Bangla' with our united efforts," she said.
To make the country as a developed one, Hasina said, it has to be advanced in all sectors so that the country is never left behind again in the future.
She mentioned a nation that attained its independence through the supreme sacrifice of millions should not fall behind.
"We were in the back seat for one reason — the evil force that had grabbed power illegally after killing the Father of the Nation, put the anti-liberation force in power and awarded the killers of Bangabandhu. When they were in power, they never wanted the country to be developed. They didn't have that desire," Hasina said.
About the Rohingya issue, the Prime Minister said the government did not lock into any quarrel with the neighbouring country, but it sat in dialogue to resolve the issue.
"We've signed an agreement after discussion. They've agreed to take the Rohingyas back but they didn't start it at all," she said.
Hasina said the government is continuing its efforts through discussions. "The international community is cooperating with us and kept up their pressure on Myanmar to repatriate the Rohingays."
She hoped that the government would be able to send 1.1 million Rohingyas back.
The Prime Minister also briefly described various development programmes which have been finished and the ones which are going on. She also mentioned the programmes to be taken.
Director of International Lion Kazi Akramuddin, former director of International Lion Sheikh Kabir Uddin and Lion Swadesh Ranjan Saha also spoke on the occasion.
Lion M Aminul Islam Liton delivered the welcome speech.