Dialogue likely to be held Wednesday at Ganobhaban, says Montu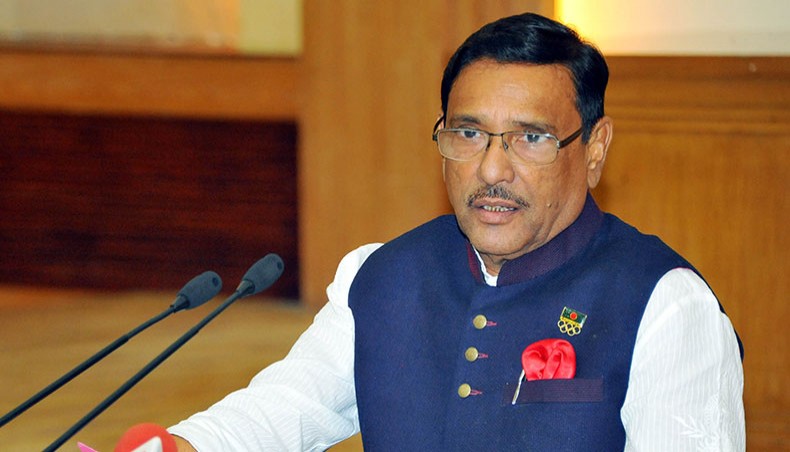 Dhaka, Oct 29 : Awami League General Secretary Obaidul Quader on Monday night phoned Jatiya Oikyafront leader and Gano Forum president Mostafa Mohsin Montu seeking the list of the alliance leaders who will join dialogue with the ruling party over the next election.
"Obaidul Quader phoned me around 8:15pm and wanted to know how many Oikyafront leaders may take part in the talks," Montu told that.
The Gono Forum leader said he informed Quader that a 15-member Oikyafront delegation, led by Dr Kamal Hossain, will join the dialogue.
He also said the Oikyafront leaders at their meeting on Tuesday will finalise the list of the Oikyafront delegation and send it to the ruling party.
Montu said they have got an indication that the dialogue is likely to be held on Wednesday evening at Prime Minister's official residence Ganobhaban.
Earlier in the day, Quader said their party and Prime Minister Sheikh Hasina agreed to sit in dialogue with Jatiya Oikyafront leaders over the next general election very soon.
Speaking at a press conference at AL president's Dhanmondi office, he also said Sheikh Hasina will lead the dialogue.
Earlier on Sunday, Jatiya Oikyafront, led by Dr Kamal Hossain, sent a letter to Prime Minister Sheikh Hasina seeking dialogue over the national election.
Oikyafront also sent another letter to Awami League general secretary Obaidul Quader urging the ruling party to engage in dialogue over the election.
Dr Kamal Hossain signed the letter sent to the Prime Minister while Gono Forum general secretary Mostafa Mohsin Montu signed the one sent to Obaidul Quader.
On October 13, BNP together with Dr Kamal Hossain-led Jatiya Oikya Prokriya, JSD and Nagorik Oikya launched the Jatiy Oikyafront to press for their seven-point demand.
The Oikyafront's seven-point demand includes installation of a neutral interim government, dissolution of parliament, reconstitution the Election Commission, release of all the political prisoners, deployment of army and cancellation of the move to use Electronic Voting Machines (EVMS) for holding the next polls in fair and acceptable manner.