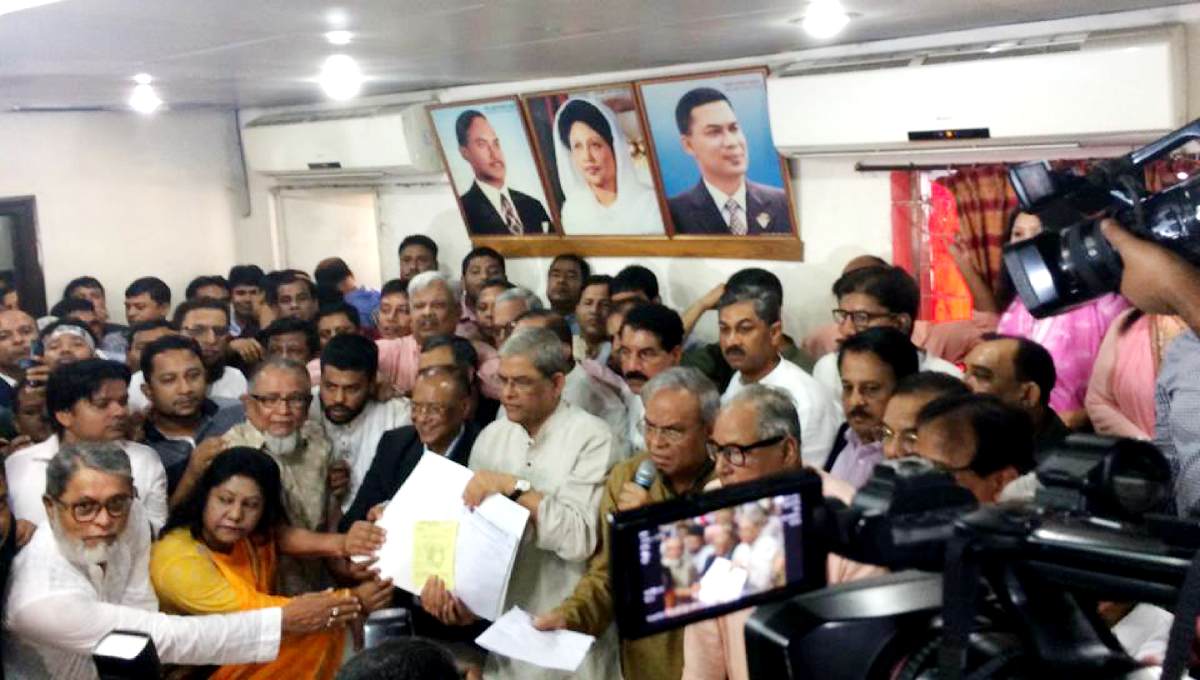 Dhaka, Nov 12 : BNP on Monday formally started selling its nomination papers to those who want to contest the next general election with the party's election symbol 'Sheaf of Paddy'.
The sale nomination paper began at BNP's Nayapaltan central office at 10:45 am with the purchase of two nomination papers for its Chairperson Khaleda Zia.
BNP secretary general Mirza Fakhrul Islam Alamgir purchased a nomination form for Khaleda Zia to contest the polls from Feni-1 while BNP standing committee member Nazrul Islam Khan collected another form for her for Bogura-6 constituency.
BNP leader Mirza Abbas bought another form for Khaleda Zia to contest the polls from Bogura-7 constituency at 11:25 am.
Besides, Mirza  Fakhrul bought another nomination paper for himself for contesting the election from Thakurgaon-1.
The aspirants can collect the party nomination paper from 10 to 4pm on Monday and Tuesday at Tk 5,000 each.
Huge party leaders and activists started gathering in front of the BNP office since morning.
They are staging showdown in favour of their respective party nomination aspirants.
Each nomination hopeful can submit the nomination paper either on Wednesday 10am to 4pm or the same time on Thursday with Tk25,000 as non-refundable deposit.
Earlier in the day, BNP's two alliances –Jatiya Oikyafront and 20-Praty– announced to participate in the upcoming 11th parliamentary elections as part of their movement to restore democracy, and demanded the election be deferred by one month.
On Thursday evening, chief election commissioner (CEC) KM Nurul Huda in a televised address to the nation announced the schedule for the next general election.
As per the schedule, the 11th parliamentary elections will be held on December 23 (Sunday) while the last date for submitting nomination papers is November 19, the date for scrutinising nomination papers is November 22 and the last date for the withdrawal of nomination papers is November 29.