'Please, keep the doors wide open for int'l cooperation'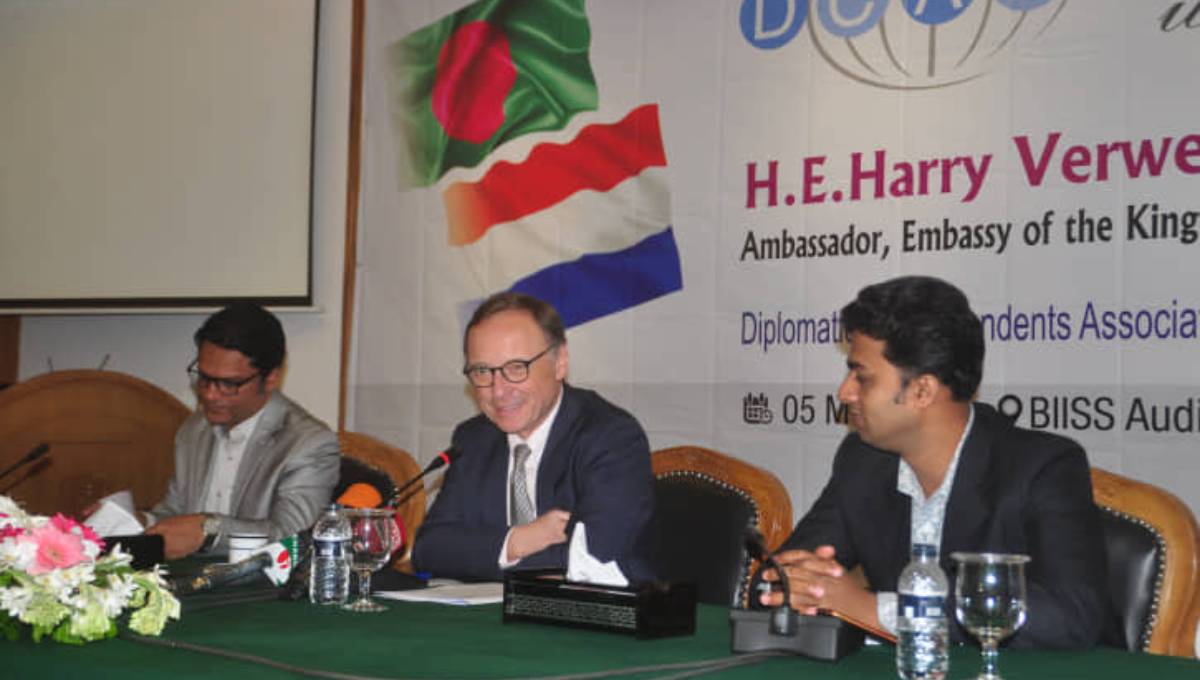 Dhaka, May 5 : The Netherlands has laid emphasis on branding Bangladesh properly for the expansion of its relations with the external world on trade and economic fronts noting that there are so many positive things to tell about this amazing country.
"It (Bangladesh) has huge opportunities. The 'brand Bangladesh' must be rejuvenated and upgraded," Dutch Ambassador Harry Verweij told diplomatic reporters at 'DCAB Talk' on Sunday.
Highlighting Bangladesh's economic vibrancy, diversification, productivity, economic growth, and warm and welcoming people, the Dutch envoy said Bangladesh's message "must be clear, distinctive and recognizable."
He mentioned that they will not have any chance of expanding bilateral trade relations if Bangladesh's branding is not done differently with impressive and positive elements.
Going beyond the general narratives about Bangladesh, the Ambassador said Bangladesh is not a small country having a big market of 170 million people with economic vibrancy in place.
He laid emphasis on putting the image of Bangladesh at the centre of all, branding Bangladesh rightly; and reminded media's role to that end.
Diplomatic Correspondents Association, Bangladesh (DCAB) arranged the event at the auditorium of Bangladesh Institute of International and Strategic Studies (BIISS). DCAB President Raheed Ejaz and General Secretary Nurul Islam Hasib also spoke on the occasion.
About readymade garment (RMG) industry, the Ambassador said the industry, since the Rana Plaza disaster, has done an amazing job with significant improvements on safety aspects in many of the factories.
Ambassador Verweij said the RMG sector can play a role in enhancing brand Bangladesh and requested to keep the doors wide open for further international cooperation.
"Please, keep the doors wide open for international cooperation, for international advice. It's in all of our interests," he said adding that Bangladesh will continue to get assistance.
Responding to a UNB question on RMG product prices, the Dutch envoy said the prices are continuing to go down because of negotiations and competitions, and assured of linking up these specific issues — pricing, living wages and safety.
The Ambassador recognised the huge investment made by the apparel industry owners on safety issues and laid emphasis on looking into both sides of the coin justifying the importance of the growing prices of RMG products.
The RMG sector, in his view, also plays a pivotal role in enhancing the brand 'Bangladesh' abroad. "I want to reiterate and ask all of you to join hands and put in efforts for Bangladesh to make 'Made in Bangladesh' a renowned brand name globally."
In reply to a question on freedom of press, he said democracy and free press are linked together and go together.
On political issue, the envoy while sharing his general comment as a foreigner said, if someone has a ticket for parliamentary seat, whatever party he or she belongs to, she or he has to take it.
After months of contentious positions, the Bangladesh Nationalist Party (BNP) decided to join parliament and the elected BNP MPs except its Secretary General Mirza Fakhrul Islam Alamgir, took oath recently.
The Dutch Ambassador said there is continuous discussion on how to improve economic and trade relations between Bangladesh and Europe.
"We try to link up Bangladesh and Dutch businesses. We see many opportunities. We see a room to expand. We see a room to expand our bilateral relationship and our bilateral trade relationship," Ambassador Verweij said.
He said they will be focusing on their advanced maritime industries and on formidable agro food industries.
Responding to a question on Rohingya issue, the envoy said the International Criminal Court (ICC) focuses on forced deportation from Myanmar to Bangladesh and has set up a preliminary examination into it.
"It's a very long process," said the Ambassador mentioning that accountability is very important for Bangladesh and the Netherlands.
"A hope that resonates among the Rohingya community that the International Criminal Court, (ICC) would bring perpetrators to justice," said the Ambassador.
He said they stood with Bangladesh and remain committed to standing with the nation also in its efforts to address the Rohingya crisis and improving human rights and democracy.
The Office of the Prosecutor, International Criminal Court (ICC) does not see any barrier in carrying out "preliminary examination" and subsequent investigation into alleged atrocities committed against Rohingyas by the Myanmar military though Myanmar is not a State Party to the Rome Statute.