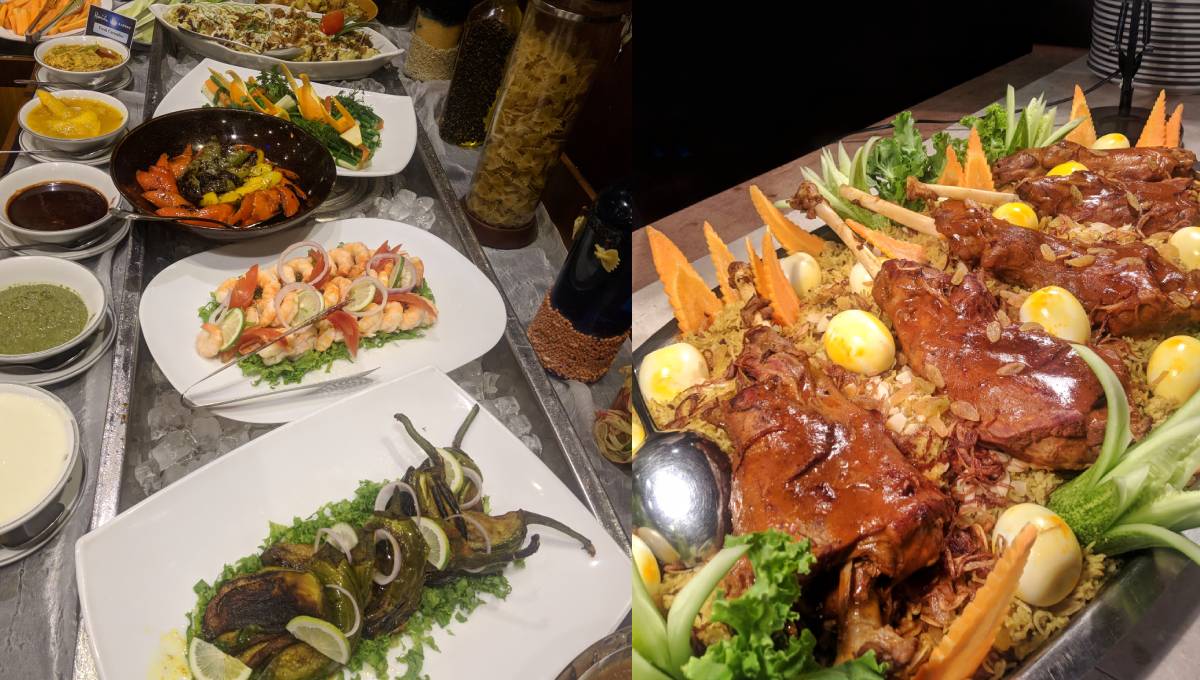 Dhaka, May 12 : With Iftar and Sehri offers clogging almost all our social media accounts, it has become quite a difficult task for customers to pick a right place to break their fast at. Amrit & Summerfields on the 2nd floor of Hotel Sarina, Dhaka has come up with an array of dishes ranging from Japanese, Indian, European, and Arabian for their 'Iftar cum Dinner Buffet'.
Upon entering the venue, we were greeted by multiple waiters and explained that the right wing had an arrangement of the traditional iftar dishes and the left wing was where the dinner was served. The trick to making the most out of a buffet is to take a look at all the offered dishes and narrow down the ones you want to have most of. Another trick is to avoid any rice or soup option as they tend to fill you up pretty fast!
I was filling myself up there with Piyajus. So, I had started slowly (but strategically) with a bit of chicken salad, roasted capsicum, hummus, prawns with sauce dressing, and some crispy thin Jilapis. The hummus tasted like pureed chickpeas with no zing from the lemons or heat from garlic. It just tasted like a bland mush. However, the chicken salad managed to steal the show with its sauce and abundance of juicy chicken strips. In fact, I got myself 3 servings of it! The other cold salads weren't as bad either, but I had to move on to the live station now.
I love live stations at buffets. Not only can you sometimes pick your preferred piece but the satisfaction you get from watching your food being freshly made is of another level. The shawarma station was what grabbed my attention. A chef was cutting off the meat right from the grill and wrapping them up in a pita bread with lettuce, jalapenos, tomatoes, and a garlic sauce. The stuffing was meaty while the sauce was creamy. The pita bread though could be slightly thinner but overall, the wrap was quite a treat. The live sushi station was the most crowded, what sets them apart is the use of fresh ripe mangoes in some of their rolls.
I was too distracted by their main dishes to try out a sushi but heard mixed reviews about them. The mains included dishes like Grilled Chicken, Whole Leg of Lamb, Deep Fried Chicken, Thai Chicken Wings, Chili Prawn, Mutton and Beef Kababs, Biryani and many more. I absolutely feel in love with their chicken and prawn items. They were succulent and pleasant to look at. The Grilled Chicken had a beautiful char to them yet managed to remain succulent! The Whole Leg Lamb might not be everyone's cup of tea since I, myself, prefer lamb/mutton to be served in bits rather than whole.
The dessert table had over 12 items! Presentation wise most of them were very colorful and vibrant. The Coffee Panna Cotta, Mud Cake, Baklava and Kulfi were my favorite amongst all. Other desserts included Kunafa, Jarda, Fruit Platter, Cream Caramel, Ummali, Barfi, Mahalabia and more.