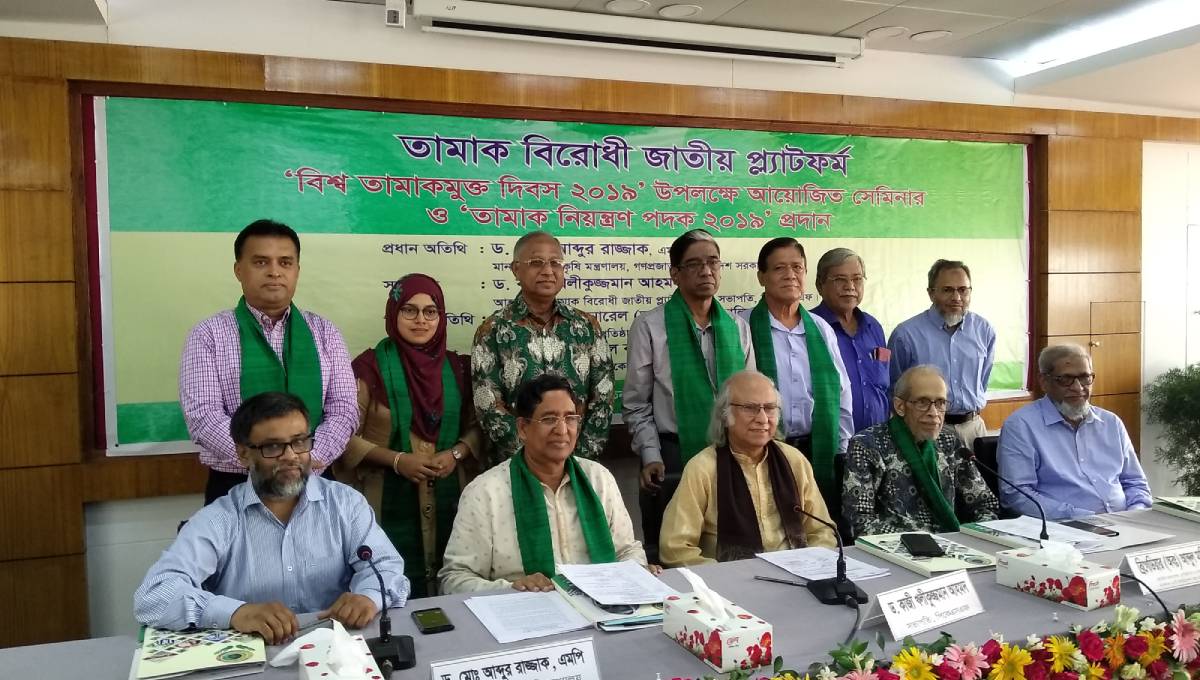 National Anti-Tobacco Platform and Palli Karma-Sahayak Foundation (PKSF) jointly organised the event on the occasion of the World No Tobacco Day that falls on May 31.
PKSF's Tobacco Control Awards were also distributed among recipients at the programme.
Young Power in Social Action (YPSA) received the award in institution category while Prof Dr Pran Gopal Datta in individual category and Bangladesh Cancer Society in research and publication category for their significant contributions to discouraging the use of tobacco.
Besides, Syeda Sajida Afroz Rumpa, a fifth batch student of Economics Department at Jagannath University, was honoured as youth researcher for her excellent research on tobacco.
Agriculture Minister Dr Md Abdur Razzaque said the rate of tobacco consumption is not on the decline although all know about its adverse impacts.
He claimed that candidates in union or upazila parishad elections distribute cigarettes among youths to woo them.
Mentioning Prime Minister Sheikh Hasina's assertion to make tobacco-free Bangladesh by 2040, the minister said, "I think we'll be able to achieve the target much before the time if we can create awareness among people, enforce laws and commercialise agriculture goods properly."
He said although around Tk 22,000 crore is earned as revenue from the tobacco sector, about Tk 30,000 crore is lost following its bad impacts. "So, we have to think in this regard."
Razzaque put emphasis on farming agricultural products instead of tobacco. "The domestic market should be expanded. Bangladesh is a potential country. We can export huge agriculture goods if well can further modernise the sector."
PKSF Chairman Dr Qazi Kholiquzzaman Ahmad, also convener of Anti-Tobacco Platform, presided over the function.
In his speech, Kholiquzzaman said youths are destroying themselves taking tobacco. "So, we've to educate and train them up. We should use around 5.5 crore youths properly. Or else, we can't ensure development."
"The government should increase monitoring system on tobacco. Cigarette prices should further be hiked. We're ready to support the government to make tobacco-free Bangladesh," he also said.
Speaking on the occasion as a special guest, Brig Gen (retd) Abdul Malik urged all to come forward to control the tobacco use, saying it is not possible for the government alone. "If we work in a planned way and ensure enforcement of laws, it's possible to control tobacco consumption."