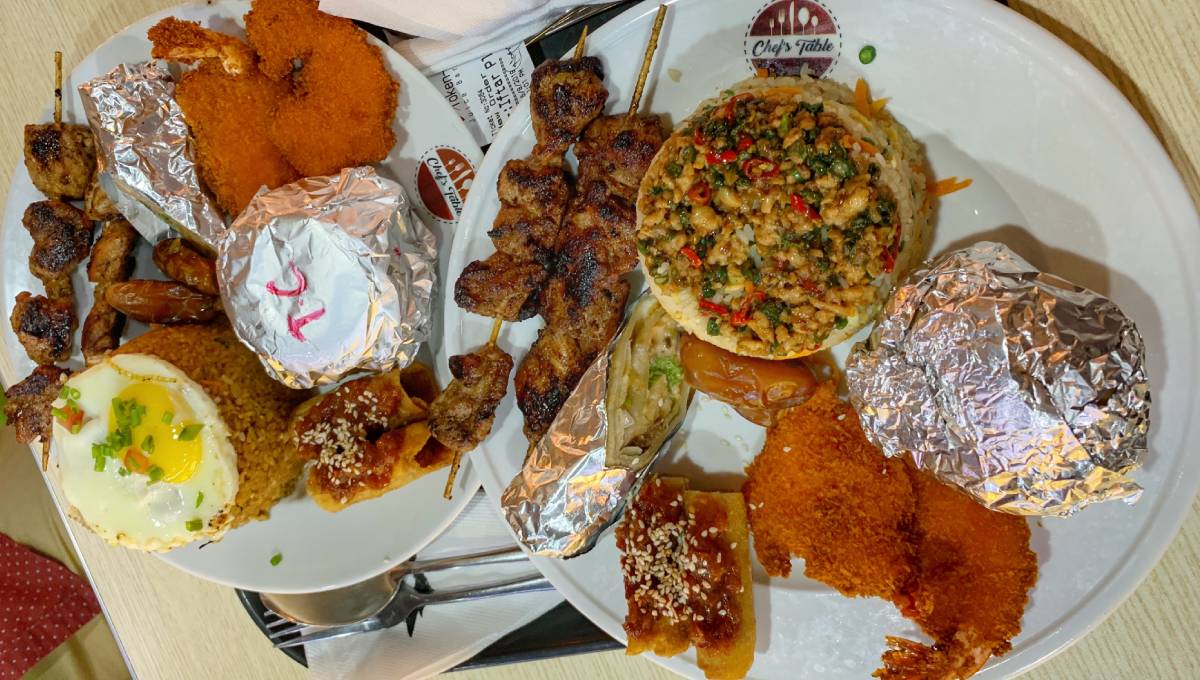 Dhaka, May 13 : Now that Ramadan has started, almost all the restaurants and cafes have good value for money offers for both iftaars and seheris. Even though it has not yet been a week since Ramadan started, I already had the chance to break my fast outside. Indecisive among all those attractive offers by the restaurants/cafes in the tristate, we decided to go for the safest option which was The Chef's Table since it already has good food places under one roof. Since it was the three of us, we decided to have something light. After a 5 – 7 minutes' tour of that place, we decided to go for MADCHEF X, a modified unique version of the popular Madchef restaurant.
(Photo: Oyster Fried Rice with Spicy Garlic Basil Chicken)
Launched in June 2014, I hope by now almost everyone in Dhaka, whether foodie or not has heard about Madchef Restaurant. Famous for its classical and gourmet burgers as well as their variety of wings, poutines and platters, they also offer mocktails and shakes which will leave you fulfilled every time you visit this place. You can taste the food from the Madchef restaurant in Chittagong and Sylhet also. Currently there is no other Madchef X in any other places of Dhaka except for the Chef's Table.
They had a platter for one which included Slider, Sesame Sausage Roll, Kala Bhuna Wrap, Achari Fried Rice with Sunny side up Egg and Chicken Satays all for BDT 599 (vat exclusive). Since it was the three of us, we chose the platter for 2 which included 2 Sliders, 4 Sesame Sausage Rolls, 2 Kala Bhuna Wraps, one Oyster Fried Rice with Spicy Garlic Basil Chicken, one Garlic Rice topped with Sunny Side Up Egg, 4 Chicken Satays and 4 Fried Shrimp Katsus along with 4 dates all at the price of BDT 1264 (BDT 1099 without vat) (also since we made the payment via bKash, there was 10% instant cash back). You have the option to choose any flavoured slider from the Classic Burgers. We chose Naga Blast and Tandoori Chicken flavoured sliders. It took almost half an hour to get the meal. We were lucky as we placed order at the right time and got served few minutes before the iftar. I must say that it was the most satisfying and fulfilling meal we could have for iftar. All the food items tasted equally good. No complaints regarding anything. Usually in case of platters, you don't find all the food equally delicious but this platter was indeed a rare find.
(Photo: Garlic Rice Topped with Sunny Side Up Egg)
You cannot get this same offer but a modified one in the Madchef Restaurant. They have two offers – one for takeaway and the other is a platter which includes Slider, Chicken Ala Kiev, Chicken Cheese Bombs, Sesame Sausage Roll, Cold Potato & Sausage Salad, Achari Fried Rice with sunny side up Egg, Chicken Satay, Strawberry lime coolie and Mad Malai Kulfi at the price of BDT 649 (without vat).