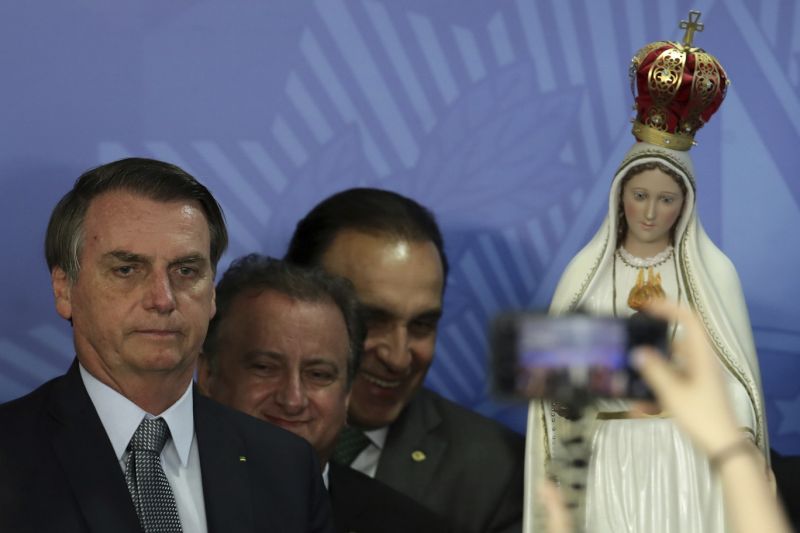 Rio De Janeiro, May 23 : President Jair Bolsonaro on Wednesday pulled back on part of a decree that eases rules on firearm possession in Brazil, after widespread criticism from politicians, judges and civic groups that a measure on semi-automatic rifles would increase violence in one of the world's most violent countries.
The government published a new decree that reverses or tightens some parts of a May 7 order signed by Bolsonaro, but much of the original remains intact and the new decree further expands the list of those allowed to carry high-caliber handguns.
The affected provisions would have allowed all people with gun licenses to carry more powerful weapons, including some semiautomatic rifles, and called for all minors to be allowed to practice sport shooting.
"We went to the limits of the law," Bolsonaro said when he signed the first decree, surrounded by lawmakers making finger-gun gestures.
The new decree says citizens cannot carry long guns, including semiautomatic rifles, with the exception of hunters. But Brazilians with gun licenses are still allowed to possess long guns, including some semi-automatic rifles, in their homes or on their properties.
Under the new decree, children can practice shooting only if they are at least 14 and have permission from two legal guardians.
Another measure in the new decree orders the Brazilian army to draw up a list of firearms adequate for regular civilian ownership within 60 days.
In a statement, the government said it made the changes due to "issues raised by the judiciary, the legislative branch and by society in general," but said the original decree's "essence" is not changing.
Among provisions still standing are ones that increase the limit on annual ammunition purchases and open Brazil's gun market to international sellers. The new decree also expanded the original's list of dangerous professions that can carry high- caliber handguns to include employees of stores that sell guns or of gun clubs, security guards for judiciary or prosecutorial service, and port officials.
"This is seismic shift in gun laws in Brazil," Robert Muggah, research director at the Igarape Institute think tank, said, referring to both decrees. "It dramatically expands the entitlement of citizens to purchase, own and carry handguns and represents a major risk to public security in the country."
Amid the criticism of the original decree, Supreme Court Justice Rosa Weber had ordered Bolsonaro to explain the constitutionality of the measure. A court official said Wednesday that it had not yet gotten the president's response. Bolsonaro's office said it asked for an extension.
On Tuesday, governors from 13 of Brazil's 26 states signed a letter protesting the loosening of gun rules.
"We do not think the measures outlined in the decree will help make our states safer, quite the opposite, we these measures will have a negative impact on violence," they wrote.
Sérgio Praça, a political scientist at Getulio Vargas Foundation University, said Bolsonaro's backpedaling on the decree means he knows went too far.
"Bolsonaro's never had to adjust his ideas to the real world," Praça said, referring to Bolsonaro's nearly 30-year stint as a federal legislator known for  far-right rhetoric. "Now he is president, he's still learning what he can and can't do."