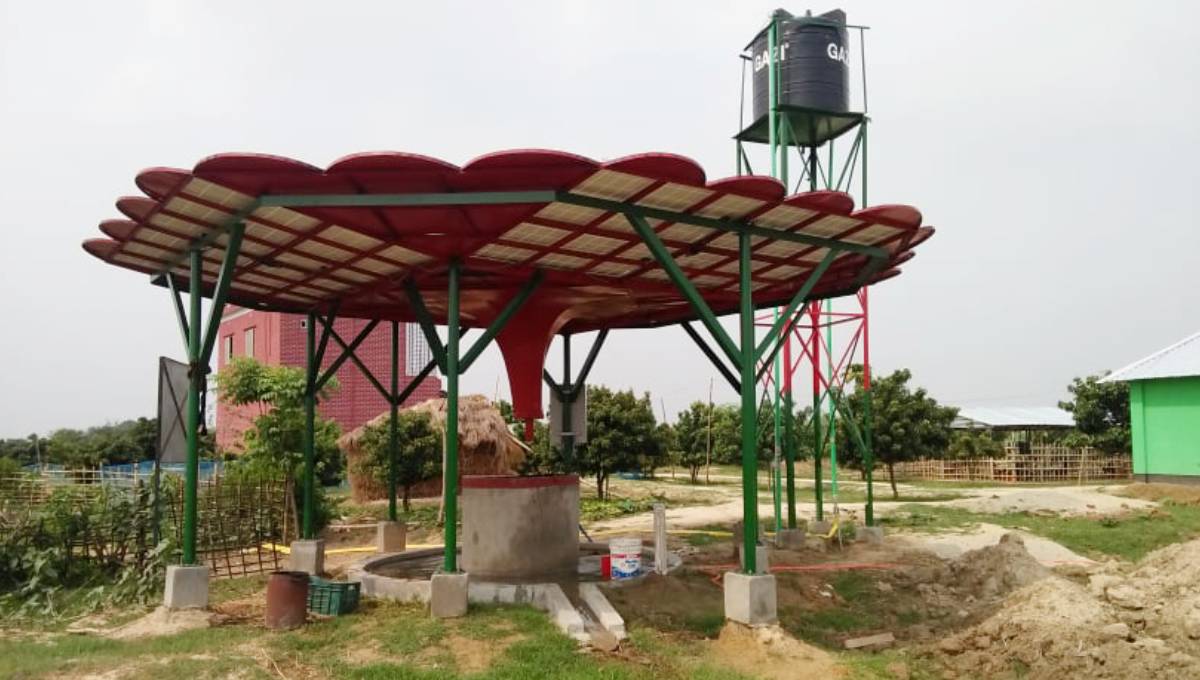 Naogaon, May 26 : The term 'drought-prone region' to describe a cluster of districts in the country's north sounds almost benign, hardly capturing the perpetual hardship for people engaged in a constant battle for water, the key to life.
The paucity of water also makes it extremely difficult for farming or any form of agriculture at all to thrive in the area. Following decades of research and efforts to address the region's lack of access to water, the advent of a solar-powered dug well, (Patkua in Bengali) that the authorities have taken to very positively has brought hope for the people of drought-prone Sapahar upazila.
The Barind Multipurpose Development Authority (BMDA) has been implementing the project of setting up 115 dug wells in the upazila under the Ministry of Agriculture.
The aim of the project is to provide drinking water and short range irrigation facilities for vegetable gardens.
Rezaul Karim, assistant engineer of BMDA, said deep or shallow tube-wells cannot be installed in a number of upazilas like Niyamatpur, Porsha, Sapahar and Patnitala of Naogaon and Nachole, Gomostapur of Chapainawabganj.
In view of this, the Agriculture Ministry introduced a new idea to meet the water crisis in these severely drought-prone areas that was approved by then-minister Matia Chowdhury in 2017.
BMDA has already installed several such dug wells at Picholdanga, Singahar, Dharmapur, Bahapur, Basuldanga, Madansingh, Furkutidanga, Karaldanga, Haripur and Tilna of the upazila, Rezaul Karim added.
Most of the people of these areas are enjoying the benefits of solar dug wells, he added.
Explaining the model of dug well to the UNB correspondent, BMDA assistant engineer Rezaul Karim said, each draw-well is tunneled up to 100 to 140 feet deep by machine.
At least 46 inch concrete ring is set on the top of the tunnel and covered with 32 feet radius led as no rain water can enter into it.
On top of the structure, a roof is set up with 16 solar panels of 250W to lift the water from the ground.
Locals can lift drinking and irrigation water from 9am to 4pm from the dug well as no battery is set to reserve power.
Local beneficiaries said previously, they had to dig 80 to 90 feet deep manually and lift water. Sometimes fatal accidents would occur while lifting water from those traditional wells.
"Now these easy water lifting wells have met our drinking water and short range irrigation demand," said Al Amin, a beneficiary of the area.