Abe assures Japan's support to Bangladesh in its dev journey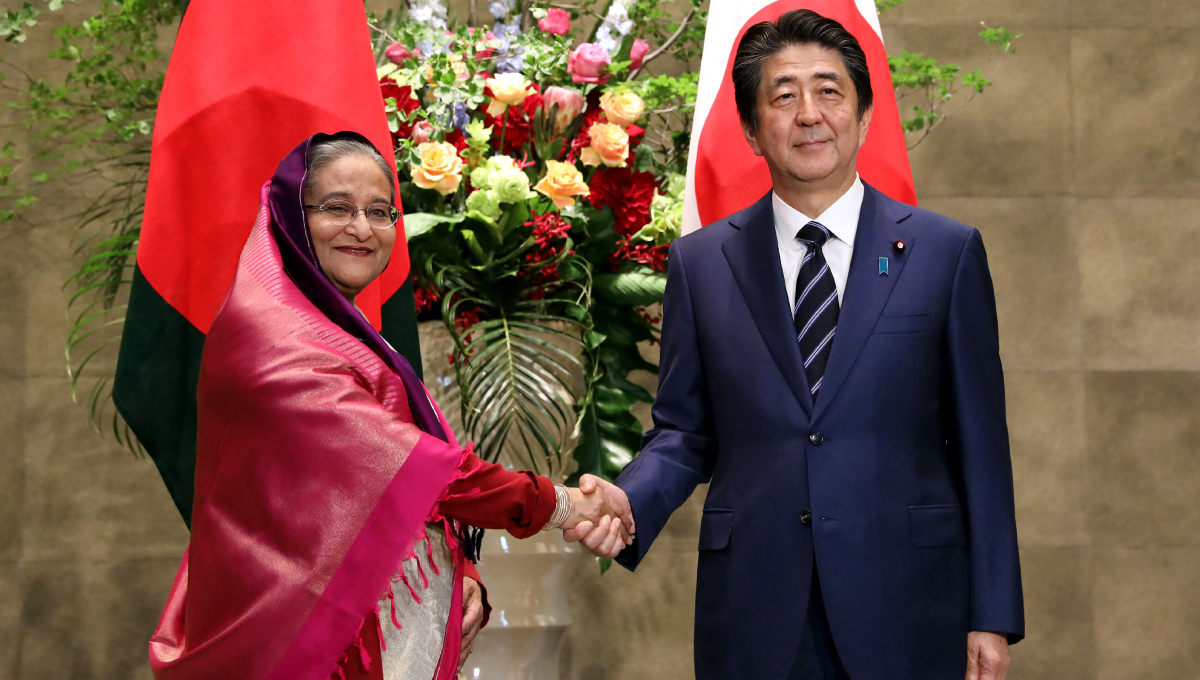 Tokyo, May 29 : Prime Minister Sheikh Hasina and her Japanese counterpart Shinzo Abe on Wednesday discussed ways to find a durable and early solution to the humanitarian and political crisis that has emanated from the displacement of over a million Rohingya population from Myanmar to Bangladesh.
Hasina said Japan understands that the solution to this crisis lies in the early, safe and dignified return of this displaced people to their homeland of Myanmar.
She said it is necessary for Myanmar to create conducive atmosphere in Rakhine State of Myanmar for the return of the displaced people.
"I thank the Japanese government for its generous support to handle the crisis, and for its efforts to support early repatriation of the displaced people to Myanmar," Hasina said.
Hasina and Abe reiterated their commitment to take Bangladesh-Japan relations to new a height of cooperation and partnership.
"I'm confident we'll achieve that much more given the excellent understanding and friendship that exist between our two peoples and our governments," said Hasina while delivering her statement at a joint press meet.
Sheikh Hasina and Abe witnessed the signing of 40th ODA Loan Package of US dollar 2.5 billion to develop infrastructure and promote investment in Bangladesh.
Hasina thanked Abe for this loan package.
Hasina said they have also decided to strengthen mutual cooperation in international platforms to fight against terrorism and violent extremism, mitigating risk emanating from climate change, ensuring denuclearisation to keep children safe and extending support to each other's efforts to expand the horizon of peace and knowledge.
She said Japan occupies a very special place in the hearts of the people of Bangladesh. "The level of commitment that Japan has been showing since our independence in 1971 is truly remarkable."
Hasina said Father of the Nation Bangabandhu Sheikh Mujibur Rahman dreamt of making Bangladesh a prosperous nation and his vision of development was greatly influenced by the development history of Japan.
"After more than 48 years since our independence in 1971, we can now confidently say we're moving in the right direction to fulfill that dream. And it's reassuring to have Japan by our side always," she said.
Hasina said she and Abe discussed the entire gamut of bilateral relations and agreed on several new ideas to enhance and strengthen the level of cooperation between our two countries.
She said Bangladesh has achieved all the criteria to graduate from the least developed country to developing one and they have set their goal to become a developed country by 2041.
"Prime Minister Abe has assured me that Japan will stand by Bangladesh and extend necessary support to reach that goal," she said.
The two leaders have agreed to explore all possible areas where two countries can find mutually beneficial outcomes.
"Our discussion was greatly focused on enhancing regional connectivity to harness the full potentials of the countries and improving physical infrastructure would be a critical factor to establish effective connectivity," Hasina said.
She said Prime Minister Abe has assured her that Japan will continue to provide assistance to realize that target.
"Considering the importance of developing the Southeast of Bangladesh, we've discussed ideas to build quality infrastructures in that region," Hasina said.
"We believe that international trade and flow of investment are key channels to strengthen economic cooperation. We have put special emphasis on regional stability and peace," she added.
Hasina said it is always a pleasure to be here in this beautiful country. "I'm particularly delighted to be here at the advent of the new era, Reiwa, ushering in beautiful harmony."
She extended her warmest felicitations to Emperor Naruhito, Members of the Imperial Family and the Japanese people on the joyous occasion of his enthronement.
"I'm deeply moved by the hospitality that the government of Japan has extended to me and my delegation. My sincere thanks to all the officials of Japan who worked very hard to make my visit smooth and comfortable," she added.