Project to be functional within 2-yr with investment of over US$500mn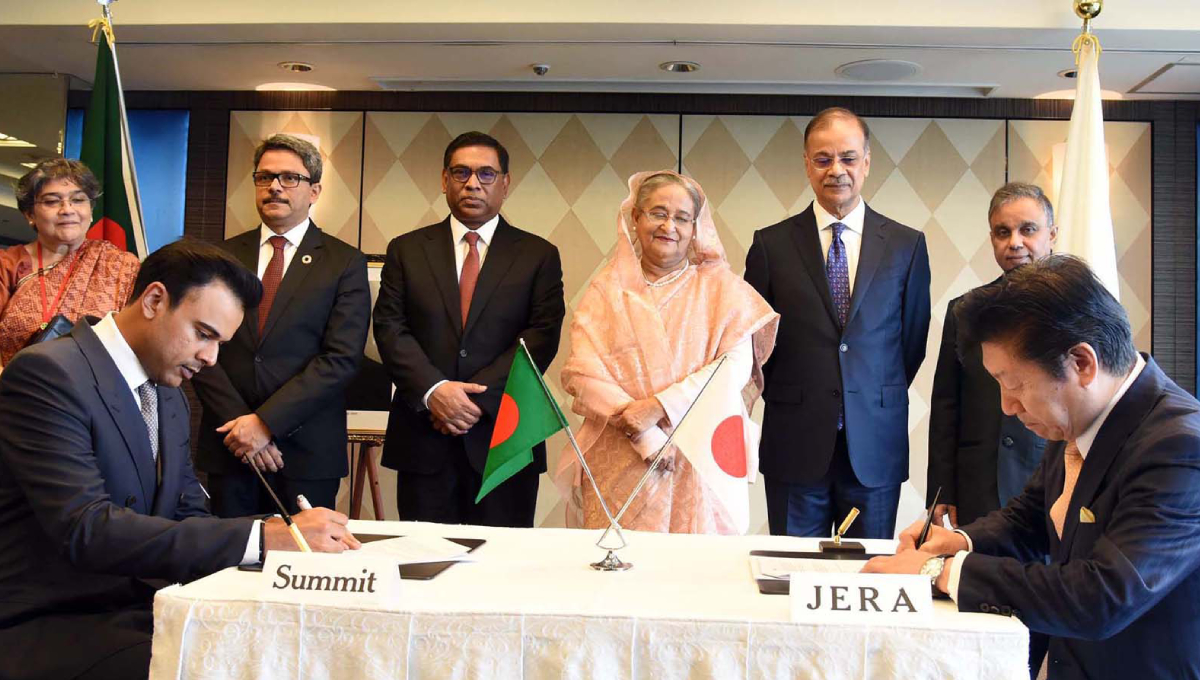 Tokyo, May 29 : Summit Group of Bangladesh and Japan's Energy for New Era (JERA) signed a memorandum of understanding on Wednesday to initiate a mega energy infrastructure project.
The project will have the capacity to handle 20 million tonnes of bulk cargo at Matarbari area in Cox's Bazara year.
It will provide impetus to Bangladesh's trade by development of various terminals for cargo and primary fuel at Matarbari area in Cox's Bazar, according to Summit Group.
The project is expected to be functional within two years of signing the agreement among Summit, JERA Asia and the government of Bangladesh with an estimated investment of over US$500 million.
Prime Minister Sheikh Hasina witnessed the signing ceremony that took place at Hotel New Otani here.
Faisal Khan, Director of Summit Group and Toshiro Kudama, CEO of JERA Asia signed the MoU on behalf of their respective companies.
Meanwhile, executive vice president of Japan Bangladesh Medical Association (JBMA) Shakurai Hiroyuki handed over the document of a signed agreement with Bangladesh Medical Association (BMA).
The agreement was signed aiming to provide assistance and support to Sheikh Hasina National Institute of Burn and Plastic Surgery in Dhaka.
To achieve Sustainable Development Goals (SDGs) by 2030 and "Vision 2041" set by Prime Minister Sheikh Hasina – Summit Corporation and JERA Asia signed the MoU, Summit said in a media release.
State Minister for Power, Energy and Mineral Resources, Nasrul Hamid, State Minister, Ministry of Foreign Affairs, Shahriar Alam, Principle Secretary to the HPM Nojibur Rahman, Principal Coordinator of SDGs and Chairman of MIDI (Moheshkhali-Matarbari Integrated Infrastructure Development Initiative), Md Abul Kalam Azad and Ambassador of Bangladesh to Japan Rabab Fatima, and Chairman of Summit Group, Muhammed Aziz Khan were present.
Founder Chairman of Summit Group Muhammed Aziz Khan said, "This project of Summit with JERA Asia has the potential to save billions of dollars for Bangladesh for years to come by providing logistics and handling thus maintaining supply-chain more efficient enabling Bangladesh to achieve each of her visions."
CEO of JERA Asia Toshiro Kudama said signing this MoU, they would like to further accelerate the development of energy infrastructure projects in Bangladesh together.