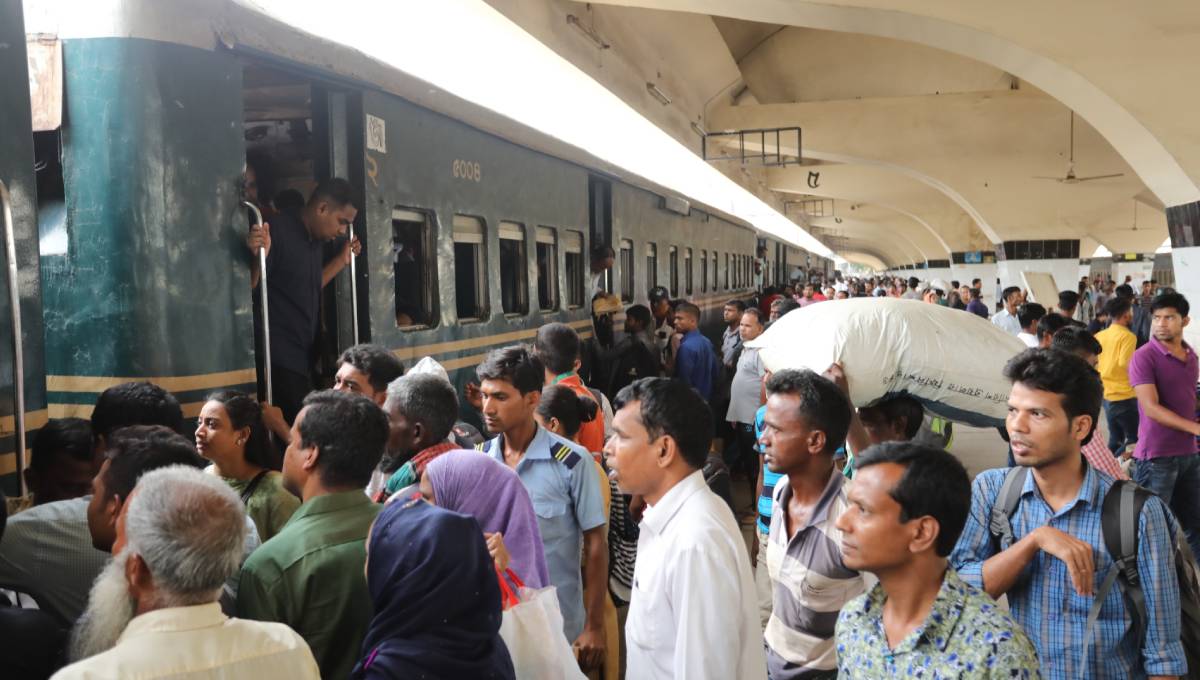 Although there was no report of traffic jam on major highways, four out of 17 trains could not maintain their schedule again, causing sufferings to their passengers.
Kamalapur Railway Station, major bus terminals and Sadarghat Ferry Terminal were over crowded with the home-goers waiting for hours together to catch their transports to reach their destinations.
Kamalapur Railway Police Station officer-in-charge (OC) Yasin Faruq said four intercity trains –Nilsagar Express, Rangpur Express, Ekata Express and Sundarban Express-– left the Kamalapur Railway Station behind their schedules.
Technical glitches and delayed return of trains from outside the capital are the main reasons behind the failure to main their schedules, he said.
The trains, buses and launches leaving Dhaka were very packed, but no passenger was seen travelling on bus and train roofs unlike previous years.
The usual bustling city traffic, meanwhile, has eased a bit with the exodus of holidaymakers.
According to of Dhaka Metropolitan Police (DMP), around 50-60 lakh people are expected to leave the city for enjoying eid at their village homes.
A DMP official said over a million people are expected to leave the city today.
Superintendent of Police (SP) of Highway Range (Gazipur) Md Shafiqul Islam said traffic on all the major highways is normal with smooth movement of vehicles.
"There's no report of any tailback on any highway, Dhaka-Chattogram, Dhaka-Mymensingh and Dhaka-Tangail ones, as of 5pm today (Saturday)," he said.
The holidaymakers are unlikely to face tailbacks as the major highways are now in very good shape, the SP he said.