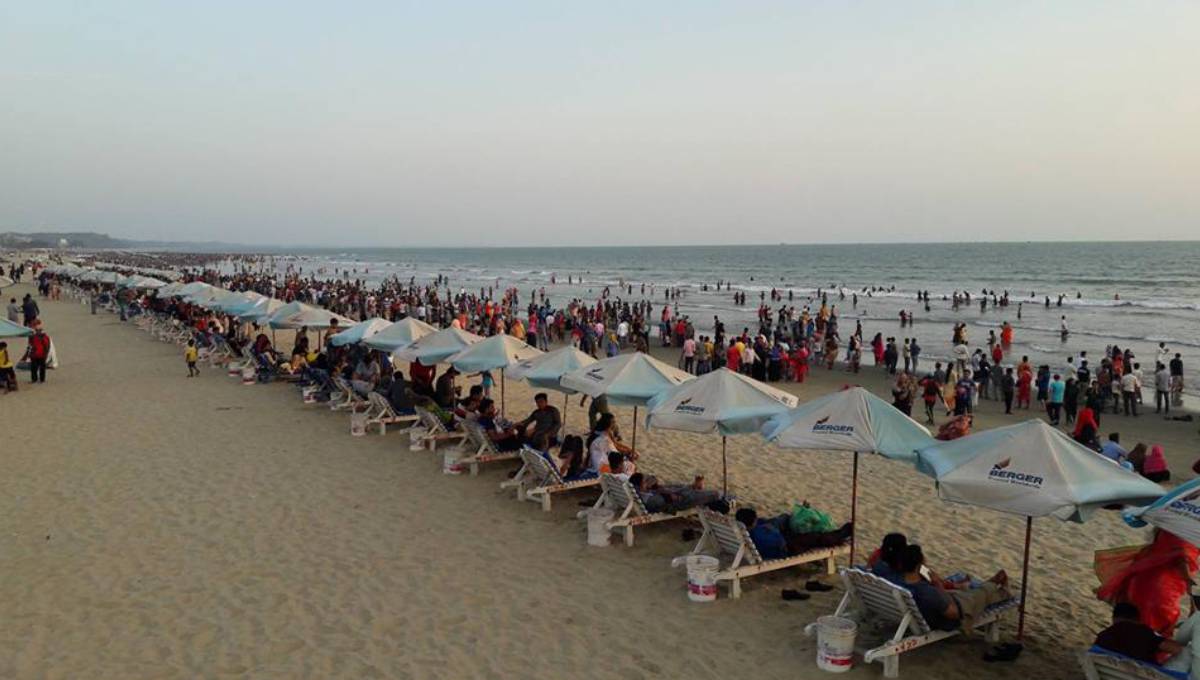 Cox's Bazar, Jun 4 : Holidaymakers are thronging the sandy beaches of Cox's Bazar to enjoy themselves over the nine-day holiday that started Friday on the occasion of Eid-ul-Fitr.
Many of them have already reached with their family members to celebrate Eid here. All the hotels and rest-houses by the beach have been booked out till June 8 at least.
Every year, a good number of holidaymakers spend at least part of their Eid, and other holidays in Cox's Bazar, the country's top tourist destination.
This year, thanks to the nine-day holiday, the overall situation of the sea beach has changed leading to the spike in the number of bookings, said proprietors.
Tourist police, district police and mobile court teams have been deployed to ensure security of the holidaymakers, they added.
Talking to couple Ali Reza and Selina Akhter from Narayanganj said both of them are government employees.
They could not go out of town during the last several Eids because of limited holidays. But this year's extended holiday allowed them to visit Cox's Bazar to celebrate Eid.
Iqbal Ahmed, college teacher from city's Mirpur, said he wanted the visit the coastal district during the last Eid but his wish was left unfulfilled.
However, this time, he got the chance to come here along with his relatives thanks to the long holiday, he added.
Imrul Siddiqi Rumi, former president of Hotel Owners Association, said foreigners who have been working for Rohingyas in different NGOs booked around 50 to 60 percent of elite hotels for long periods.
The hotels include Sea Girl, Ocean Paradise, Long Beach, Sea Palace, Symon Beach Resort, Royal Tulip and Mermaid Eco Resort. The demand for rooms at these hotels is very high during different festivals and celebrations. Almost all the rooms have been booked, Rumi added.
Shafiqur Rahman, vice-president of Cox's Bazar Hotel-Motel Guest House Owners' Association, said the sea beach gets crowded during two or three days' holiday around any festival. This time, the number will be exceeding as almost all the hotels have been booked amid the long holiday.
Kazi Rasel Ahmed, president of Cottage Owners' Association, said there are 117 cottages under the association. All rooms have been booked as the price they offer is comparatively low.
SM Kibria Khan, president of Cox's Bazar Tour Association, said tourists have started to gather not only on the sea beach but also on St Martin's Island, Himchari National Park, Darianagar, Inani Beach, Safari Park, Medakachhapia National Park and Adinath Temple.
Meanwhile, 90 percent of rooms of around 400 residential hotels and guest houses have been booked, he added.
Cox's Bazar Deputy Commissioner Md Kamal Hossain said several mobile court teams were deployed to tackle adulterated foods at residential hotels or charging tourists extra fees.
Zillur Rahman, superintendent of Cox's Bazar tourist police, said they are ensuring the holidaymakers' security. Several police teams are patrolling the area on motor vehicles and a police control office has been opened near the beach to provide 24-hour security service, the officer added.
Cox's Bazar police chief ABM Masud Hossain said security had been tightened in different parks and shopping malls to ensure a hassle-free time for holidaymakers.