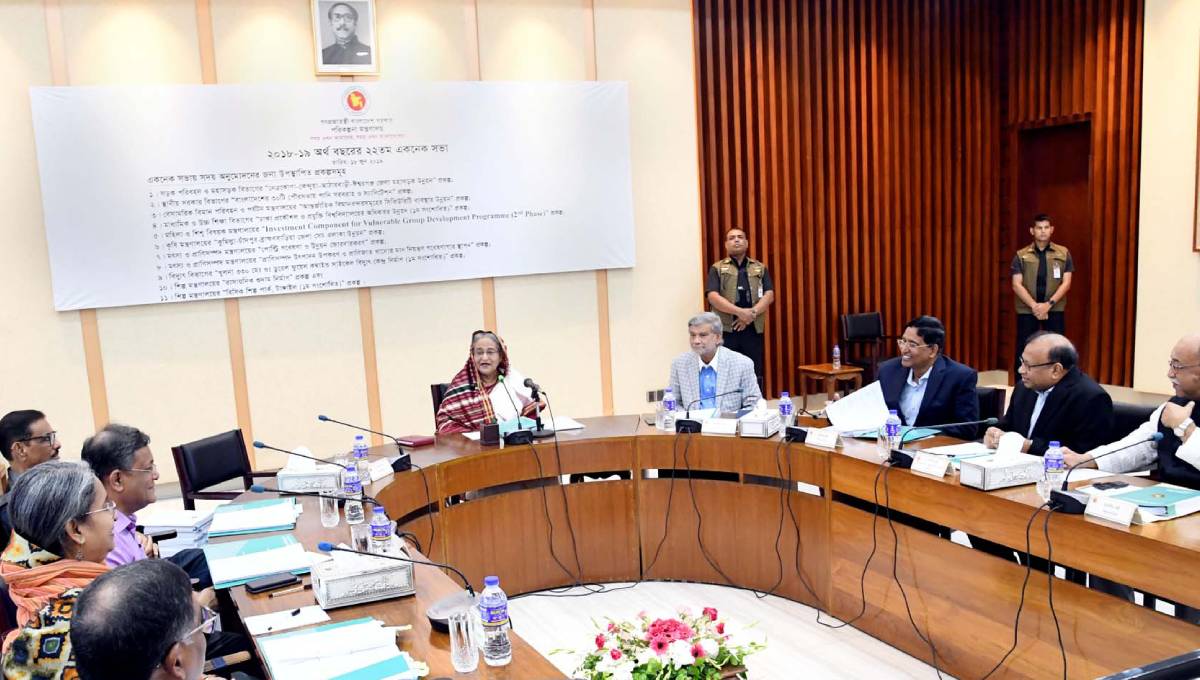 Dhaka, Jun 18 : The Executive Committee of the National Economic Council (Ecnec) on Tuesday approved 11 projects involving an overall outlay of Tk 8,053 crore.
The approval came from the Ecnec meeting held at NEC conference room here with Ecnec Chairperson and Prime Minister Sheikh Hasina in the chair.
Briefing reporters after the meeting, Planning Minister MA Mannan said, "A total of 11 projects were approved today involving an overall cost of Tk 8,053 crore."
Of the total estimated cost, Tk 3,389 crore will come from the national exchequer, while Tk 4,113 crore from the own funds of the organisations concerned and Tk 551 crore as project loan, he said.
Among the approved projects, seven are new and the remaining four are revised ones.
The seven new projects are Water Supply and Sanitation in 30 Municipalities of Bangladesh with Tk 1,751.50 crore, Development of Netrakona-Kendua-Atharobari-Ishwarganj District Highway with an estimated cost of Tk 710.74 crore, Improvement of Security System in International Airports with Tk 59.62 crore, Investment Component for Vulnerable Group Development Programme (2nd phase) with Tk 317.27 crore, Development of Cumilla-Chandpur-Brahmanbaria Irrigation Areas with Tk 325.53 crore, Strengthening Poultry Research and Development with Tk 123.35 crore and Construction of Chemical Warehouse with Tk 91.74 crore.
The revised projects are Construction of Khulna 330-Megawat Dual Fuel Combined Cycle Power Plant (1st revised) with Tk 3,919.26 crore, Further Development of Dhaka University of Engineering and Technology (1st revised) with Tk 352.36 crore, Installment of Laboratory for controlling the standards of Livestock Production Materials and Food from Animal (1st revised) with Tk 105.60 crore and Tangail BSCIC Industrial Park with Tk 295.75 crore.
Besides, the Planning Minister said, the implementation rate of Annual Development Programme (ADP) of the current fiscal year reached 67.97 percent as of May with an overall expenditure of Tk 1,20,043 crore.
During the same period of the last fiscal year (2017-18), the implementation rate was 62.81 percent with the overall expenditure of Tk 98,978 crore.