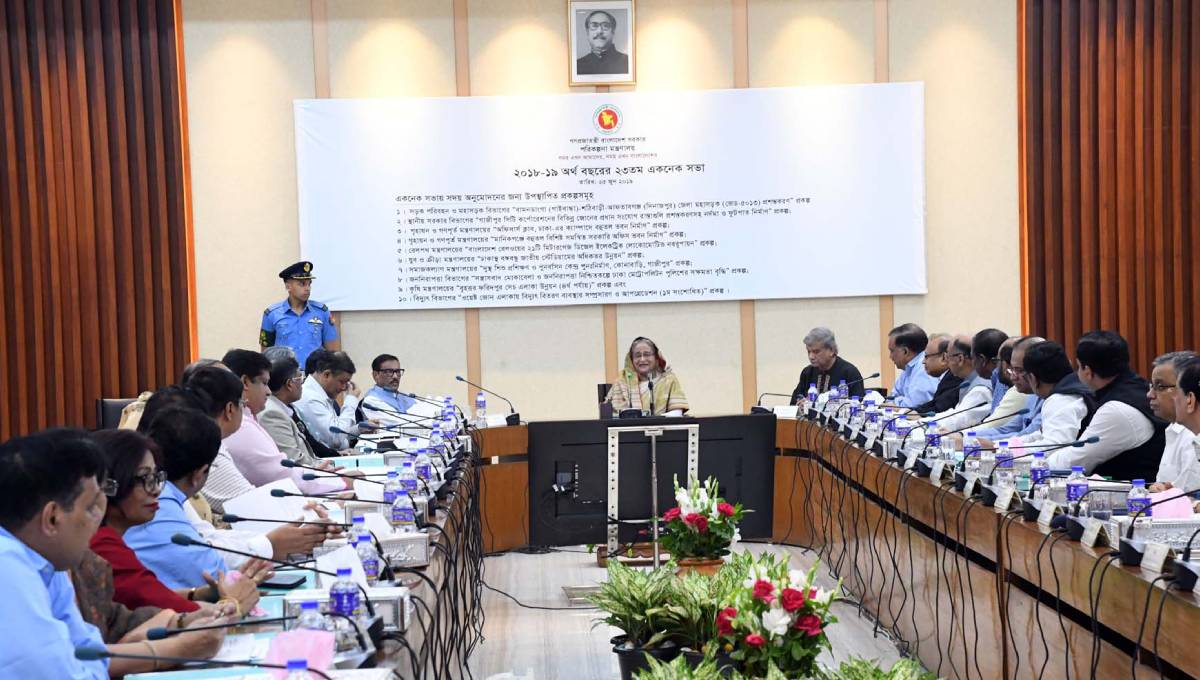 Dhaka, Jun 25 : The Executive Committee of the National Economic Council (Ecnec) on Tuesday cleared 10 projects involving an estimated cost of Tk 6,967 crore.
The approval came at an Ecnec meeting held at the NEC conference room with Ecnec Chairperson and Prime Minister Sheikh Hasina in the chair.
"The Ecnec meeting today approved a total of 10 projects involving Tk 6,967.23 crore," said Planning Minister MA Mannan while briefing reporters after the meeting.
Of the total cost, Tk 6,686.13 will come from the government fund, while Tk 241.52 crore from the own funds of the organisations concerned and the remaining Tk 39.58 crore as project assistance from foreign sources, he said.
Of the projects, nine are new and another is a revised one.
In terms of the estimated cost, the three biggest projects are Construction of Drains and Footpaths, including Widening of the Main Link Roads at Different Zones in Gazipur City Corporation at a  cost of Tk 3,828 crore; Expansion and Upgradation of Power Supply System in the West Zone Areas (1st revised) involving Tk 1687.28 crore; and Widening Bamandanga (Gaibandha)-Shathibari-Aftabganj (Dinajpur) District Highway Project with an outlay of Tk 425.81 crore.
The projects also include Construction of Multi-storey building on the premises of Officers' Club, Dhaka spending Tk 228.0679 crore; Construction of Multi-storey combined building for government office in Manikganj with Tk 95.6462 crore; Renovation of 21 Metre-guage Diesel Electronic Locomotives of Bangladesh Railways with Tk 242.1408 crore; and Further Development of Bangabandhu National Stadium in Dhaka with Tk 98.3627 crore.
The remaining three projects are Reconstruction of Rehabilitation and Training Centre for Destitute children, Konabari, Gazipur with Tk 81.6587 crore; Strengthening the Capacity of Dhaka Metropolitan Police to face Terrorism and Ensure Public Safety with Tk 79.6618 crore; and Development of Irrigation Areas in Greater Faridpur (4th phase) with Tk 200.5950 crore.