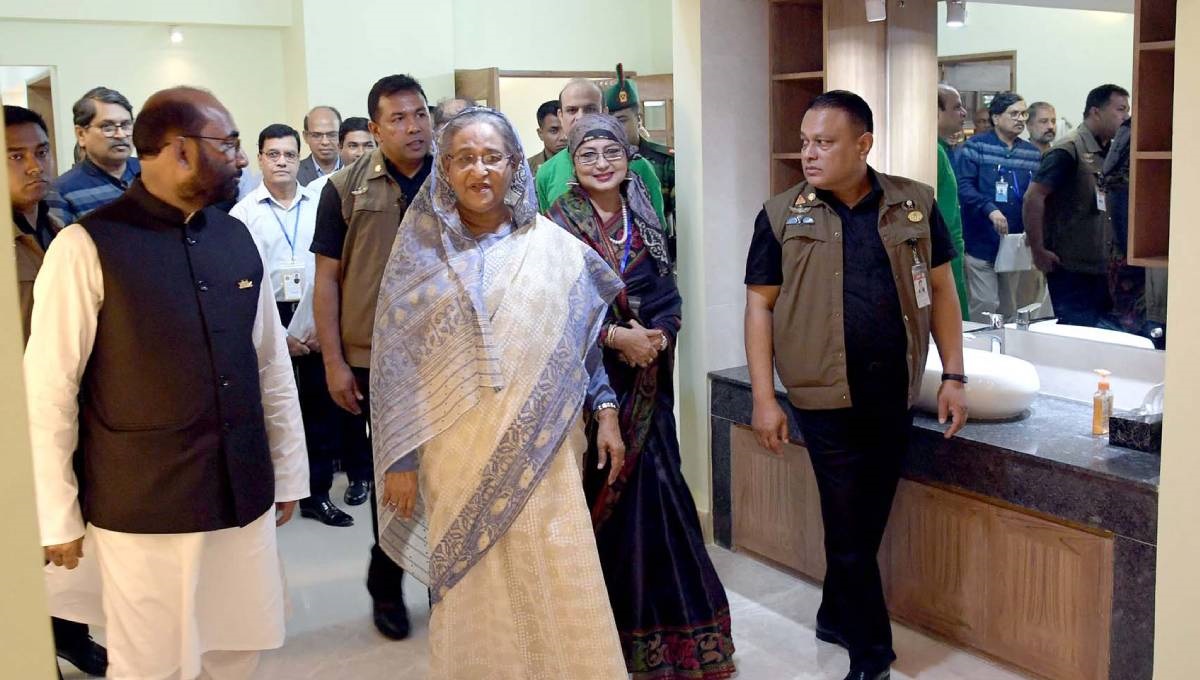 Dhaka, July 15 : Stressing the importance of planned development in urban and rural areas, Prime Minister Sheikh Hasina said on Monday now there is no scope to build a building or set up an industry just because one has money.
"We don't want to let anyone do that, we're setting up 100 economic zones. The BSCIC industrial estates established by Bangabandhu Sheikh Mujibur Rahman will be expanded. We'll carry on industrialisation in a planned way. Schools, colleges and everything will be set up in a planned way," she said.
The prime minister said this while inaugurating new buildings for ministries, senior secretaries, secretaries and grade-1 employees of the government from Eskaton Garden area in the city.
Requesting the architects to make the designs of buildings keeping in mind the climate and weather of the country, she said the government wants to formulate a master plan for every mega city, district and upazila, and is working accordingly.
She mentioned that there will be croplands, playgrounds and recreational places apart from accommodation facilities. "We've to build each village with modern facilities. I think we've to do everything in a planned way."
The prime minister said the government is providing all sorts of facilities to public servants for the sake of the county's development.
"We're arranging every sort of facilities for them just for one reason:  development of the country. We've arranged loans for them to purchase flats, we've arranged a system so that they could buy vehicles, we've arranged various facilities for them from all aspects," she said.
Talking about providing better living place for the people who are staying in shanties, Hasina said the government is constructing 533 flats for them in the city's Mirpur while over 16,500 flats will be built at different places elsewhere.
"We'll provide them with flats on rent basis so that they can pay their rents either daily or weekly, or monthly basis, but they have to pay for that," she said.
The prime minister put emphasis on keeping and preserving wetlands and ponds.
"Ponds cannot be filled. Once there were many ponds in Dhaka city, but those have been filled… this cannot be done anymore," she said.
Hasina also urged everyone to maintain austerity in using power, water and keep respective areas clean as this is the duty of all citizens.
The prime minister said she has already given the instruction to increase accommodation facilities for government officials and employees to 40 percent in Dhaka, which was only 8 percent in 2014.
"We'll build 6,350 flats under 16 projects of the Housing and Public Works Ministry and there have been allocation for building 1674 more flats under another 13 projects," she said.
Hasina mentioned that the work of constructing 398 flats in 20 abandoned houses in Gulshan, Dhanmondi and Mohammadpur areas and 1824 flats and 64 dormitories in 51 abandoned houses in Chattogram is going on while initiatives have already been taken to build 317 flats by acquiring 15 more abandoned houses.
She said her government has already taken initiatives to construct 2,816 dormitories in 64 districts to increase the housing facilities for government officials and employees.
The prime minister later visited one of the three buildings constructed for grade one government officers on Eskaton Garden Road in the city.
A video documentary on the seven projects was also screened at the function.
Housing and Public Works Ministry and Rajdhani Unnyan Kartripakkha (Rajuk) constructed the buildings at different parts of the city.