Minister Kono to discuss Rohingya issue with Myanmar leadership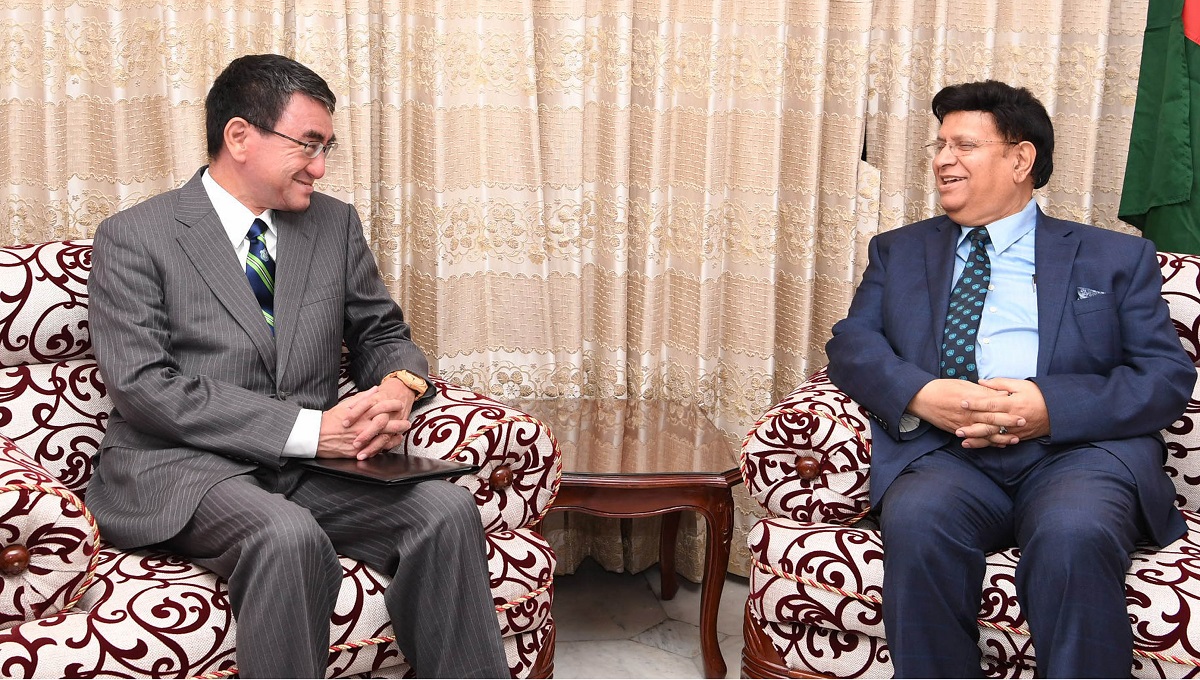 Dhaka, July 30 : Japan has proposed to play a role as mediator in Tokyo taking Bangladesh and Myanmar onboard to find a peaceful solution to Rohingya crisis ensuring their safe return to their place of origin in Rakhine State.
"Bangladesh will consider the proposal," Foreign Minister Dr AK Abdul Momen told reporters after a bilateral meeting with his Japanese counterpart Tara Kono at State guesthouse Meghna on Tuesday evening mentioning that Bangladesh is looking for the resumption of Rohingya repatriation.
The Japanese Minister, who visited Rohingya camp, will leave for Yangon on Wednesday to talk to Myanmar leadership over the Rohingya issue.
Dr Momen said his Japanese counterpart will convey Bangladesh's message to Myanmar authorities apart from sharing his own observation.
Bangladesh conveyed to Japan that Japanese investment both in Bangladesh and Myanmar will be affected if the Rohingya crisis remains unresolved for long as he fears the emergence of radicalism pockets.
The two sides stressed the need for necessary steps to be taken by the Myanmar government to create an environment conducive to the return of the Rohingyas under UN cooperation.
The Japanese Foreign Minister, who arrived here on Monday night, also visited Rohingya camps on Tuesday to see the situation on the ground and had a brief dialogue with Rohingya representatives in a transit camp to understand their perspective as a whole.
At the bilateral meeting, the two sides discussed bilateral issues with a greater focus on Rohingya crisis and strengthening further the ties with Bangladesh on all fronts.
The two countries discussed ways to further develop the bilateral relationship through various initiatives at various levels towards the 50th anniversary of the establishment of diplomatic relations in 2022.
Bangladesh has already expressed its support for Japan's aspiration to become a permanent member of the UNSC and for Japan's candidature for the UNSC non-permanent membership election in 2022.
He also visited Bangabandhu Memorial Museum in the city to pay tributes to Father of the Nation Bagabandhu Sheikh Mujibur Rahman.
The Foreign Minister hosted dinner in hour of his Japanese counterpart.
In a separate briefing at a city hotel, Deputy Press Secretary of the Japanese government Jun Saito said Japan promotes dialogue between Bangladesh and Myanmar in a very general manner, and there might be some development in the coming days.
He said Minister Kono, at the bilateral meeting with Dr Momen, reiterated Japan's position — repatriation of Rohingyas in a safe, voluntary and dignified manner.
The Japanese government official said Japan has been telling Myanmar to demonstrate progress in a visible manner.
He said Japan does not want to see the Rohingya crisis gets prolonged.
Responding to a question, the Japanese government official said he cannot prejudge what is going to be discussed between Minister Kono and Myanmar authorities during his visit in Myanmar.
Japanese Prime Minister Shinzo Abe showed his deep respect for the government of Bangladesh for generously accepting and protecting the Rohingyas on humanitarian ground and the two countries share the importance of stability in Cox's Bazar from the perspective of enhancing connectivity and securing regional stability, another official said.
On May 29, Prime Minister Abe held a 50-minute meeting with his Bangladesh counterpart Sheikh Hasina in Japan, and discussed ways to find a "durable and early solution" to the Rohingya crisis.
Bangladesh is now hosting over 1.1 million Rohingyas and most of them entered the country since August 25, 2017.
Bangladesh and Myanmar signed the repatriation deal on November 23, 2017.
On January 16, 2018 Bangladesh and Myanmar signed a document on "Physical Arrangement", which was supposed to facilitate the return of Rohingyas to their homeland.
The "Physical Arrangement" stipulates that the repatriation will be completed preferably within two years from the start of repatriation.
The first batch of Rohingyas was scheduled to return on November 15 last year but it was halted amid unwillingness of Rohingyas to return for lack of a congenial environment in Rakhine.