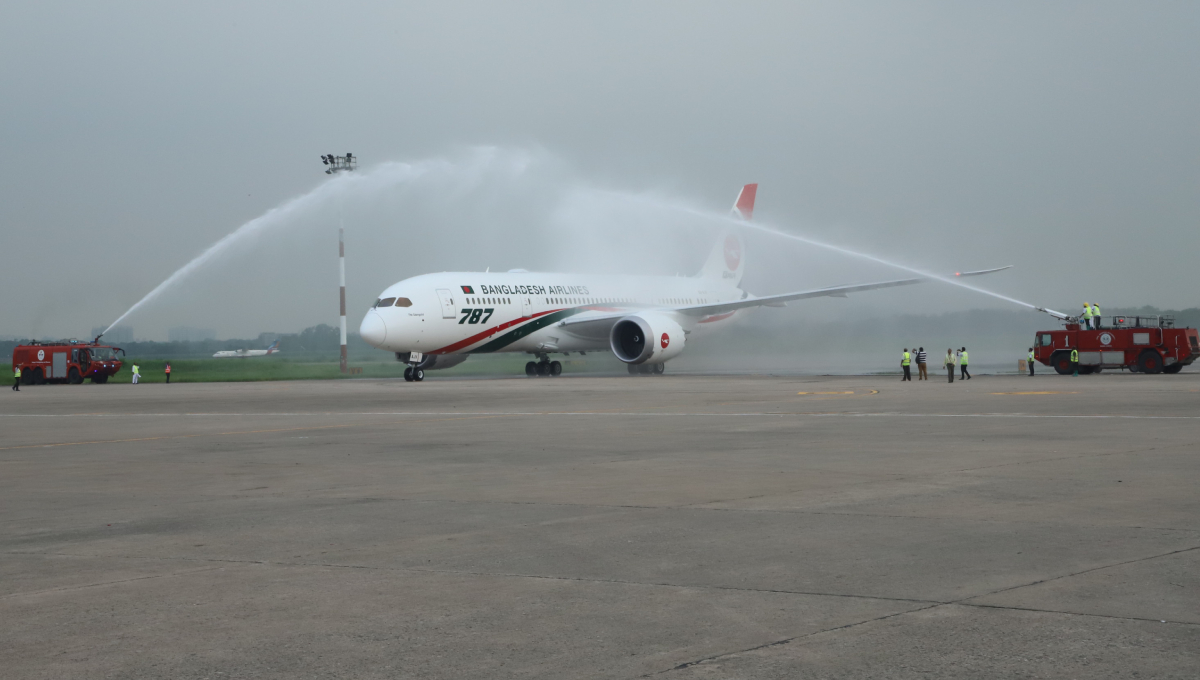 Dhaka, Aug 22 : The third Boeing 787-8 Dreamliner 'Gaanchil' was inducted to the fleet of Biman Bangladesh Airlines after Prime Minister Sheikh Hasina inaugurated the aircraft on Thursday.
She commissioned 'Gaangchil' by cutting ribbon at around 11:30am at Hazrat Shahjalal International Airport.
The Prime Minister boarded and inspected the state-of-the-art.
On the occasion, a special munajat was offered seeking blessings of Almighty Allah for the continued peace, prosperity and progress of the country.
Gaangchil's maiden flight is scheduled for 5:30pm on Thursday to Abdu Dhabi.
The third Boeing 787-8 Dreamliner, the 15th aircraft of the national flag carrier, was added to the Biman's fleet on July 25. It arrived in Dhaka from the Seattle's Boeing Factory in the afternoon on the day.
Gaangchil has 271 seats – 24 business class and 247 economy class. The business class seats can be flattened to 180 degrees straight.
The new aircraft has been designed as 20 percent fuel efficient carrier compared to the other aircraft and it can fly 16 hours nonstop with an average speed of 650 miles per hour. It provides passengers with WiFi facilities at a height of 43,000 feet.
Earlier, the first Boeing 787-8 Dreamliner, named as 'Akash Beena', arrived here in August last year, while the second one, 'Hangsabalaka', arrived in December last.
The fourth Dreamliner 'Rajhangsha', the last one of the 10 new aircraft, will be added to Biman's fleet next month, the sources said.
The prime minister named all the Dreamliners, they said.
In 2008, Biman signed a deal to purchase 10 aircraft from Boeing. Of these, Biman has already received four new Boeing 777-300ERs, two 737-800s, and three 787-8s Dreamliner.
State Minister for Civil Aviation and Tourism Md Mahbub Ali, Civil Aviation and Tourism Secretary Md Mohibul Haque, US Ambassador in Dhaka Earl R Miller, Chairman of the Board of Director of Biman Bangladesh Airlines Air Marshal (retd) Muhammad Enamul Bari, Managing Director and CEO of Biman Farhat Hassan Jamil, among others, were present on the occasion.