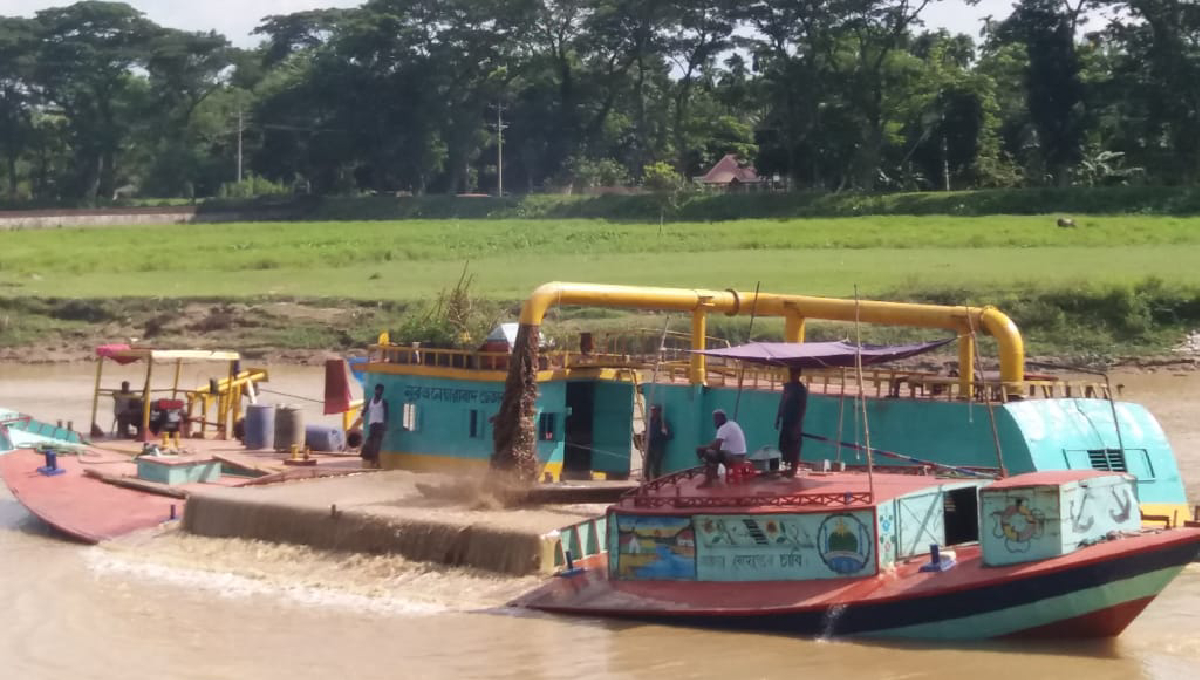 Moulvibazar Correspondent : Unabated sand lifting from different points of Monu River is posing a serious threat to the people living on its banks in Sadar upazila.
Witnesses said leaseholders, backed by influential groups, were lifting sands in Amua, Chanpur, Shewaijuri and Sumarai areas without paying heed to rules and regulations.
As per the national lease policy, sand lifting is prohibited from bridges, culverts, roads, ferry terminals, tea estates, river embankments and adjacent places to other important establishments.
The leaseholders are flouting the law by using bulkheads for pumping and dredging in broad daylight. But Moni Mia, one of the leaseholders, said he was following government rules while lifting sand.
Locals alleged that the leaseholders and their accomplices threaten anyone standing against them. Residents of the area formed human chains and staged demonstrations seeking interference of the administration in this regard.
Amua village is located in the flood control embankment area of Sadar upazila. The Water Development Board has already created an embankment with stones to protect the locality but the village is still threatened by excessive sand lifting. Continuous sand lifting is also causing sound pollution.
On July 21, locals filed a petition with the Deputy Commissioner to end sand lifting.
Water Development Board engineer Ranendra Shankar Chakrabarti inspected the area and suggested that continuous sand lifting will lead to erosion of several villages on the banks of Monu River.
The probe report emphasised imposing an immediate restriction on sand lifting but it never stopped for unknown reason.
Ranendra Shankar Chakrabarti said he filed a General Diary with Moulvibazar Model Police Station seeking proper measures against unabated sand lifting.
Deputy Commissioner Nazia Shirin and Department of Environment's Assistant Director Badrul Huda said action will be taken against the leaseholders after getting a legal complaint.
A large number of families of Chanpur village already lost their ancestral land to river erosion.
Modus Khan, vice-president of Awami League's Akhaikura Union Parishad, said the leaseholders were lifting sand without following any government rule or regulation. "This is putting the whole area at risk of erosion," he said.