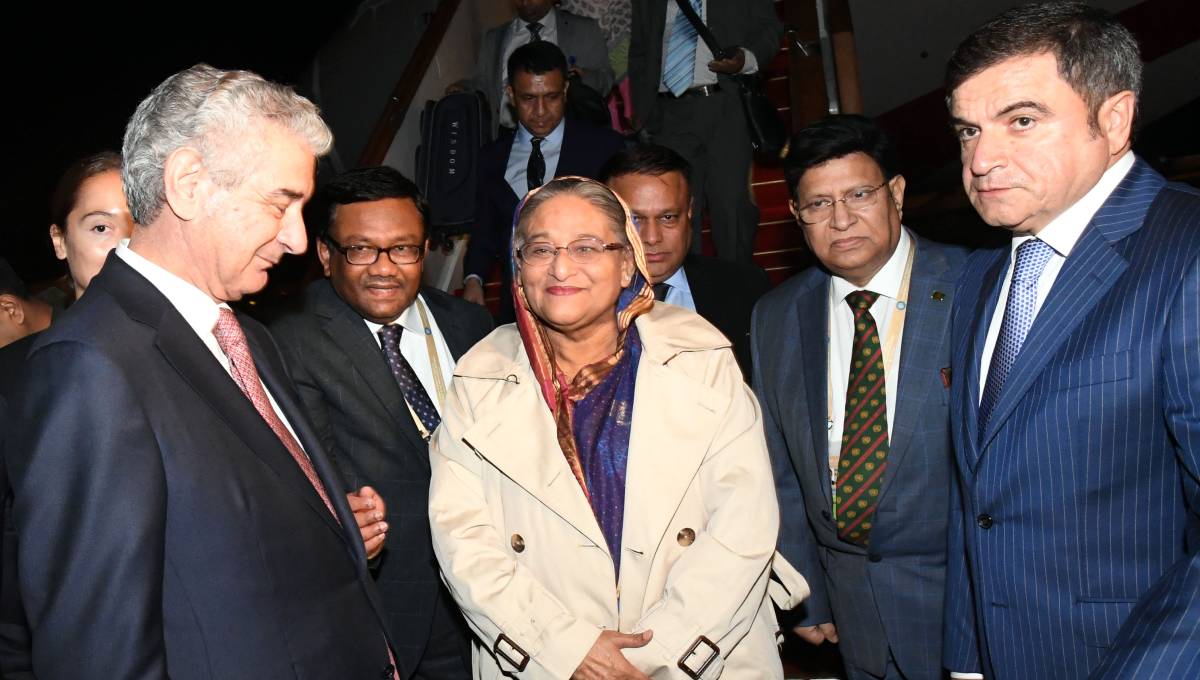 Baku, Oct 24 : Prime Minister Sheikh Hasina arrived here on Thursday on a four-day official visit to Azerbaijan to attend the 18th Summit of the Non-Aligned Movement (NAM).
The two-day summit of NAM, a forum of 120 developing countries, will be held at Baku Congress Centre in the Azerbaijan capital of Baku on October 25-26.
A special flight of Biman Bangladesh Airlines carrying the Prime Minister and her entourage landed at Baku Heydar Aliyev International Airport at 9:10pm (local time).
Deputy Prime Minister of the Republic of Azerbaijan Ali Javad oglu Ahmadov and Bangladesh Ambassador to Turkey M Allama Siddiki received her at the airport.
After the reception at the airport, a ceremonial motorcade escorted the Prime Minister to Hilton Baku where she will be staying during her Azerbaijan tour.
Earlier, the flight of the national flag carrier took off from Hazrat Shahjalal International Airport in Dhaka for Baku at 4pm.
On Friday morning, Sheikh Hasina will join the welcome ceremony of the 18th NAM Summit at Baku Congress Centre.
Along with other NAM leaders, the Bangladesh Prime Minister will attend the opening ceremony of the summit at the Plenary Hall of Baku Congress Centre.
She will later join the working luncheon for the heads of delegations at the Luncheon Hall of the centre, and the Plenary Session.
In the evening, Sheikh Hasina will attend the official reception to be hosted by Azerbaijan President Ilham Aliyev at Heydar Aliyev Centre.
On Saturday, she will join the Plenary Session, the Working Luncheon for the heads of delegation and the Closing Ceremony of the summit.
The Prime Minister will attend dinner to be hosted at Hilton Baku by the Bangladesh Ambassador to Turkey who is concurrently accredited to Azerbaijan.
On the sidelines of the NAM Summit, the Prime Minister is expected to meet a number of heads of state or government, foreign ministry sources said.
Concluding her four-day visit to Azerbaijan, Hasina will depart Baku Heydar Aliyev International Airport for home by a special flight of Biman Bangladesh Airlines at 11 am (local time) on Sunday.
The flight is scheduled to reach Hazrat Shahjalal International Airport in Dhaka at 7:45pm (BST) the same day.