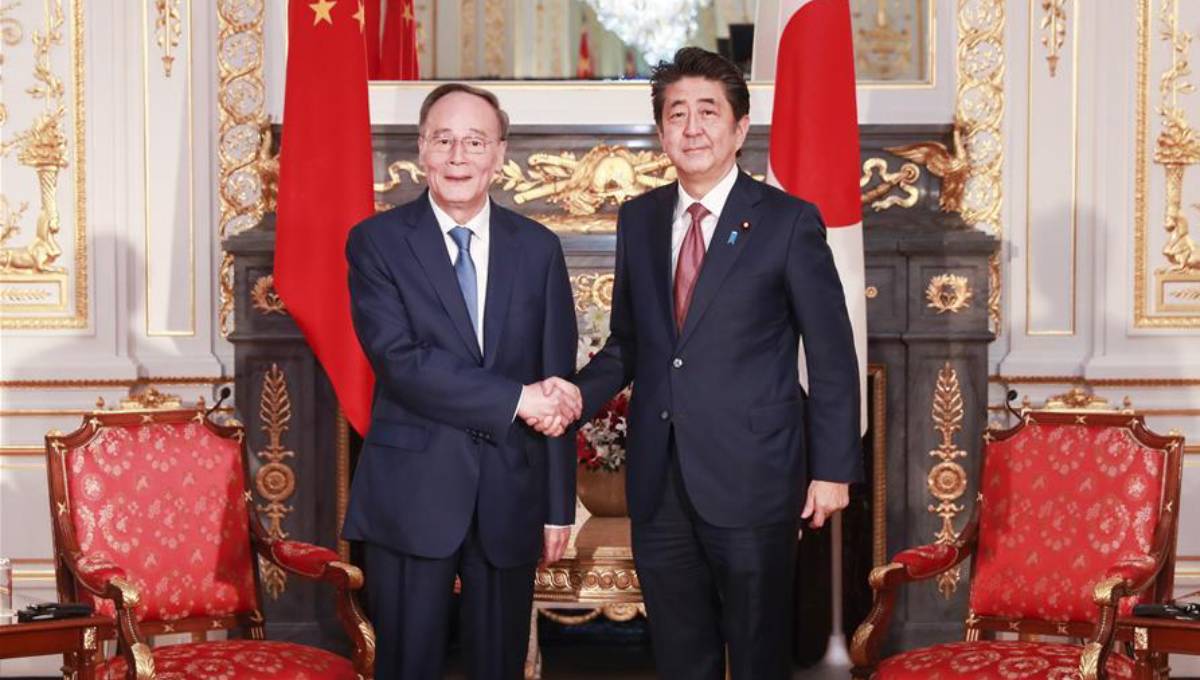 During the five-day visit as Chinese President Xi Jinping's special envoy, Wang attended the enthronement ceremony of Emperor Naruhito, and met seperately with Prime Minister Shinzo Abe and Deputy Prime Minister and Finance Minister Taro Aso.
On Tuesday, when Emperor Naruhito officially proclaimed his enthronement, Wang conveyed to him and Empress Masako the sincere congratulations of Xi and his wife, Peng Liyuan, and asked the emperor and empress to pass on Xi and Peng's cordial greetings to Emperor Emeritus Akihito and Empress Emerita Michiko.
Emperor Naruhito, for his part, asked Wang to communicate to the Chinese president and his wife the genuine gratitude and best wishes of the imperial couple as well as of the emperor emeritus and empress emerita.
In his meeting with Abe, Wang conveyed to him the cordial greetings of Xi and Chinese Premier Li Keqiang, and expressed sympathies over the serious casualties and losses caused by Typhoon Hagibis, an unusually monstrous tropical cyclone that recently wreaked havoc in Japan.
The vice president recalled that Xi and Abe met in the Japanese city of Osaka in June and reached a series of important consensus on pushing for a China-Japan relationship that fits the needs of the new era, creating new opportunities for the development of bilateral ties.
The two sides, he added, should abide by the principles set forth in the four political documents between China and Japan, properly address such issues as history and Taiwan, and ensure that their relations will move forward along the right track of peace, friendship and cooperation.
China stands ready to work with Japan to continuously cement political mutual trust, deepen practical cooperation, expand people-to-people exchanges and build a constructive security relationship, said Wang.
He also called on the two countries to join hands to act as defenders of multilateralism, promoters of open cooperation, and practitioners of cross-civilization dialogue, and make positive contributions to advancing global and regional peace, stability and development.
Noting that Xi has accepted in principle Abe's invitation for a state visit to Japan next spring, Wang said he hopes that the two sides will maintain close contact and coordination, so as to create a favorable environment and a conducive atmosphere and ensure that the visit will materialize smoothly and achieve complete success.
The Japanese prime minister once again extended congratulations on the 70th anniversary of the founding of the People's Republic of China (PRC), and thanked Xi for sending Wang as his special envoy to attend Emperor Naruhito's enthronement ceremony and pay a friendly visit to Japan.
Japan and China have a long history of exchanges and boast a solid traditional friendship, Abe said, adding that today the two countries enjoy steadily deepening cooperation on economy and trade, deal with international affairs side by side, and shoulder great responsibility for peace and prosperity in Asia as well as the whole world.
As both countries are entering a new era, and the Osaka meeting has facilitated a full return of Japan-China relations to normal development, the two sides have huge potential in future cooperation, added the Japanese prime minister.
The Japanese side, he said, earnestly looks forward to Xi's state visit to Japan in the coming spring, and is willing to properly handle the Taiwan question and other sensitive issues.
He added that his country stands ready to make concerted efforts with China to enhance top-level planning for bilateral relations, maintain the momentum of high-level exchanges, and build a Japan-China relationship that is beautiful, harmonious, future-oriented and vigorous.
In his meeting with Aso, Wang said China and Japan, as important countries in Asia and major economies in the world, should more consciously perceive and handle their relationship against the backdrop of the world and the times, and manage and plan it from long-term, strategic perspectives.
In the new era, the two countries have broader common interests and more common concerns, and the strategic value of their relationship is growing ever more prominent, noted the Chinese vice president.
China, he said, stands ready to work with Japan to effectively seize the opportunities and, with their eyes set on the future and the big picture, comprehensively strengthen coordination and communication in various areas including financial cooperation, so as to lift bilateral ties to a higher level.
Aso said that boosting candid, open and constructive exchanges between the two countries is conducive to bilateral relations, and that Japan supports open market and free trade, and is willing to step up communication and cooperation with China in the financial realm.
The Japanese side, added the deputy prime minister, is actively making preparations in order to foster a conducive atmosphere for Xi's planned visit next year.
Also during his stay in Japan, Wang held separate meetings with Chief Cabinet Secretary Yoshihide Suga, former Prime Minister Yasuo Fukuda, Secretary General Toshihiro Nikai of the ruling Liberal Democratic Party, and Governor Naomichi Suzuki of the Hokkaido prefecture.
In addition, he met with Pakistani President Arif Alvi in Tokyo.