She urges Nepal to finalise PTA to boost bilateral trade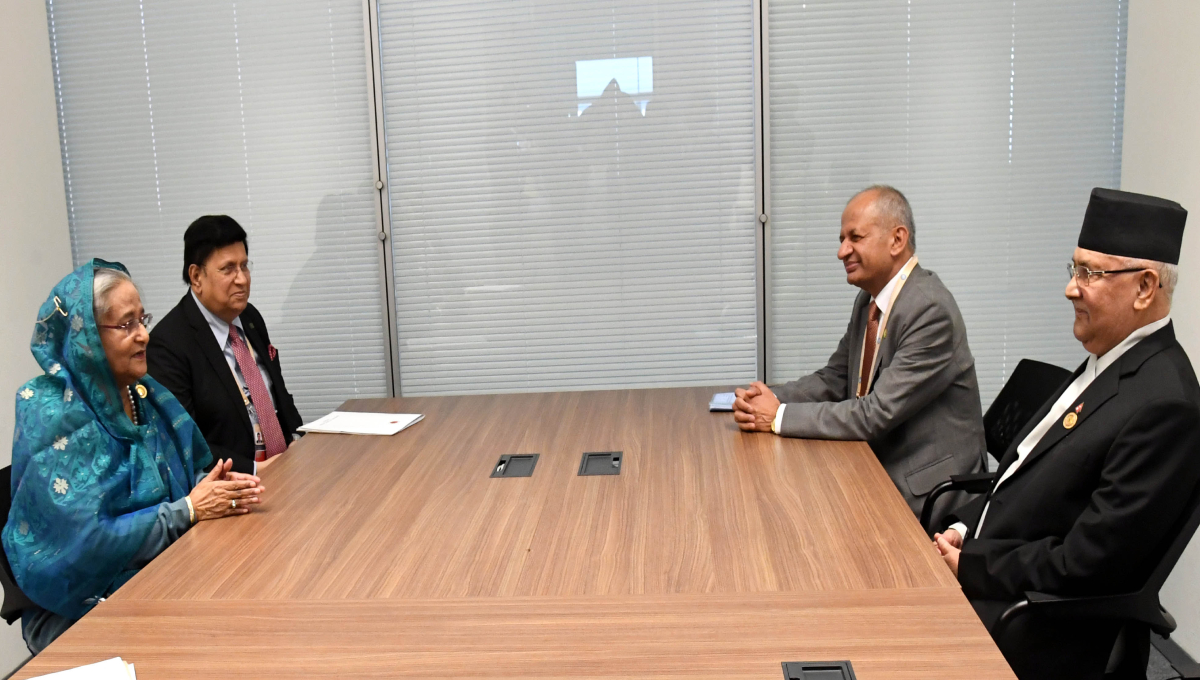 Baku (Azerbaijan), Oct 26 : Prime Minister Sheikh Hasina on Saturday said three countries –-Bangladesh, India and Nepal– can initially make the BBIN Motor Vehicles agreement operational, if Bhutan needs more time.
She said this when her Nepalese counterpart KP Sharma Oli met her at the bilateral booth of Baku Congress Centre on the sidelines of the NAM Summit here.
Foreign Secretary Md Shahidul Haque briefed reporters after the meeting. PM's Press Secretary Ihsanul Karim was present.
About implementation of the Bangladesh, Bhutan, India, Nepal (BBIN) Motor Vehicles Agreement, Sheikh Hasina said if Bhutan has problems now over making it operational, then the other three countries can start it among them, the Foreign Secretary said.
He said both the prime ministers agreed on this.
Hasina said Bangladesh has already raised the issue with the Indian side and requested Nepal to raise it with India, too. "We can make this operational," she was quoted as saying.
During Sheikh Hasina's recent visit to New Delhi, she and her Indian counterpart Narendra Modi agreed to 'early operationalization' of the BBIN Motor Vehicles Agreement for movement of goods and passengers between the member countries who are willing and ready; or to work towards a bilateral India-Bangladesh Motor Vehicles Agreement, as appropriate.
Both sides believe that it will facilitate better connectivity and simplify movement of passengers and goods between both the countries, according to the joint statement issued after the meeting between the two leaders.
The Bangladesh Prime Minister also urged her Nepalese counterpart to finalise the Preferential Trade Agreement (PTA) with his country during the upcoming visit of the Bangladesh President to Nepal.
"It remains pending for long. If it can be done (signed), it would be very much helpful for the two countries to enhance their trade and business," she said.
President Abdul Hamid will visit Nepal on November 11-14 next.
The Prime Minister said this while holding a meeting with Nepalese Prime Minister KP Sharma Oli at the bilateral booth of Baku Congress Center where the NAM Summit is taking place.
Shahidul said both the leaders mainly focused on connectivity, port facilities, and trade and business enhancement.
KP Sharma Oli put emphasis on the peace and stability of this region saying that peace and stability has to be maintained in South Asia by the countries of this region.
The Nepalese Prime Minister hoped that the Bangladeshi Prime Minister will continue showing her goodwill to maintain stability in this region. "Otherwise, business, trade and connectivity would not be worked here," he said.