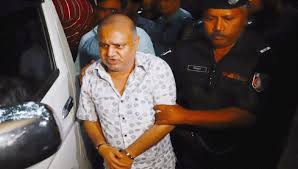 Dhaka, Oct 27 : A court here on Sunday placed 'Jubo League leader' Golam Kibria Shamim alias GK Shamim and expelled organising secretary of Jubo League's Dhaka south city unit Khalid Mahmud Bhuiyan on a 7-day remand each on charge of accumulating illegal wealth.
Acting Judge Al Mamun of Dhaka Metropolitan Sessions Judges Court passed the order.
On October 23, investigation officers of the cases sought a 10-day remand to interrogate the duo while the court fixed October 27 to hear the appeal.
Anti-Corruption Commission (ACC) Deputy Director Md Salauddin has been investigating case against GK Shamim while another ACC Deputy Director Jahangir Alam is investigating case against Khalid Mahmud.
On October 21, the ACC filed two separate cases against the duo on charge of accumulating illegal wealth.
GK Shamim is now facing three more cases filed by Rapid Action Battalion (Rab) -– one under the Narcotics Control Act, another under the Money-laundering Prevention Act and the other under the Arms Act
Shamim who was known as an influential contractor of Sabujbagh, Basabo and Motijheel areas was arrested during a drive at his Niketan office on September 20 with illegal firearms and a huge amount of money.
Meanwhile, Khalid is facing two more cases –one under the Arms Act and another under the Narcotics Control Act.
Khalid, also president of Fakirerpool Youngmen's Club, was arrested from Gulshan on Sep 18 by Rab for running illegal casino in the club.
Three firearms – one of them illegal – along with bullets, and Yaba pills were seized from him.