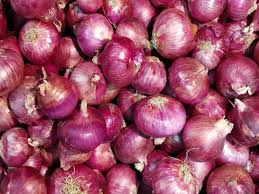 Dhaka, Oct 28 : Mentioning that 7,000-8,000 tonnes of onion will be brought from Egypt by the first week of November, Commerce Minister Tipu Munshi on Monday said there is no scope for its price to come down until the consignments arrive.
"The shipment of onions is expected to enter the country within the first week of November. There's no scope for the onion price to come down until then," he said.
Talking to reporters after attending the launch event of Business Confidence Survey 2019 arranged by Business Initiative Leading Development (BUILD) at a city hotel, the minister further said, "Hopefully, there'll be a positive impact on the market when the new consignments of onion arrive."
He said the landing cost of onion imported from Myanmar jumped to Tk 70 per kg on Monday which was Tk 42 about 15 days ago.
Mentioning that they had to depend on the onion import from India to meet the deficit of 7-8 lakh tonnes in the country, Tipu Munshi said they are thinking of increasing the local production to prevent such a crisis in the future.
He, however, claimed that a group of unscrupulous businessmen is behind the artificial crisis of onion, saying some 2,000 businessmen have so far been fined across the country.
Meanwhile, the Commerce Ministry on Monday said the overheated onion market is expected to cool down within the next couple of days when big consignments of onions from a number of countries will enter the country.
It said some big importers are importing onions in huge consignments from Egypt and Turkey at the request of the Commerce Ministry.
On September 29, the Indian government banned the export of onions with immediate effect till further orders for what it says improving domestic availability.
At the launch event, the minister said the government is doing everything to improve the overall condition of business in the country.
"I'll try to ease the pain of the businessmen," he said.
He also lauded the hosts, saying the report will play a vital role to improve the ties between local and foreign investors.
"Everyone must support the (business) model where private sector can come up with solutions to help businessmen," he said.
The minister further said all stakeholders must take stand against corruption to ensure country's development and improvement in business.
Former Finance Minister AMA Muhith, Commerce Secretary Dr Md Jafar Uddin and Head of Department for International Development (DFID) Bangladesh Judith Herbertson also spoke at the programme.
According to the report, Bangladesh is among the top 20 improvers in the ease of doing business index. Currently, Bangladesh stands at 168th position among 190 countries.