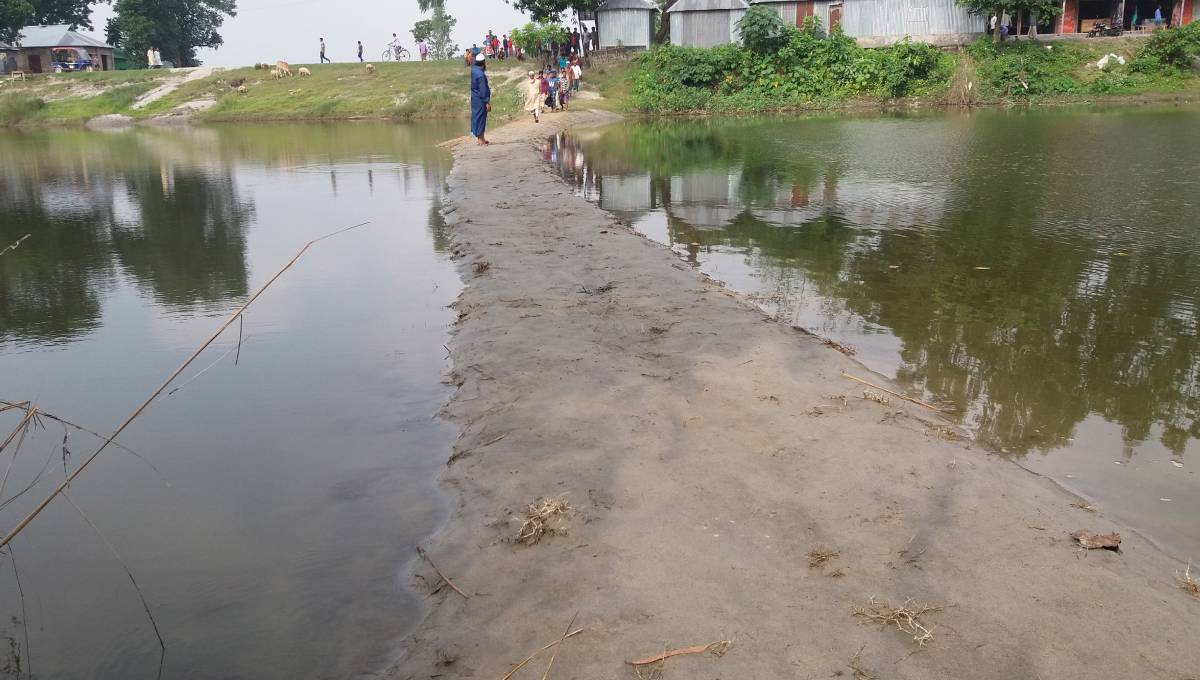 Kurigram, Oct 28 : Thousands of residents of Holokhana Union in Sadar Upazila have been suffering as an embankment and a road, severely damaged during flood two years ago, are yet to be repaired.
Around 700 metres of the RDRS Bazar-Kagzipara road, the only road connecting the area with Kurigram Sadar and Phulbari upazilas, was severely damaged. Besides, a 120-metre stretch of the RDRS Bazar embankment was completely washed away.
About 30,000 residents of 10 villages are facing difficulties while commuting. Even human chains by students and locals and repeated appeals to different government offices went in vain.
The residents of Kagzipara, Sardob, Laxmikanta, Chhatkalua, and six other villages regularly use the road. Around 3,000 students of five educational institutions, including Char-Kagzipara Government Primary School, Sardob Emdadia Alim Madrasa, and Sardob High School, use the road everyday.
Locals said the students cannot attend classes during the rainy season when the road becomes unusable. Potholes make the road more troublesome one  to use.
But no initiative was taken in the last two years to repair the road and the embankment, locals said.
A vast area was flooded this year because of the damaged embankment.
Muktar Hossain, member of ward No. 3 at Holokhana Union Parishad, said: "It's very difficult for us to commute and take patients to hospitals as the road is dilapidated and we don't have any alternative route."
Abu Bakar Siddique, a resident of the area, said they approached various government offices with pleas to repair the road. "Nothing worked," he said. "We'll have to face another bout of suffering in the next rainy season."
But noting appears to be in favour of the locals.
Omar Faruk, deputy-divisional engineer of Kurigram Water Development Board, said the situation will improve if Ecnec approves a project to check Dharla River bank  erosion.
"If the project is delayed, the authorities are thinking of repairing the damaged embankment before the next rainy season," he said.
Samin Sharar Fuad, an engineer of Sadar Upazila, said the road of Sardob was not included in a list that has been submitted to the higher ups for repair.
"It'll be included in the list in the future," he added, without giving any timeframe.