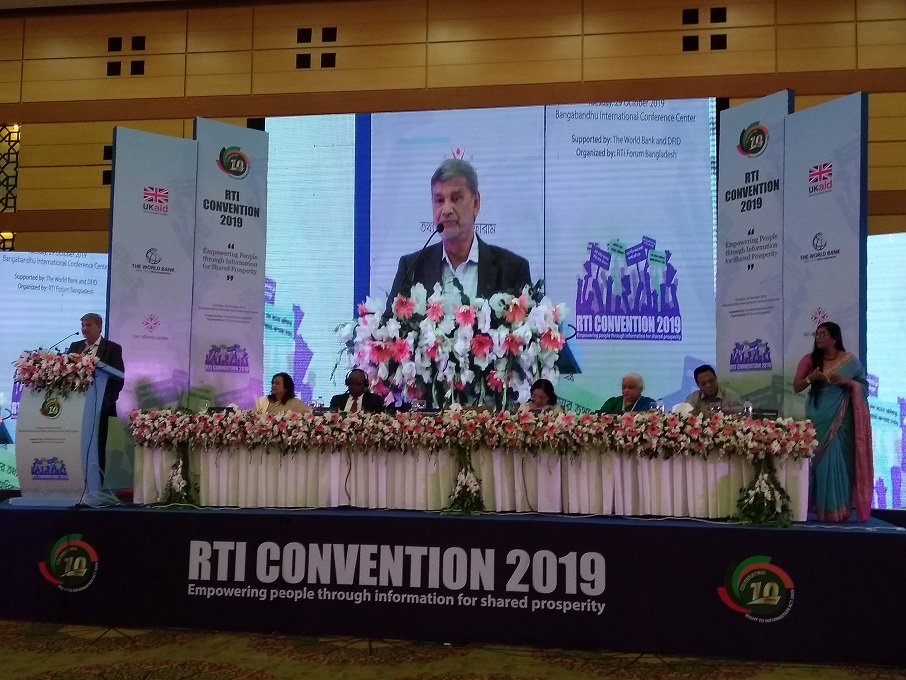 Dhaka, Oct 29 : Speakers at a convention on Tuesday urged the government to accelerate  implementation of the Right to Information (RTI) Act 2009 with all stakeholders for ensuring public rights and building good governance here.
They also underscored the need for increasing transparency, accountability and cordiality in all government and private institutions to ensure the rights.
The views were expressed at the RTI convention 2019 titled 'Empowering People through Information for Shared Prosperity' organised by Information Rights Forum marking  10  years of RTI Act 2009 at Bangabandhu International Conference Center (BICC) in the city.
The Right to Information Act 2009 was passed in the first session of parliament on March 29, 2009.
More than 300 participants comprising rights activists, researchers, civil society, NGO activists, journalists, and government officials took part in the day-long convention.
In the closing session of the programme, Planning Minister MA Mannan said that the act was passed in parliament but now it should be implemented in all fields.
"We get action and reaction in various times as the Planning Ministry is open for all. Now people are getting information visiting websites as well. You will tell us where our loopholes are. We believe in good governance," the minister also said.
He also said that the disparity between rich and poor is increasing immensely. "But our main work is to reduce poverty from the country and ensure information rights or human rights," he added.
Shaheen Anam, Executive Director of Manusher Jonno Foundation and Convener of RTI Forum Bangladesh,  presided over the function.
"We want to ensure good governance here. So we have to work together removing all fear,"   she also said.
Dr George Addo Larbi, Practice Manager, Governance, the World Bank, said that they will support Bangladesh at all times in any good works.
He thanked the organizers and said that the convention would play a role to ensure implementation of RTI.
KM Abdus Salam, Director General of NGO Affairs Bureau said that if the government and NGOs work together then society will develop. It will also help to achieve Sustainable Development Goals (SDGs) in a short time.
"All people have to be cordial to ensure RTI. It's very important to build Digital Bangladesh properly," he added.
Suraiya Begum, ndc, Information Commissioner of Information Commission, said that the act is not like any other act.
"All stakeholders including Media, NGOs must work together alongside the government to implement RTI," she also said.
Aroma Dutta MP said that the world absolutely goes on only depending on information.
"Information is an important tool now. Every country of the world is connected with each other exchanging information," she also said.