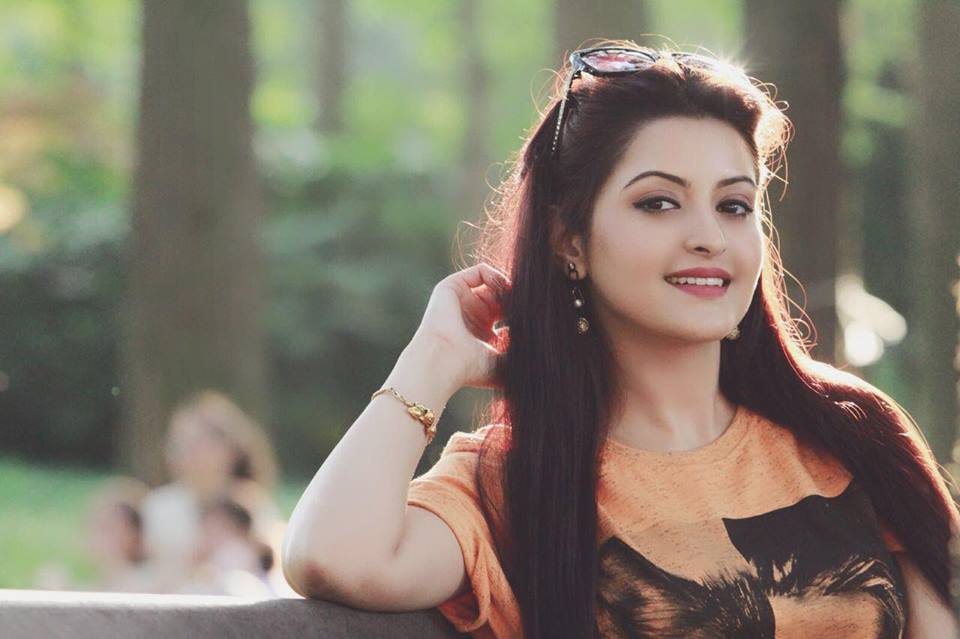 Dhaka, Oct 30 : Critics often say that the golden age of Bangladeshi Cinema has long gone. Pori Moni is one of the most talented artists, who is working hard to bring those days back.
Debuting Dhallywood industry with the film 'Bhalobasha Shimaheen', Pori Moni is continuously  getting increasing name and fame among millions of Bengali film lovers across Bangladesh and worldwide.
Pori Moni was born on the 24th October of 1992 in Shatkhira district under Khulna division with the name Shamsunnahar Smrity. Losing parents at a very early age, she was raised by her grandparents.
She stepped in the capital city on completion of her Higher Secondary education in 2011. This blooming actress took a dancing course in BAFA in the same year.
Starting her career with modeling, she explored the realm of Bangla drama in 2012. She proved herself through splendid acting in several Bangla TV Channel Dramas, including Exclusive Extra Bachelor, Kotha Dilam, Tumar Janno, Apar Opar, Nari and Nabanita, Mon Bhslo  Nai and  2nd Innings (2013 to 2014).
Pori Moni started working in the Dhallywood industry for the film 'Rana Plaza' – based on the garment factory Rana Plaza disaster in 2013. But the censor-board didn't pass that film due to sensitive national issues.
Later, her next movie 'Bhalobasha Shimaheen' got released in the big screen on the 13th February of 2015, which is officially known as her first movie.
This film uplifted this promising actress to the platform of Bangladeshi movie-lovers bidding goodbye to the small screen. Since then, Pori Moni's movie career is skyrocketing at an unbelievable pace.
In 2015, Pori Moni's film career was abundant with 15 popular movies, including Pagla Deewana, Aro Bhalobashbo Tomay, Lover Number 1, Nagar Mastaan, Mohua Shundori, Amar Mon Jure Tui, Innocent Love, Surprize, Probashi Don, and Bhalobashar Onek Jala.
Pori Moni worked on Rokto, and Dhumketu in 2016. 'Rokto' was directed by Wazed Ali Sumon under the banner of notable Jaaz Media. This Bangladeshi action film brought her ground-breaking applause for superb acting on the main role against a new comer.
Later, Koto 'Shopno Koto Asha', and 'Shona Bondhu' got released in 2017. And in 2018, she starred in 'Shopnojaal'. Among these movies, the 'Shona Bondhu' and 'Shopnojaal' again touched the hearts of her millions of admirers.
In her glorious film career, Pori Moni has co-starred with lots of famous actors of Dhallywood, including Shakib Khan, Zayed Khan, Anisur Rahman Milon, Mamunur Rashid, Symon Sadik, Bappy Chowdhury, Arefin Shuvo, Ziaul Roshan, Yash Rohan, Abul Hayat and Probir Mitra.
Beyond her acting-stardom, Pori Moni appeared as a co-producer in the film 'Mohua Shundori (2015)', funded by the government of Bangladesh and directed by Rawshan Ara Nipa. This multidimensional actress performed in the movie 'Prem Amar Priya' as a playback singer.
Not to mention, Pori Moni is a gem of Bangladeshi Film industry. And, the fans of Pori Moni are waiting to see her magical appearance along with magnificent acting into many more movies in the coming years.