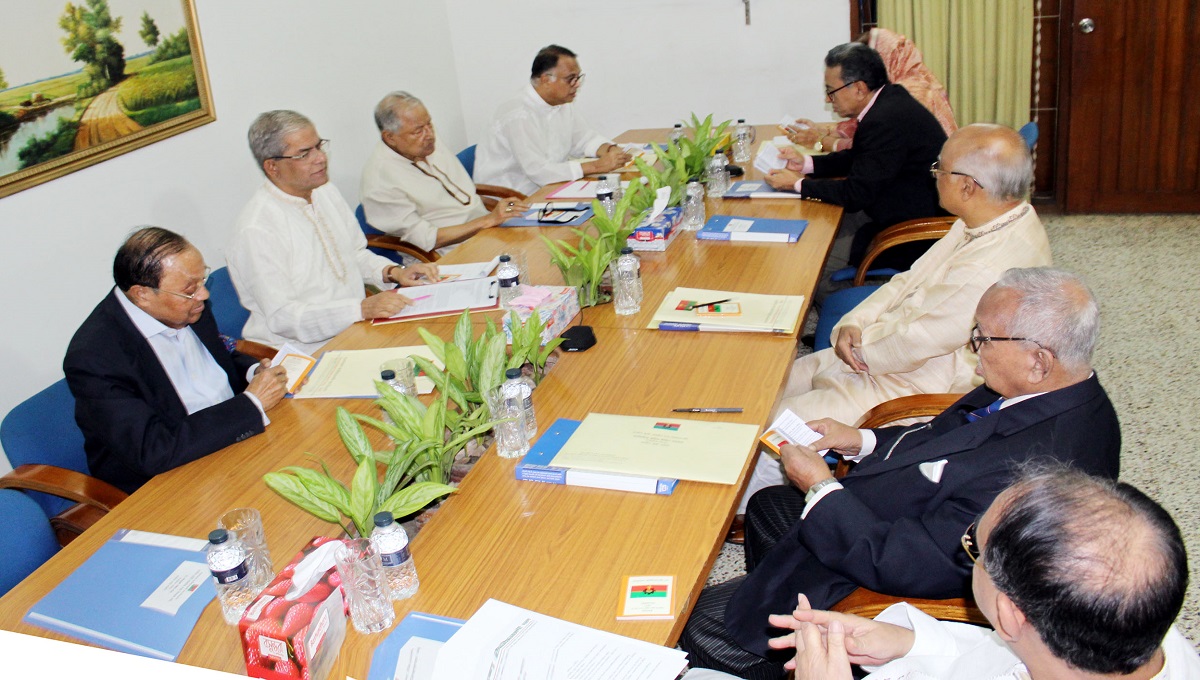 Dhaka, Nov 2 : BNP will send a letter to Prime Minister Sheikh Hasina seeking detailed information about the bilateral documents signed with India during her visit to the neighbouring country last month.
The decision was taken at a meeting of BNP standing committee members at its chairperson's Gulshan office on Saturday night, said BNP secretary general Mirza Fakhrul Islam Alamgir.
Talking to reporters after the meeting, he said, "We urge the Prime Minister to make public the deals signed with India. We decided today (Saturday) to send a letter to the Prime Minister to provide us with detailed information about the deals."
The BNP leader said they will send another letter to the Information Commissioner seeking information about the agreements as per the Right to Information Act.
"We think people have many questions about the deals as those are related to the country's independence and sovereignty," he added.
Fakhrul said their party has no objection to providing India water from the Feni River, but it is concerned as the problem over sharing of water from Teesta River has not been resolved over a long period.
He also opposed the government's move to relocate Rohingyas to Bashan Char, an island in Noakhali as their party thinks it is completely contrary to the principle of Bangladesh.
"We've long been saying to send Rohingyas back to Myanmar. But you (govt) are making excellent arrangements in a char to keep them permanently in the country. This means, we're apparently accepting that Rohingyas will be staying here," the BNP secretary general said.
Fakhrul said their party thinks such a move is against the country's interest, and the government is moving ahead to materialise Myanmar's objective with it.
Bangladesh is currently hosting over 1.1 million Rohingyas in Cox's Bazar and most of them arrived since August 25, 2017.
About the recent anti-corruption drive, Fakhrul said it is a move of the government to hush up the 'real corrupt and big corruption' through bringing 'small corruption' in the limelight.
He alleged that nine judges were appointed to the High Court recently from the 'political' point of view. "We think the possibility of ensuring justice is ruined when judges are appointed on political consideration."
Fakhrul crticisied Awami League General Secretary Obaidul Quader for his comment that BNP Chairperson Khaleda Zia's condition does not suggest she needs to go abroad for treatment. "Is he a physician?  He made such a comment from political point of view."
He alleged that ruling party leaders are trying to hide the fact about Khaleda's health condition with their 'false and misleading' remarks. "We fear they're doing it to push our leader towards death. We've got surprised over such comment of Obaidul Quader. When he was sick, we visited him at the hospital and prayed for his early recovery."
The BNP leader said their meeting also denounced the 'false statement' made by the Bangabandhu Sheikh Mujib Medical University director about Khaleda's health condition. "She's critically ill and has got almost paralysed. We can't understand why the director of the hospital is trying to hide her real condition."
He urged people to pray for former mayor of undivided Dhaka City Corporation and BNP vice-chairman Sadeque Hossain Khoka as he has been undergoing treatment at a hospital in the USA in a very critical condition.
Fakhrul said their party's standing committee member Rafiqul Islam Miah is also sick, and requested all to pray for his quick recovery.
BNP standing committee members Khandaker Mosharraf Hossain, Moudud Ahmed, Jamiruddin Sircar, Mirza Abbas, Gayeshwar Chandra Roy, Nazrul Islam Khan, Amir Khosru Mahmud Chowdhury, Selima Rahman and Iqbal Hasan Mahmud Tuku were present at the meeting.