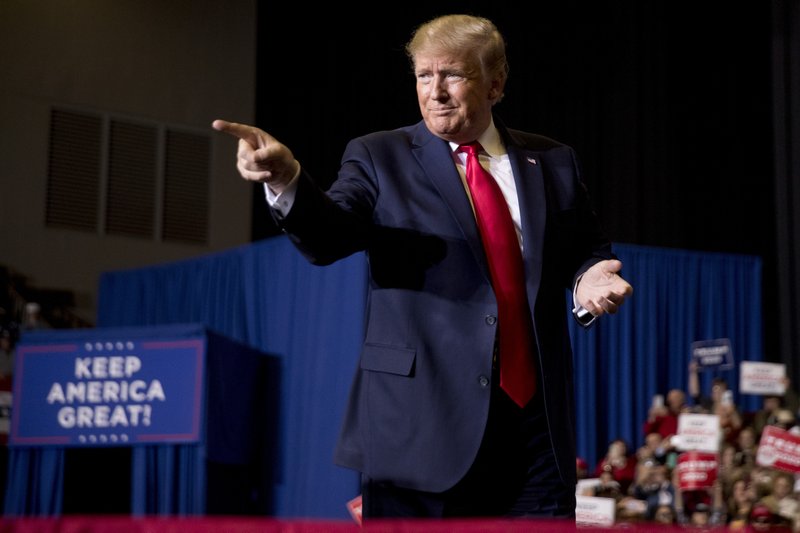 President Donald Trump lashed out Friday at Democrats in the House for their vote this week formalizing the impeachment inquiry into his conduct, calling it "an attack on democracy itself."
Democrats are "disgracing themselves and bringing shame upon the House of Representatives," Trump charged during a rally in Tupelo, Mississippi in support of the state's Republican candidate for governor. "They've been plotting to overthrow the election since the moment I won," he told the packed crowd.
The rally came a day after Democrats voted to formalize the investigation into whether Trump abused his office and compromised national security when he asked the president of Ukraine to investigate one of his political rivals. Aggrieved and feeding off the energy of the crowd, Trump repeatedly defended himself against what he called the "deranged impeachment witch hunt" and accused Democrats of doing anything to take him down and invalidate the results of the 2016 campaign.
At one point, Trump mockingly impersonated former Vice President Joe Biden. Trump's efforts to get Ukraine to investigate Biden and his family led to the impeachment inquiry.
Still, Trump insisted — despite polling to the contrary — that the investigation is helping him politically and will hurt Democrats come 2020, telling his crowd that "we've never had greater support than we have right now."
"While we're creating jobs and killing terrorists," he said, "the Democrat Party has gone completely insane."
Trump also celebrated the news that Beto O'Rourke, one of the Democratic candidates running to replace him, has dropped out of the race. Trump unleashed a slew of insults, calling O'Rourke "pathetic," "nasty" and a "poor bastard."
"He made a total fool of himself," Trump said, mocking an interview in which O'Rourke said he was born for the job.
"He said that he was born for it, like he was born from heaven, he came down," Trump told his crowd. "Anybody who says they were born for this, they're in trouble."
Trump was in Mississippi trying to shore up support for Lt. Gov. Tate Reeves, who is locked in a tight race to replace term-limited Republican Gov. Phil Bryant in next week's off-year election. The race between Reeves and Democrat Jim Hood for the open seat is considered the state's toughest governor's race in nearly a generation.
Trump expressed surprise that the race is a close one but promised, "We're going to send a signal by sending a terrific new Republican governor to Jackson."
Even though the state's Democratic nominee for governor lost by 34 percentage points four years ago, Democrats in this conservative Deep South state think they have a shot this time with Attorney General Hood as their nominee. Hood, 57, who is serving his fourth term, has been elected by wide margins in his previous races and is currently the only Democrat to hold statewide office.
Trump tried to tie Hood with national Democrats, saying he's "not the kind of guy" Mississippi needs.
Trump also celebrated the killing of Abu Bakr al-Baghdadi, the former leader of the Islamic State Group, calling him "a savage and soulless monster." But he also complained that he hadn't gotten enough credit for the killing.
"Conan the dog got more publicity than me," he said, referring to the dog that played a key role in the Syria raid.
The rally is one of a handful of events Trump and Vice President Mike Pence will be holding in the coming days to try to bolster Republican candidates running in gubernatorial elections.
Trump is scheduled to travel to Kentucky Monday to campaign for incumbent GOP Gov. Matt Bevin. He is heading to Louisiana on Wednesday to campaign for Republican gubernatorial candidate Eddie Rispone, who is trying to unseat incumbent Democratic Gov. John Bel Edwards.
Pence was in Kentucky Friday campaigning for Bevin and will travel to the Mississippi Gulf Coast Monday to campaign for Reeves, among other stops.
"It's always good for the president to help out Republicans up and down the ticket," said Rick Gorka, a spokesman for Trump's campaign and the Republican national party. "He needs reliable partnerships and strong leaders in the states in order to continue to enact his policies, so this is a way to lend his support to Tate Reeves to close out this election strong."
Reeves has sought to tie Hood as closely as possible to national Democrats, such as House Speaker Nancy Pelosi, who are deeply unpopular in a state that voted heavily for Trump in the last presidential election.
Hood says Reeves and other Republicans have underfunded schools and ignored the financial plight of rural hospitals while giving tax breaks to big businesses.
Hood has not invited national Democratic figures to Mississippi. He's running campaign commercials that show him with his family, his pickup truck and his hunting dog, Buck. In one, Hood unpacks a rifle and says that "Tate Reeves and his out-of-state corporate masters" are spending money on a "bunch of lies."
Reeves has faced some enthusiasm problems of his own in the Republican party. He was forced into a runoff with Bill Waller Jr., former chief justice of the Mississippi Supreme Court.
But Gorka said the party was confident heading into Tuesday's Election Day.
"We're looking at a strong possibility of winning in Mississippi, but also flipping seats in Louisiana and keeping the one in Kentucky," he said. "So the way we always approach any election is we invest to win, both with data and infrastructure, but also with the most precious resource, the president's time, to make sure that we're getting the most bang for our buck."
END/AP/UNB/TZ
UNF-11
Halloween terror: 4 killed at Northern California party
Orinda, Nov 2 (AP/UNB) — Four people were killed and at least four injured at a Halloween party shooting at a Northern California home rented by a woman who falsely claimed she wanted the Airbnb so her asthmatic family members could escape wildfire smoke, police and a person with knowledge of the transaction said Friday.
Gunshots were reported at about 10:45 p.m. Thursday at the large home in the wealthy San Francisco suburb of Orinda where more than 100 people had gathered, police said. The home, surrounded by trees and up a steep driveway, had been rented on Airbnb by a woman who told the owner her dozen family members needed a location with fresh air, the person with knowledge of the transaction told The Associated Press.
A one-night rental on Halloween was suspicious enough that before agreeing to rent the home the owner reminded the renter that no parties were allowed, said the person, who was not authorized to publicly disclose the information and spoke only on condition of anonymity.
The renter, whose name and hometown have not been disclosed, told the homeowner that her family members had asthma and needed a place to escape the smoky air. A giant wildfire burning in Sonoma County about 60 miles (97 kilometers) north of Orinda earlier in the week forced tens of thousands to evacuate and fouled the air over a wide area.
Michael Wang, who owns the 4,000-square-foot (372-square-meter), four-bedroom house, said his wife reached out to the renter Thursday night after neighbors contacted them about the party. The renter said there were only a dozen people at the home. However, Wang said he could see more people on video from his doorbell camera.
"We called the police. They were on the way to go there to stop them, but before we got there the neighbor already sent us a message saying there was a shooting," he told the San Francisco Chronicle in a phone interview. "When we arrived there, the police were already there."
Though no suspect was identified or arrested, Orinda Police Chief David Cook said at a news conference there is no ongoing threat to the public.
"We don't have any reason to believe that they stayed in the area," Cook said. "We don't have any reason to believe that they were from Orinda."
Cook did not address a possible motive or whether more than one person was involved in the shooting that made people run out of the house in terror.
The party apparently was advertised on social media and one attendee said he was inside the main floor, enjoying the music and watching people dance, when he heard shots and people started running. The screaming seemed to last forever, said Devan, who asked that his last name not be used because he feared for his safety.
"Everybody started running, scrambling," he said. "People were just collapsing and friends were helping friends. It was a scary situation and then as everyone is panicking and stuff, there were more shots."
Devan shot a video posted to Instagram that showed a wounded man on the ground and a police officer standing over him and a woman saying she needs to go to the hospital "because my hand's been blown off." At one point, the camera is pointed at the house and a woman off camera is heard asking if someone is hurt. Shots then ring out from inside the home and people outside run.
The Contra Costa County Sheriff's Office said at least four people were wounded but there's no precise count because some victims went to hospitals in private vehicles rather than ambulances.
Another Halloween party, in a rural area east of Salt Lake City , also ended in violence and left two men dead. A 22-year-old man was fatally stabbed and a 23-year-old man was shot to death at the party near the town of Roosevelt where about 20 people were drinking, said Duchesne County Sheriff Travis Tucker. Police had no motive and had made no arrests.
In Chicago, a 7-year-old girl out trick-or-treating in a bumblebee costume was shot in the neck by someone firing from across the street at a gang member. A juvenile identified as a person of interest in the shooting was taken into custody Friday. The girl was in critical but stable condition Friday.
In Orinda on Friday, police tape surrounded the block where the house is located as people came to collect their cars and other belongings. One woman in tears told reporters the father of her child had been killed. She left before giving her name.
Romond Reynolds picked up the car of his son, 24-year-old Armani Reynolds, who he said was left comatose by the shooting.
"All I know is that he's a victim and was at the wrong place at the wrong time," Reynolds said, adding his son apparently learned about the party on the internet.
Reynolds said he received a call at about 11 p.m. saying someone had driven his son to the hospital.
Neighbor Shahram Saki, 61, said in a phone interview he heard loud music and then the sound of shots. When he opened his door, he saw dozens of people run out of the house and some hid in the bushes in his front yard. Others begged to go into his house.
"They were screaming for help. I told them, 'You gotta get out of here,'" Saki said. "I was scared to death, anything could have happened."
Saki said he signed a petition about a year ago to complain about renters at the home, who he said often parked their vehicles along the street and sometimes blocked his driveway.
Orinda city documents show officials issued violations in March for exceeding the home's maximum occupancy and illegal parking.  City Manager Steve Salomon said the homeowner had resolved previous complaints lodged in February over occupancy and noise and in July over overflowing trash.
Orinda, with a population of about 20,000, requires short-term rental hosts to register with the city annually and pay an occupancy tax. The maximum occupancy is two people per bedroom plus three people not assigned to bedrooms.
Salomon said the property was registered with the city as a short-term rental with a maximum occupancy of 13 people.
Airbnb is "urgently investigating" what happened, spokesman Ben Breit said in an email. Airbnb has banned the renter from its platform and the home has been removed as a listing, he said.
The home's Airbnb ad included prohibitions on smoking, marijuana use, weapons and parties, Breit added. The listing also said that quiet hours must be observed between 10 p.m. and 8 a.m. because neighboring homes are close.
The home last sold for $1.2 million in 2017 and rents for about $420 per night.