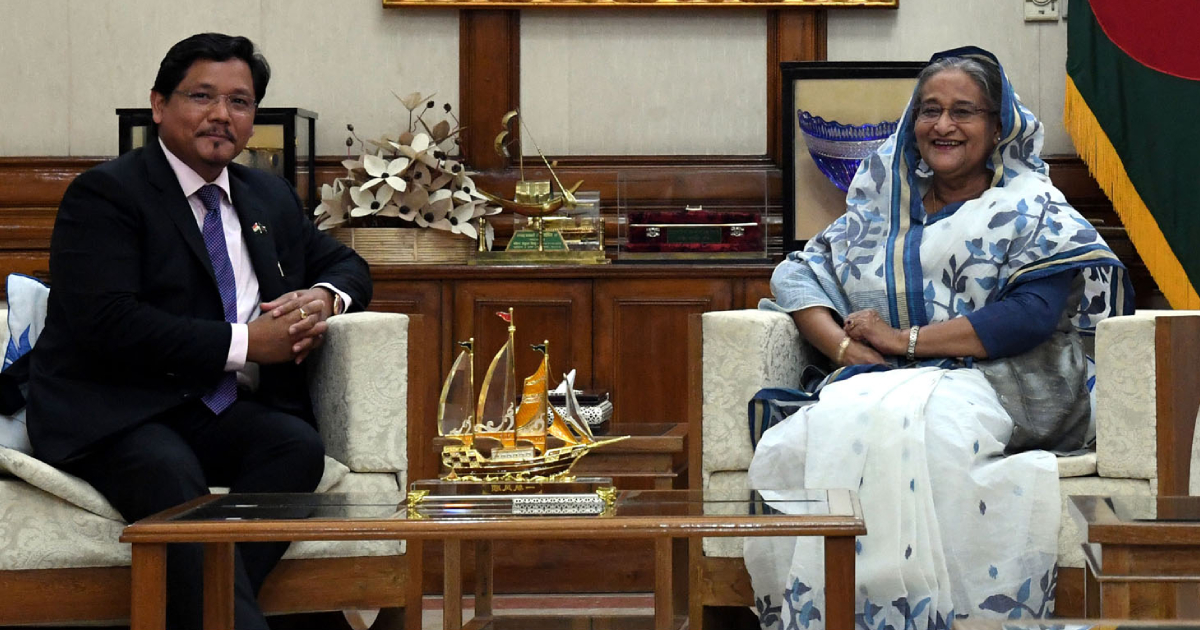 Prime Minister Sheikh Hasina on Thursday said entrepreneurs from the Indian state of Meghalaya can invest in Bangladesh for mutual benefits.
"Meghalaya entrepreneurs can invest in Bangladesh, particularly in Sunamganj, as a special economic zone is being established there," she said when Meghalaya Chief Minister Conrad Sangma met her at her official residence Ganobhaban in the city.
PM's Press Secretary Ihsanul Karim briefed reporters after the meeting.
The Prime Minister said the special economic zone is being set up on 2,000 acres of land in Sunamganj.
Putting emphasis on further strengthening the connectivity between Bangladesh and India, she said Bangladesh can use the waterway to import boulders from Meghalaya as the use of river route is cost-effective.
Sheikh Hasina said the navigability of rivers will have to be increased through dredging so that those can contain more water for smooth movement of vessels.
She said the rail and road routes between the two countries which were closed down after the 1965 India-Pakistan war are being reopened. "It'll boost trade and commerce alongside strengthening the connectivity between the two neighbours," she said.
Conrad Sangma said Meghalaya can be a great partner of Bangladesh in development as the Indian northeastern state has enough raw materials, including limestone, clinkers, coal and boulders.
He emphasised on strengthening cooperation between Meghalaya and Bangladesh in the fields of agriculture, energy and culture.
The Meghalaya chief minister said Indian Prime Minister Narendra Modi wants that the cooperation between Bangladesh and the northeastern states of India to be strengthened further. "Our door is open for cooperation," Sangma said.
He said Meghalaya wants to use Chattogram seaport for the movement of goods.
Sangma led a six-member delegation at the meeting.
The five other members of the team were Meghalaya Commerce and Industries Minister Sniawbhalang Dhar, Education Minister Lakhmen Rymbui and Agriculture Minister Banteidor Lyngdoh, Indian High Commissioner in Dhaka Riva Ganguly Das and Meghalayan Principal Secretary for Power and Agriculture Department P Shakil Ahmed.
PM's International Affairs Adviser Dr Gowher Rizvi and PMO Secretary Sajjadul Hassan were present at the meeting.