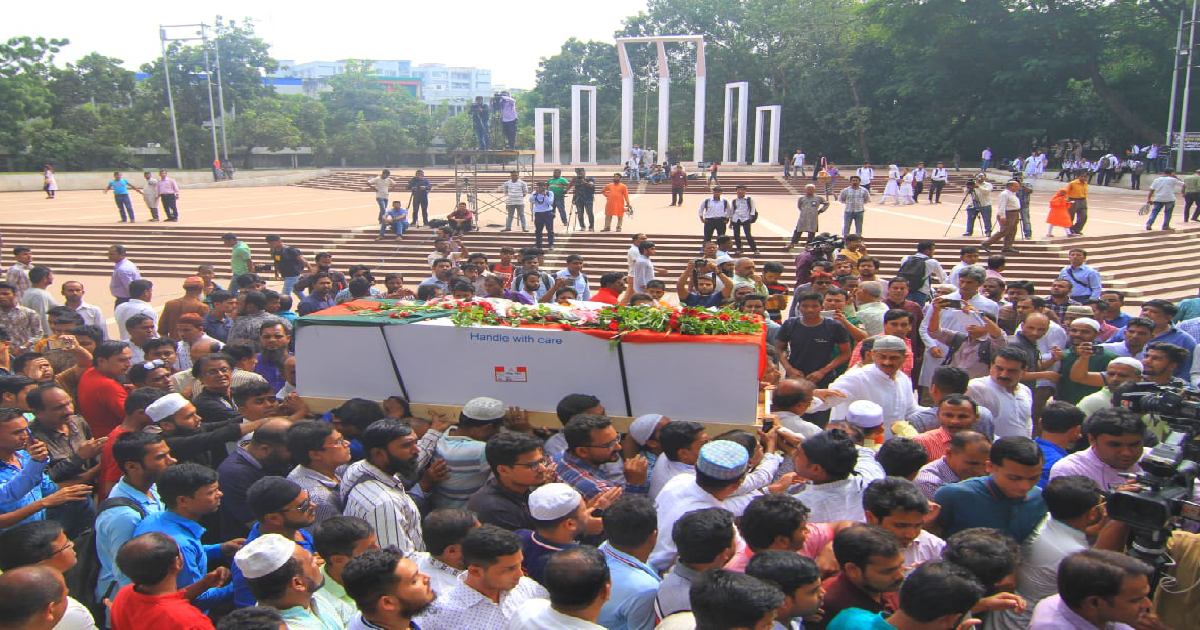 People from all walks of life thronged the Central Shaheed Minar on Thursday to pay tribute to gallant freedom fighter Sadeque Hossain Khoka, the last mayor of undivided Dhaka City Corporation.
The mortal remains of the BNP vice-chairman was taken to the Shaheed Minar at 12:10pm after a namaz-e-janaza at the south plaza of Parliament.
It was kept there until 12:50pm before being taken to the BNP's Nayapaltan headquarters.
Textiles and Jute Minister Golam Dastagir Gazi and chief coordinator of Ganosamhati Andolon Junaid Saki also paid tribute to the freedom fighter.
Current and former MPs, leaders of different political parties and people from all walks of life took part in Khoka's namaz-e-Janaza at the South Plaza of National Parliament held around 11:15am.
The valiant freedom fighter, who had long been suffering from cancer, died at the Memorial Sloan Kettering Cancer Center in New York on Monday.
His first Namaz-e-Janaza was held at Jamaica Muslim Center, New York on Monday night.
Khoka's body was brought back home in the morning. BNP standing committee members Mirza Abbas and Iqbal Hasan Mahmud Tuku received the body at the airport on behalf of the party.
As per his last wish, the BNP leader is scheduled to be buried at Jurain Graveyard beside the grave of his mother in the evening.
Before the burial, more janazas – one in front of BNP central office after Zohr prayers, another at Nagar Bhaban at 3pm and yet another at Dhupkhola field after Asr prayers – will be held in the capital.
After his Janza at Nagar Bhaban, Khoka's body will be taken to his Gopibagh residence.
Khoka, also a former minister and MP, is survived by his wife Ismat Ara, daughter Sarika Sadeque, sons Ishraque and Isfaque Hossain.
He went to the USA in 2014 for treatment.