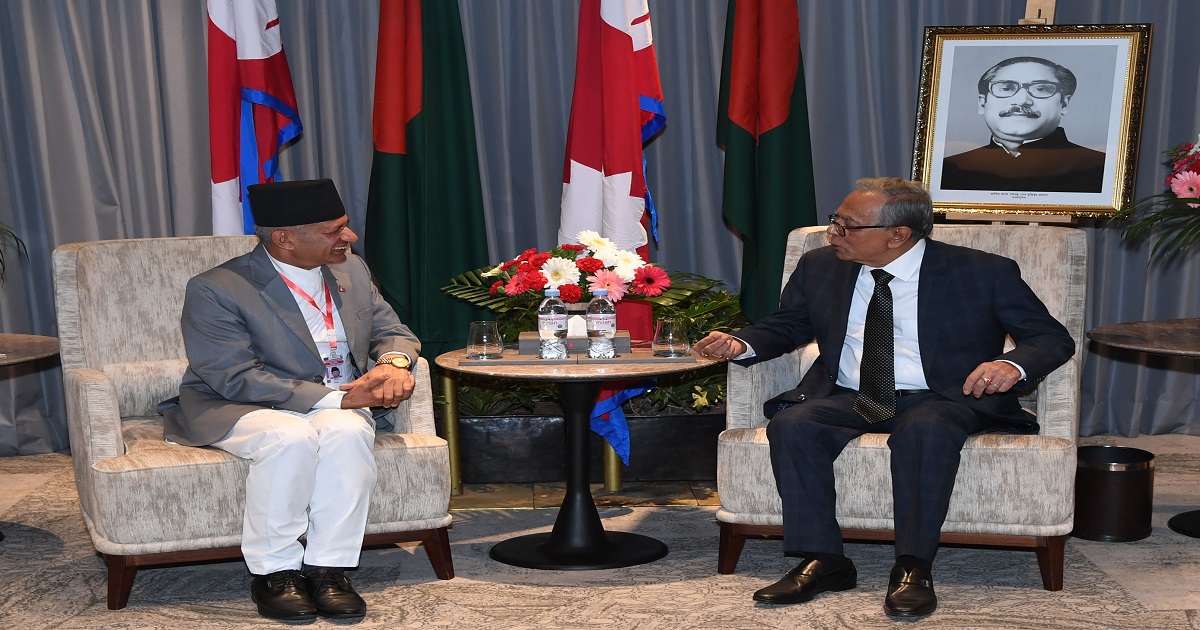 Nepal is keen to turn the existing relationship with Bangladesh into 'economic partnership', said its Foreign Minister Pradeep Kumar Gyawali on Tuesday.
He came up with the remarks when he met President Abdul Hamid at hotel Marriott Kathmandu.
President's Press Secretary Joynal Abedin briefed reporters after the meeting.
Pradeep Kumar said Nepal gives highest importance to the bilateral relationship with Bangladesh.
The President recalled with gratitude and appreciation the moral and physical support extended by the people and political leadership of Nepal to the people of Bangladesh during the War of Liberation in 1971.
During the meeting, he also mentioned that in 2012 and 2013, Bangladesh honoured 11 distinguished Nepali personalities as "Friends of Bangladesh" for their contribution to the War of Liberation.
He said Bangladesh maintained excellent relationship with Nepal.
Abdul Hamid congratulated the Nepalese people and political leadership for completing the peaceful transition to democracy and all the three tiers of elections (local, provincial and parliamentary) in 2017 and thereby completing the process of implementation of the constitution adopted in 2015.
He also mentioned that Bangladesh has unilaterally offered Nepal the use of Payra and Mongla ports for third country transit and access to the sea. If they use the Payra port, it will help boost the trade volume.
The President expressed his belief that the government of Nepal will be successful in implementing the policies for socio-economic development of the country and fulfilling their vision of "Samriddha Nepal, Sukhi Nepali".
He assured that Bangladesh is ready to extend all support to Nepal in this process of achieving socio-economic prosperity.
Expressing happiness at the expanding trade between the two countries, Abdul Hamid said, "Exports from Bangladesh witnessed a five-fold increase over the last five years to around US$ 45 million after stagnating at only around US$ 10 million from 1972 to 2014. This trend shows that Bangladeshi entrepreneurs and businessmen are recognising the importance of the Nepalese market. Exports from Bangladesh, however, have declined this year after introduction of heavy import duties on products of export interest to Bangladesh."
He noted that the two countries are yet to harness the full potential of trade and investment opportunities between the two countries. "It'll be a win-win situation for both the countries in trade and investment."
Abdul Hamid also stressed the need for having regular exchange of high-level visits between Bangladesh and Nepal to infuse dynamism and add impetus into the existing cooperation.
He assured of easing the process of Bangladeshi visas for Nepali students and providing them with long-term visas so that they can complete their education smoothly.
The President highlighted that more than 1.1 million forcibly displaced Rohingyas from Myanmar are being sheltered by Bangladesh. While Bangladesh has been addressing this on humanitarian grounds, it has now become a huge challenge and big burden for it.
"Bangladesh firmly believes that Nepal would continue to cooperate with Bangladesh in resolving this longstanding issue and put meaningful pressure on Myanmar so that it takes back its nationals in a speedy, safe, sustainable and dignified manner. It'll be big regional problem as well," he said.
Hamid arrived here on Tuesday on a four-day visit to Nepal at the invitation of Nepalese President Bidhya Devi Bhandari.