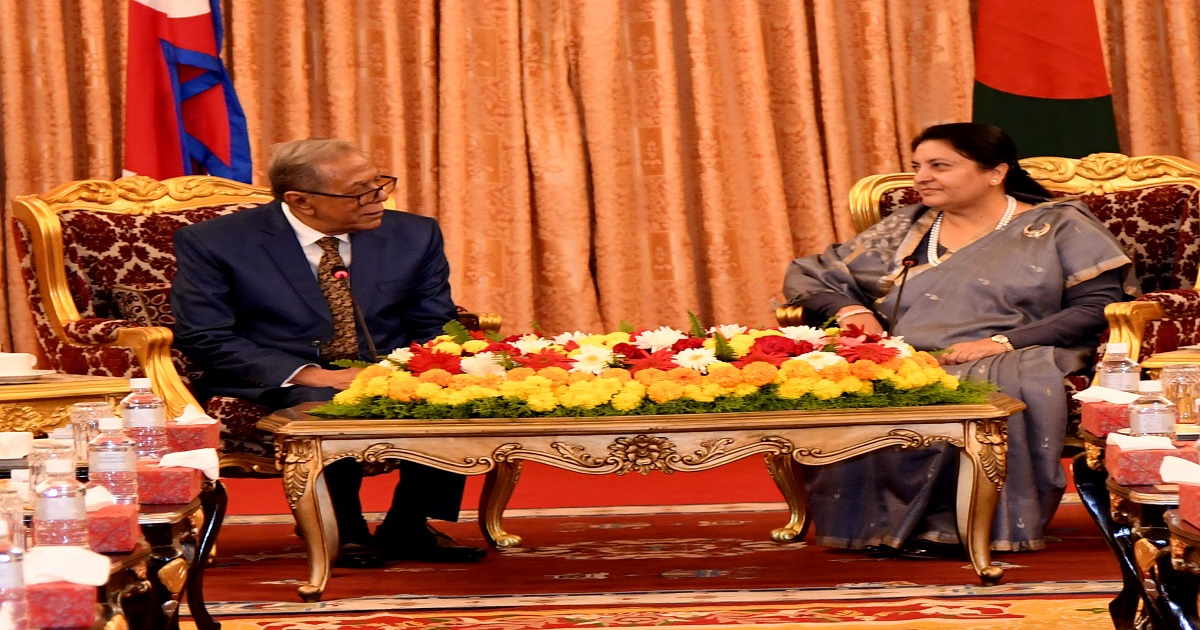 Bangladesh and Nepal on Wednesday agreed to raise strong voice against the adverse impacts of climate change and natural calamities in international forums.
President of Bangladesh Abdul Hamid and Nepalese President Bidhya Devi Bhandari expressed it during a bilateral meeting at Sheetal Niwas (President House) here.
President Hamid said Bangladesh and Nepal are the worst sufferers of climate change. Both the countries should raise their strong voice in different forums.
After the meeting, President's Press Secretary Joynal Abedin told reporters that Dhaka and Kathmandu are very keen to enhance the connectivity in road-rail-water-airways.
"There's a distance of only some kilometres between Bangladesh and Nepal. Bangladesh and its people always remain in our hearts," the Nepalese President said.
As the Nepalese side raised the issue of enhanced air connectivity from Saidpur in Bangladesh to Bhadrapur, Biratnagar or Bhairahawa in Nepal, Abdul Hamid said Prime Minister Sheikh Hasina herself made the offer to Nepal earlier.
Both the Presidents said their respective countries started working on it.
During the meeting, Devi Bhandari appreciated the ongoing political stability and development trend in different sectors, including economy, education and socio-culture, of Bangladesh
About tremendous development of education in Bangladesh, she said, "Bangladesh has not only a good number of universities but those also provide quality education there."
She thanked the President as the Bangladesh government made the visa process for Nepalese students easier.
The Bangladesh President congratulated the Nepalese people and political leadership for completing the peaceful transition to democracy and successfully completing all the three tiers of elections (local, provincial and parliamentary) in 2017 and thereby completing the process of implementation of the constitution adopted in 2015.
Recalling the moral and material support extended by the people and political leadership of Nepal during the War of Liberation in 1971 with appreciation, Abdul Hamid said Bangladesh honoured 11 distinguished Nepali personalities as "Friends of Bangladesh" for their contribution to the War of Liberation.
About the repatriation of more than 1.1 million forcibly displaced Rohingyas, President Hamid said Bangladesh firmly believes that Nepal would continue to cooperate with Bangladesh in resolving this longstanding issue and put meaningful pressure on Myanmar so that it takes back its nationals in a speedy, safe, sustainable and dignified manner.
He expressed happiness at the excellent relations between the two countries, hoping that the two countries would be able to harness the existing synergies for mutual benefit.
The relationship between the two countries would continue to grow from strength to strength in the days to come, President Hamid added.
Whip Atiur Rahman Atik, ABM Fazle Karim Chowdhury, MP, Foreign Secretary Md Shahidul Haque, President's Secretary Sampad Baura, Military Secretary Major General Shamim-Uz-Zaman and Press Secretary Joynal Abedin were, among others, present during the meeting.