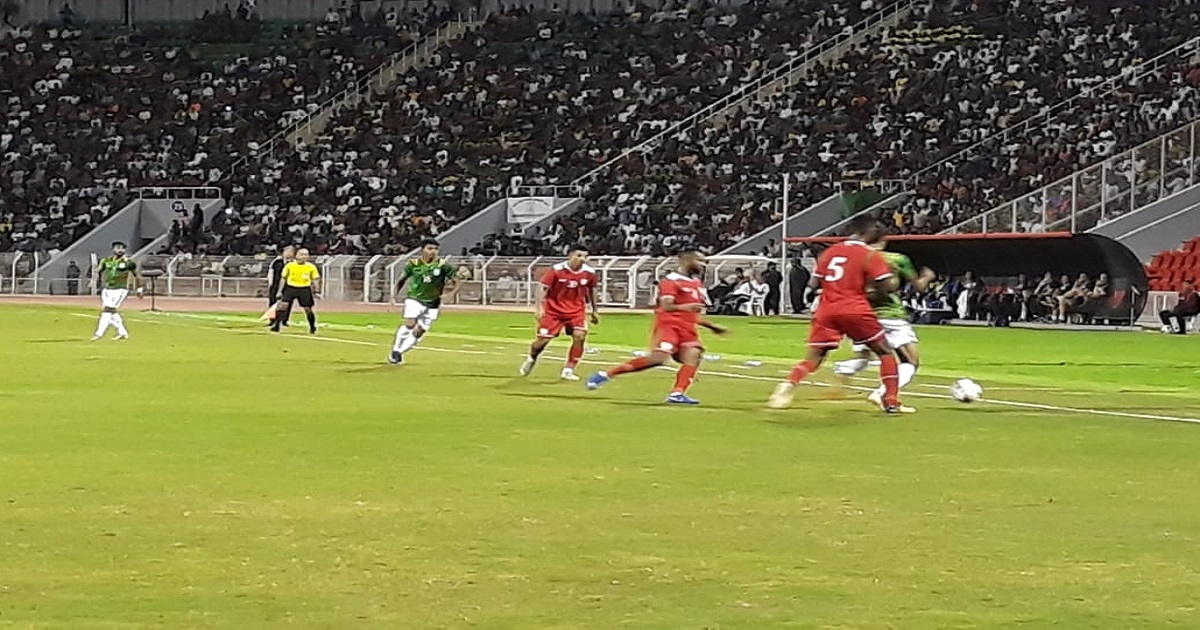 Oman beat Bangladesh by 4-1 goals in the FIFA World Cup 2022 and AFC Asia Cup 2023 of the joint qualification round for at the Seeb Sports Stadium in Al Seeb city of Oman on Thursday.
Midfielders Mohsin Al Khaldi, Rabia Al Mandhar and Arshad Al Alaw and defender Amran Al Hidi scored one goal each for hosts Oman while midfielder Biplo Ahamed scored one for Bangladesh.
In the day's other match, Afghanistan played 1-1 draw with India at Republican Central Stadium in Tajik Capital Dushanbe.
Despite winning the match, Oman remained in the 2nd slot with 9 points from 4 matches while Asian champions Qatar sit in pole opposition in the group with 10 points from 4 matches, Afghanistan are 3rd with 4 points from 4 matches, India are 4th with 3 points from 4 matches and Bangladesh are bottom with a solitary point from their 4 matches.
Bangladesh gave tough fight against their mighty opponents and hosts Oman from the very beginning of the match.
Oman, ranked nearly 100 sports higher in the FIFA rankings, tried to put pressure on Bangladesh with their attacking football but Bangladeshi defenders resisted all of their efforts and went into the dugout level-pegging after the first half.
In the second half, midfielder Mohsin Al Khaldi finally broke the deadlock scored with his left-footed shot from the edge of the box in the 48th minute (1-0).
In a span of ten minutes, Bangladesh conceded two more goals as midfielders Rabia Al Mandhar and substitute midfielder Arshad Al Alaw netted twice to widen the margin for the hosts in the 68th and 78th minutes (3-0).
Bangladesh scored their lone consolation goal when midfielder Biplo Ahamed sent the ball home with a clinical finish from inside the box in the 81st minute (3-1).
But defender Amran Al Hidi netted the hosts' 4th goal in stoppage time (91st minute) to seal a comfortable victory for Oman (4-1), and hand Bangladesh their biggest defeat of the campaign so far.
The match saw Rayhan Hasan of Bangladesh getting a yellow card.
Bangladesh are in Group E of the qualification round with Qatar, Oman, Afghanistan and India.
Bangladesh team started their campaign in FIFA and AFC meet with a 0-1 defeat against Afghanistan in the 1st match in the Tajik capital of Dushanbe on September 10, conceded a 0-2 goals defeat against Asian champions Qatar in the 2nd match in Dhaka on October 10 and played to a 1-1 draw against India in their 3rd match in Kolkata on October 15.
In the remaining group matches, Bangladesh will play Afghanistan on March 26 next year in Bangladesh, Qatar on March 31 in Qatar, India on June 4 in Bangladesh and Oman on June 9 in Bangladesh.
Oman: Ali Al Habsi, Abdulaziz Al Gheilani, Amran Al Hidi, Mohammed Al Musalammi, Ali Al Busaidi, Zahir Al Aghbari (Arshad Al Alawi-57th), Ahmed Mubarak, Mohsin Al Khaldi, Rabia Al Mandhar, Said Salim Al Razaiqi (Harib jamil Al saadi-64th), Mohsin Al Ghassani.
Bangladesh: Ashraful Islam Rana, Md Rahmat Mia, Yeasin Khan, Riyadul Hasan Rafi, Rayhan Hasan, Jamal Bhuyan, Biplo Ahamed, Nabib Newaz Ziban (Rabiul Hasan-90th), Sohel Rana, Mohammad Ibrahim, Saad Uddin.